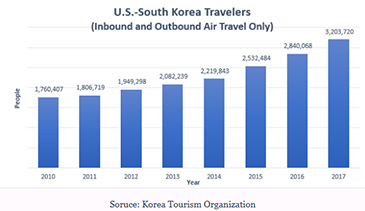 US-S. Korea Travelers
The ever-deepening U.S.-Korea bilateral relationship was recently augmented through the inauguration of two additional nonstop airline routes between both countries. These new, direct flights from Incheon, Korea included Minneapolis, MN operated by Delta and Boston, MA operated by Korean Air respectively. The new flights joined the list of 37 pre-existing flights across 12 U.S. cities that are currently offered and in operation by U.S. and Korean carriers.
On April 1, 2019, Delta officially began services for its first nonstop daily flight from Minneapolis-St. Paul International Airport to Incheon, Korea. Its inauguration was further enhanced and celebrated by a drum performance from a traditional Korean music troupe that performed at the gate where the first round-trip service between the two cities was to take place. The launch of Delta's daily flights to Korea not only signified the increase of travelers to and from South Korea, it also demonstrated the increase of Korean influences in the region. In November 2018, South Korean company CJ Cheiljedang (CJCJ) invested $1.8 billion in Minnesota through its acquisition of Schwan, a leading U.S. food business based in Minneapolis. Furthermore, Minnesota has boasted a high percentage of Korean War veterans as well as more families than any other state with children adopted from Korea.
Korean Air, meanwhile, has returned to Boston since it last served the city in the 1990s. Scheduled to operate as of April 12, 2019, the route will service a major gateway for high-tech industries as well as the home to numerous prestigious universities and colleges. Prior to reestablishing the direct flight, Boston had been one of the most popular, yet unserved destination points from South Korea, particularly as the city had grown exponentially into a New England hub.
Korean Air's return to Boston has come hand-in-hand with a joint venture with Delta. According to a Boston aviation consulting firm, the new flights will add more than $53 million annually in direct economic benefits and $45 million in indirect benefits.
As Korean Air has become one of the largest transpacific airlines in the world today, now with its joint venture with Delta—including the expansion of its codeshare flying in which two or more airlines share the same flight—the new route will further deepen U.S.-Korean interconnectivity. Korean Air's Boston nonstop flights will be operated five days a week and both Korean Air and Delta co-relocated in early 2019 to Terminal 2 at Incheon International Airport to reduce connection times for its customers.
The inauguration of these new nonstop flights has outlined the fundamental advancement of U.S.-Korea relations. This was further highlighted by the recent exponential growth in the exchange of air travelers between the two countries. In 2017, total U.S. and South Korean travelers surpassed three million for the first time. This ever-growing number has been widely expected to increase with Delta and Korean Air's new direct routes.