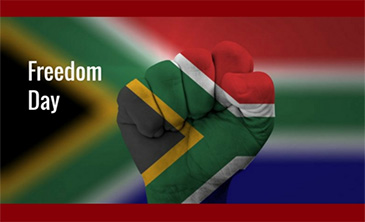 Africa's "Freedom Day" Marked in S. Korea
Editor's Note: Over 3,000 South Africans reside in South Korea and this past weekend made their way into the nation's capital to cast their vote as part of the general elections, at the South African Embassy on Saturday, April 27, 2019 to elect a new National Assembly and provincial legislatures in each province and determine who will become the next president of South Africa.
Freedom Day is a celebration of the nation's first democratic elections that took place on the same day in 1994. It is then, quite fitting that the country continues this tradition of voting on the same day.
Seoul, S. Korea
— South Africans residing in South Korea celebrated their freedom and commemorated their sixth post-Apartheid elections held on April 27, 2019, by attending various events in Seoul. As most South African's reside outside of Seoul, most traveled by either bus or high-speed bullet train (KTX) to the nation's capital after work on Friday. Many had no other option but to make the trek into Seoul as there are no other embassy locations available at which to cast their vote. "Our country has one of the most liberal constitutions in the world. This is something our forefathers fought for. We have our basic human rights enshrined in the constitution and we are not allowed be discriminate or be discriminated against based on our ethnicity, culture, creed, sexual orientation or socio-economic status. This is something that makes me so proud to be a South African. Many of us are living lives our grandparents and great grandparents could only dream of" - Delon le Roux, OrganizerIn true South African fashion, many found a way to make the most of the situation: by planning to vote at the South African Embassy in the morning, followed by a braai at The Workshop (a South African run eatery) for lunch. As if that was not enough, QbarSeoul in association with SAKorNet hosted the official South African Freedom Day After Party in the evening.Singing and dancing punctuated both gatherings and the Sounds of Nkosi Sikelel'iAfrika could be heard all around the cosmopolitan city as revelers ate, drank, and socialized. Many patrons attended the festivities dressed in their best African garments, beads, accessories and whilst some simply draped large flags around themselves following the maxim that confidence is the best accessory. As the sun began to set, many enjoyed cocktails and sundowners at nearby establishments before making their way to the official after party in Itaewon, Seoul's bustling foreigner district.Attendees were able to enjoy drink specials, as well as live performances by The Queens of Qbar, who have recently been featured in Huffington Post. Local DJ's Chori, Aaron and 4Play keep the attendees dancing til dawn by spinning an eclectic mix of current Top 40 Hits, Proudly South African favorites (Nkalakatha by Mandoza, Shibobo – Tkzee, Liquideep, Micasa, Danny K, etc), and as well as club anthems from '94 onwards.There were two South African/Freedom themed DRAG SHOWs, where queens performed South African favorites such as Miriam Makeba's Pata Pata, Vicky Samson's African Dream, Joy's Paradise Road, and Brenda Fassie's Weekend Special. No Freedom Day party is complete without an enthusiastic audience singing along to the National Anthem celebrating their diversity, unity national pride and freedom.
Quotes
"It was so important for me to do this, especially this year as it's the 25th anniversary of our democracy. I wanted to ensure that our people were catered for and well looked after as it's not often that there is such a larger group of us all together at one time" – Delon le Roux, event organizer"As most South Africans reside in disparate regions of the country, many traveled an average of 2~3 hours to the voting stations located in Seoul to fulfill their civic duty. We do not often get an opportunity to interact with our compatriots as much as we would like. The timing of this event and the South African General Elections is perfect because it allows us an opportunity to network, interact and regain our sense of community or Ubuntu." – Delon le Roux, event organizer"The fact of the matter is that so many of us continue to remain in Korea because of the situation back home. Despite the current state of South Africa, I voted. We may not see the results and the outcomes that we so hope to see for our country right now, but I do believe that casting your vote will and can be part of the change that is so needed in South Africa. We cannot expect to see the change if we do not do our part in trying to create the change to begin with." - Flower La Elizabeth Warner, event attendee.
For details or inquiries
Delon Marc le Roux
info@delon.tv