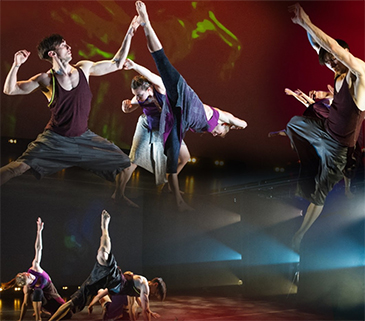 White Wave's "Eternal Now" at Dixon Place in NYC May 19-20
Dates: Sunday, May 19 at 8:00PM | Monday, May 20 at 7:30PM
Where: DIXON PLACE |161A Chrystie Street, New York City 10002
WHITE WAVE Dance Company is scheduled to present Eternal NOW, our multi-media Dance Theater piece, at the Asia Culture Center, one of the most prestigious Arts Centers in Asia, during the "Masters' Games" in Gwangju, in August 2019 . The company will follow up with a whirlwind multi-city tour of Korea & China!ETERNAL NOW Revealing secret longings through utterly human stories, choreographer Kim Young Soon and WHITE WAVE Dance will perform Eternal NOW. Ms. Kim, whose work has been hailed for its exhilarating, visually stunning, and emotionally rich phrases and textures, presents this expression of movement that perpetually affirms the now, in space and time, as it reveals the inner landscape of human emotion. The result is a compelling, deeply sensual work that exemplifies the remarkable versatility of its performers and the choreographic virtuosity of its maker.WHITE WAVE Dance presented the World Premiere of Eternal NOW at BAM Fisher in 2014. Composer Marco Cappelli performed his original score live, as dancers interact with video artist Kate Freer's lushy-composed images and intricate patterns. Coupled with intriguing sets and costume design by Sarah Cubbage, a Bessie Award winner, Eternal NOW reveals the stories of man's secret longings. Each section presents a vision that affirms the now in space and time as it encounters the turbulence of human emotion.WHITE WAVE seeks to engage a broad cross-section of the community and to expand our audience demographic at each performance. It is our mission to serve all racial, gender, class, ability, and age groups across NY-Metro and beyond.They are a multi-national company of dancers from China, Japan, Korea, Singapore, and the US, including Melissa Anderson, Lacey Baroch, Katie Garcia, Michael Greenberg, Misuzu Hara, James Johnson, Casey LaVres, Jesse Obremski, Mikelle Rindflish, Andy Santana, Mark Willis, Andrew McShea, Sumire Ishige. The company hopes to meet a high level of audience support at each venue in national and international tour.
The 4th Annual SoloDuo Dance Festival
29 dancemakers from the New York Metropolitan area, across the U.S., and from Europe, Canada, and East Asia
Sunday May 19 – Monday May 20, 2019
at DIXON PLACE: 161A Chrystie Street, New York City 10002
Show 1: Sunday, May 19 @ 6PM
Show 2: Sunday, May 19 @ 8PM
Show 3: Monday, May 20 @ 7:30PMWHITE WAVE will present our 2019 Solo Duo Dance Festival with 29 participating choreographers/companies in three different programs. As in past years, performing artists hail from Europe, East Asia, metro NY, and across the US.WHITE WAVE's Artistic Director Kim Young Soon founded the SoloDuo Dance Festival in 2016. The program celebrates the unique art of the solo and duet with an eye toward creating new opportunities for both fledging and more experienced choreographers at Dixon Place, a setting nestled in the heart of the Downtown scene, located at the junction of the Lower East Side and East Village. This space inspires and encourages performing artists of all stripes and callings to stretch the limits of their creativity to new heights. Dixon Place's foremost priorities are to serve as a safety net for artists, and to provide vivid experiences for audiences, making it a one-of-a kind venue to showcase an intimate solo or duet.The 2019 SoloDuo Festival roster of companies includes: Qijundai Liu, Danielle Lydia Sheather, Goblin Party, Ramona Sekulovic, Jo Davila, N E 1 4 Dance, Jin-Wen Yu Dance, Trebien Pollard, Star Fish Inc., Criste/John Dance Projects, MVment, Elizabeth Shea Dance, Tomomi Imai & Dancers, FUSE Dance Company, Company | E, DiMauro Dance, Corian Ellisor, VTDance/Vincent E. Thomas, Alexander Sargent, Li Chiao-Ping Dance, Molly Huey and Olivia Nellis, Loretta D. Fois, Monica Farnè Dance Company, Park MiNa Dance Company, Emily Kessler, Amos Pinhasi, Mobpo, Autumn Eckman Dance, and WHITE WAVE Young Soon Kim Dance Company.