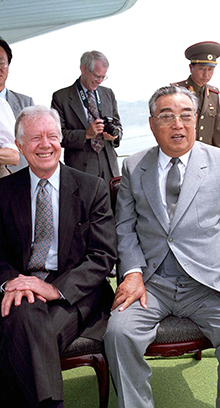 Former US President Jimmy Carter and North Korean President Kim Il-Sung meeting aoard Kim's private yacht in Pyongyang in 1994. Their wives accompanied them to their excursion
Korean War's US veteran and Oklahoma author Don Porter is back with his second book "Ball Games in Heaven" following "Inclusion & Exclusion." It starts with two different balls hit out of ball park and ending up in space and eventually heaven.Then the intrigue and fun begins.Porter celebrated getting the book started during Memorial Day Weekend 2019 which he celebrated with his family in Oklahoma City.His imcoming new book is a faction novel that finds two balls who ended up in heaven after bering hit out of their respective ball parks. One in South Korea and the other in the United States.The two balls, one named "hard" and the other names "soft", sought to see God and talk to him about organizing some games if that is possible. After talking with God they get the Ok and the intrigue and fun began.He served in the Korean War (1950-53), was decorated by South Korean Minister of Defense Kim Dong-Shin in 2001 in Seoul.Nearly after four decades of the tragic war he returned to North Korea in 1994 where North Korean President Kim Il-Sung died just before Porter's arrival in Pyongyang.He was asked by North Korean officials to attend the funeral ceremony of the late North Korea's supreme leader laying in state.The Korean War US veteran was the only American to attend the funeral ceremony.Some 10 years later again he visited North Korea in 2004 to discuss with North Korean government officials the way to form joint South and North Korean softball team in the 2004 Olympics in Athens.Don Porter was awarded by President Riccardo Fraccari the Collar of Honour, WBSC supreme recognition of those people who contributed to the foundation of the Confederation and its success.
Who Is Don Porter?
The Korean War US veteran Don Porter was born in 1931. He became the executive director of the Amateur Softball Association in 1963 and the secretary general of International Softball Federation (ISF) in 1965.At the height of the Korean War (1950-53) he risked his own life by serving on the soil of the Korean Peninsula. He was elected ISF president in 1987 and led the federation until 2013. In his career he served on the Commission of the United States Olympic Committee (USOC; 1984-1988), on the International Council of the General Association of International Sport Federations (GAISF) and is a founder of the World Games. Porter earned "Collar" of Honour Award from the World Baseball Softball Confereration (WBSC) for promoting softball around the world.Last but not least, he was a referee (1976-1979) in the National Football League (NFL).In May 2017 Porter published (Tate) the book "Inclusion/Exclusion: Softball's Olympic Odyssey."