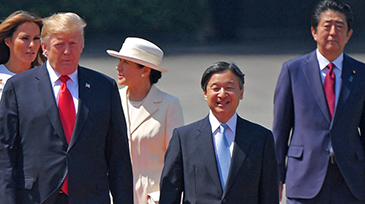 US President Donald Trump (2nd from left) and US first lady Melania Trump (left) are escorted by Japan's Emperor Naruhito (2nd from right), Empress Masako (3rd from right) and Japanese Prime Minister Shinzo Abe (right) during the welcoming ceremony at the Imperial Palace in Tokyo on May 27, 2019.
During the recent visit of US President Donald Trump to Tokyo, where he was the first foreign leader to meet the new Japanese Emperor Naruhito, foreign policy discussions between Japanese Prime Minister Shinzo Abe and Trump focused heavily on the issue of North Korea. The Tokyo meetings took place less than three months after the failed Hanoi summit between Trump and North Korean leader Kim Jong-Un.
Prime Minister Abe reiterated his desire to meet with the North Korean leader. He told journalists after the Tokyo talks, "I feel I have to meet face-to-face with Chairman Kim without attaching any preconditions and exchange frank views with him. . . . President Trump said he will give full support needed for that." In the past, the Japanese leader was cautious about meeting with Kim unless there was a reasonable assurance that it would be productive, but this latest overture specified unconditional talks.The importance of a summit with Kim Jong-un for the Japanese government leader is linked with Japan's interest to have a role in the North Korea issue, the key regional problem of Northeast Asia. During earlier efforts to deal with North Korea in the Clinton administration and the George W. Bush administration, Japan was a key player, participating in six-party talks (North Korea, South Korea, the United States, China, Russia, and Japan). Japan actively participated in this diplomatic process.Since North Korea tested its first nuclear weapon in 2006 and began testing ballistic missiles, however, dealings with North Korea have been bilateral rather than multilateral. The United States has coordinated with Japan and kept the Japanese government informed of its activities, but there have been limited bilateral North Korea-Japan diplomatic contacts. As Kim Jong-Un engaged bilaterally with other members of the six parties, Japan has had a less prominent role.North and South Korea began engagement after the election of Moon Jae-In as president of South Korea in May 2017. With the midwifery of South Korea, President Trump held the first summit between a US president with the leader of North Korea in Singapore in June 2018. The prospect of top-level talks between Washington and Pyongyang led Kim Jong-Un to hold a series of bilateral meetings with President Xi Jinping of China, after not having held any such meetings since Kim Jong-un became the leader of North Korea in December 2011. After the first summit with the United States was agreed to, Kim met with Xi Jinping in March 2018, May 2018, June 2018, and January 2019. After the failed Hanoi summit, Kim held his first summit meeting with Russian president Vladimir Putin (April 2019). In this flurry of bilateral diplomacy over the last year and a half, Japan has been conspicuous in having no contact with the North. Prime Minister Abe's strong interest in meeting with Kim Jong-Un makes perfect sense in this context.
Trump, Abe Differ on North Korean Missile Tests
North Korean missile tests just a few days before the Tokyo meeting, however, cast a shadow over the various ongoing discussions and highlighted differences—not just with North Korea but also between President Trump and Prime Minister Abe. In early May, following the failure of the Trump-Kim Summit in Hanoi, Kim Jong-Un conducted a series of missile test launches in violation of his previous moratorium on such launches, which began in connection with the Singapore summit a year earlier. In a reciprocal gesture at Singapore, Trump announced that large-scale US joint military exercises with South Korea would cease.In Tokyo, Trump sought to play down North Korea's very recent missile testing, tweeting "North Korea fired off some small weapons, which disturbed some of my people, and others, but not me." Later at a press event with the Japanese prime minister, Trump again downplayed Pyongyang's missile testing, saying that missile testing "seems to have stopped" and predicting that the future will bring "lots of good things."Among those Trump referred to as "disturbed" by the missile tests were Trump's national security advisor John Bolton and Secretary of State Mike Pompeo. Bolton was blasted as a "war monger" by North Korean media for his categorical statement that the North Korean tests violated UN resolutions. Secretary Pompeo was not as unequivocal as Bolton, but he also expressed concern about the missile tests.In the joint press conference at the end of the visit Prime Minister Abe was polite but also firm in disagreeing with Trump. He said: "On the 9th of May, North Korea launched a short-range ballistic missile. This is violating the Security Council resolution. So my reaction is, as I said earlier on, it is of great regret." A week later, Japanese defense minister Takeshi Iwaya spoke at a conference with other defense ministers and further underlined Japanese concern: "We need to remind ourselves of the undeniable fact that there has been no essential change in North Korea's nuclear and missile capabilities . . . . North Korea's launch of short-range ballistic missiles, . . . which violated relevant United Nations Security Council resolutions, is extremely regrettable."The type of missiles fired in early May are clearly covered by UN Security Council sanction resolutions. These short-range missiles that were tested are not a threat to the U.S. homeland, but they are a very serious threat to Japan's archipelago, which is located only about 600 miles from North Korea—well within the range of the missiles tested. Less than two years ago in August 2017, North Korea tested a missile that overflew the northern Japanese island of Hokkaido before coming down in the Pacific Ocean east of Japan. This was only the most recent instance of North Korea test missiles crossing over Japanese territory.Summing up the significance of this difference in a single sentence is the subtitle of a news report on the Trump visit to Tokyo: "The president shrugged off the threat of Kim Jong-Un's missiles in a country terrified of them."
Japanese Citizens Abducted by North Korea
A difficult and sensitive issue between Tokyo and Pyongyang is the abduction of Japanese citizens by North Korea. During a six-year period from the late 1970s through the early 1980s, a number of Japanese were kidnapped by Korean special operations forces and taken back to North Korea where they were held in captivity and forced to aid in training North Korean agents and teaching Japanese language and culture. Some Japanese also may have been kidnapped in order to steal their identity for intelligence operations.In a 2002 meeting in Pyongyang between Kim Jong-Il and then Japanese Prime Minister Junichiro Koizumi, Kim Jong-Il admitted that 13 Japanese citizens had been abducted. He made a verbal apology but blamed "some people" who wanted to show "heroism and adventurism" and refused to admit official responsibility. The North gave Japanese officials recently issued death certificates for eight of the individuals it admitted had been abducted, and five individuals were permitted to return to Japan. (For details on the Japanese citizens that are known to have been abducted by the North Koreans, see the Report of the UN Commission of Inquiry on Human Rights in the Democratic People's Republic of Korea, paragraphs 933-962.)To this day, the North Korean government has not provided credible information about many other individuals who may have been abducted as well. The Japanese government believes that at least 17 of its citizens were definitely abducted (though the North Koreans confirmed only 13), and other Japanese reports suggest that those abducted number in the hundreds. The abduction of Japanese citizens by North Korea is a sensitive domestic political issue in Japan, and the news media cover it closely.The Japanese have met with the North Koreans to discuss the abductee issue on a few occasions since Koizumi's visit to Pyongyang in 2002. These meetings have occurred when the North Koreans were willing to talk and usually when there was an interest in securing Japanese economic assistance. Little has come out of those efforts, however.The US government has been supportive of Japanese efforts to secure the release of its abducted citizens, and US diplomats have raised the issue with North Korea and discussed the topic with other governments at the request of the Japanese government. This was one of the issues I dealt with as special envoy.The Japanese have also received assistance from the Trump administration in urging the release of the abductee. In his first speech to the UN General Assembly in September 2017, the president was harshly critical of North Korea, including on its human rights record. He mentioned the best-known Japanese abductee, Megumi Yokota, in a catalog of human rights abuses by the North Korean government: "We know North Korea kidnapped a sweet 13-year-old Japanese girl from a beach in her own country to enslave her as a language tutor for North Korea's spies." The Yokota family were surprised and pleased that he raised the issue. This public human rights criticism of the North by President Trump, which began in earnest with his first UN speech, continued for several months until March 2018 when Trump and Kim Jong-Un agreed to meet in Singapore. From that point on, U.S. criticism of North Korea human rights has been muted.Trump met with family members of the abductees on an earlier visit to Japan in November 2017, and he pledged to work with Prime Minister Abe to secure their return. According to a senior official of the White House National Security Council staff, Trump raised the abduction issue in Hanoi in February of this year with Kim Jong-Un. During his recent visit to Tokyo in May of this year, the president again met with families of the abductees and assured them of his support for the efforts of the Japanese government.The abduction issue remains an important one for the Japanese government. North Korea has little concern for human rights, but they cynically use such issues when it serves their interest, as they have shown in the past in dealing with Japan on the abduction question. Thus far, there has been only limited interest in Pyongyang in the improvement of relations with Tokyo, but with the failure of the Hanoi summit, there may be a greater appetite to make progress with other potential sources of assistance and support for North Korea. It is possible that Abe's interest in meeting with Kim Jong-Un may produce a positive response, but the abduction issue is one on which Kim Jong-Un will have to show progress to move forward with the Japanese.A number of other issues could cast a shadow over the rapprochement between Japan and North Korea, including the legacy of the Japanese occupation of Korea before 1945. Japan and North Korea discussed normalization of their relationship in the early 1990s, but little progress was made because of differences over North Korean demands for compensation for the Japanese occupation (1910-1945) as well as "sufferings and losses" during the post-World War II period. The Japanese have also sought information about ethnic Koreans who were resident in Japan but who left and resettled in the North after 1945, in addition to the thorny issue of abductions. These unresolved historic issues in addition to the ongoing missile tests and military threats and the abduction issue, make reconciliation between Tokyo and Pyongyang a difficult road ahead. Prime Minister Abe has made the first gesture in proposing to meet with Kim Jong-Un, but thus far there has been no response from Pyongyang.
The above writer, Ambassador Robert R. King is a senior adviser in the Office of the Korea Chair at the Center for Strategic and International Studies in Washington, D.C. Previously, Ambassador King served as special envoy for North Korean human rights issues at the U.S. Department of State from November 2009 to January 2017.
Commentary
is produced by the Center for Strategic and International Studies (CSIS), a private, tax-exempt institution focusing on international public policy issues. Its research is nonpartisan and nonproprietary. CSIS does not take specific policy positions. Accordingly, all views, positions, and conclusions expressed in this publication should be understood to be solely those of the author(s).