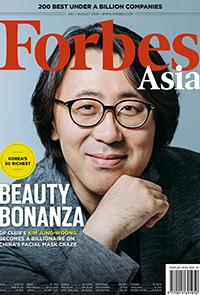 Kim Jung-Woong, founder and chief executive officer (CEO) of GP Club, a Seoul-based cosmetics firm
Singapore, July 10, 2019 — After a robust 2018 which saw a record 45 billionaires on the Forbes' South Korea Rich List, this year's ranking showed a sharp contrast as most of the country's richest tycoons saw their wealth dive. The complete list can be found in the latest issues of Forbes Asia and Forbes Korea.Caught in the crossfire of the China-US trade war, export-reliant South Korea saw a steep decline in overseas shipments, driving the benchmark Korea Composite Stock Price Index down nearly 14% and pummeling the won. A total of 37 list members saw their net worths take a hit in the volatile economic environment. The combined net worth of South Korea's 50 richest declined 17% to US$110 billion from $132 billion a year ago.A worsening slump in semiconductors, which account for roughly a fifth of South Korean exports, hurt the wealth of some of the country's heavyweights. Lee Kun-Hee (No. 1, $16.8 billion) and son Jay Y. Lee (No. 4, $6.1 billion) shed $3.8 billion and $1.8 billion respectively, as shares in their company Samsung Electronics slid 13%. The elder Lee retains the top spot on the list for 11 consecutive years while the younger Lee drops one rank to No. 4.Pharmaceuticals tycoon Seo Jung-Jin, who was last year's biggest gainer in both percentage and dollar terms, saw his net worth cut by a third to $7.4 billion, as profits at his company Celltrion fell on setbacks in new drug development. Nevertheless, he retains the No. 2 spot on this year's list. Taking the third spot is Kim Jung-Ju, whose net worth fell 11% this year to $6.3 billion as shares of his gaming giant of Nexon dropped 13% since last year's list, amid protracted bidding for the creator of popular videogame titles such as Maple Story and Sudden Attack.Suh Kyung-Bae, chairman of South Korea's largest cosmetics firm, Amorepacific, saw the biggest decline in his net worth on the list. His fortune more than halved and he drops two spots to No. 6 with $3.5 billion, largely due to declining sales in China.Bucking the downtrend was Park Yeon-Cha (No. 7, $3.2 billion) of Taekwang Industrial. Global demand for Nike sneakers and low-cost production facilities in Vietnam enabled Park's sneaker-manufacturing business to post record sales and a 20% jump in net profit.Another notable gainer is online gaming tycoon Kim Taek-Jin, whose wealth rose 11% to $1.7 billion, elevating him through the ranks to No. 18 from No. 24 last year. Shares at his NCSoft rose by a third, due largely to its hit mobile game Lineage M. Since its launch in June 2017, Lineage M has generated 2 trillion won ($1.7 billion) in sales and held the top spot on the Google Play Store.Among the three newcomers on this year's list is Kim Sang-Yeol (No. 15, $1.8 billion), who made the list after his Hoban Construction merged with a subsidiary ahead of a potential initial public offering, more than doubling its net assets.Making his debut on the list is Kim Jung-Woong (No. 30, $1.15 billion) of cosmetics maker GP Club, who is featured on the cover of the July/August issue of Forbes Asia. The company scored big with facial sheet masks in China. Also new to the list is Chang Byung-Gyu (No. 47, $890 million), who secured an investment from China's Tencent, which valued his online gaming outfit Krafton at $5 billion.Koo Kwang-Mo of LG, South Korea's fourth-largest conglomerate, returns to the list at No. 17 with a net worth of $1.75 billion after inheriting the shares held by his father Koo Bon-Moo, who died last May. At 41, Koo is now the youngest chairman among the country's top five chaebols.A notable drop-off was Kenny Park of Simone Accessory. Park debuted as a billionaire last year but profits at his handbag manufacturer were cut in half partly by sluggish sales from factories in China and Vietnam. The minimum to make the list was $855 million, down from $880 million last year.
The top 10 richest in South Korea are:
1) Lee Kun-Hee; US$16.8 billion
2) Seo Jung-Jin; $7.4 billion
3) Kim Jung-Ju; $6.3 billion
4) Jay Y. Lee; $6.1 billion
5) Chung Mong-Koo; $4.3 billion
6) Suh Kyung-Bae; $3.5 billion
7) Park Yeon-Cha; $3.2 billion
8) Kwon Hyuk-Bin; $2.9 billion
9) Chey Tae-Won; $2.8 billion
10) Kim Beom-Su; $2.7 billion
The list was compiled using information from the individuals, stock exchanges, analysts, private databases, government agencies and other sources. Net worths were based on stock prices and exchange rates as of the close of markets on June 21, 2019. Private companies were valued by using financial ratios and other comparisons with similar publicly traded companies. For some, the estimates include a spouse's wealth.For more information, visit www.forbes.com/korea
Forbes Media
The defining voice of entrepreneurial capitalism, Forbes champions success by celebrating those who have made it, and those who aspire to make it. Forbes convenes and curates the most-influential leaders and entrepreneurs who are driving change, transforming business and making a significant impact on the world.The Forbes brand today reaches more than 120 million people worldwide through its trusted journalism, signature LIVE events, custom marketing programs and 40 licensed local editions in 70 countries. Forbes Media's brand extensions include real estate, education and financial services license agreements. For more information, visit: https://www.forbes.com/forbes-media/
Forbes Korea
Licensed in 2003, Forbes Korea is a monthly Korean language publication by Joongang Ilbo, one of South Korea's leading media conglomerates. About one-third of Forbes Korea's content is from Forbes and Forbes Asia; the rest are local stories. Content include news on South Korea's entrepreneurs, celebrities, and philanthropists as well as on the lifestyle and insights of the rich and famous in Korea.
For media queries, please contact:
Catherine Ong Associates Pte Ltd
Catherine Ong Ashley Silitonga
tel: +65 6327 6088 tel: +65 6221 3321
cell: +65 9697 0007 cell: +65 9025 3532
cath@catherineong.com
ashley@catherineong.com