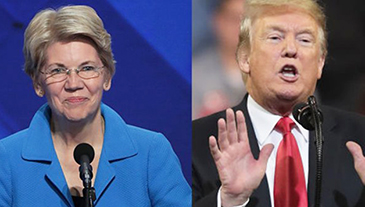 Elizabeth Warren and Donald Trump
"I think people should get in line." That's how Joe Biden responded to a question about unauthorized immigrants entering the US, adding though that asylum seekers "deserve a chance to be heard." Biden, Barack Obama's vice president for eight years, now ranks first among 20 candidates for the Democratic Party nomination.The idea of getting in line had also been reiterated in the first two debates among Democratic candidates, some of whom labeled Biden's position a Republican talking point. Biden's preference for authorized immigrants also places him close to Donald Trump's stand. Biden would favor legal immigrants with college degrees and would offer legal residency for seven years to individuals with doctorates. 

Biden is focusing more on the general election instead of Democratic primary voters, who tend to lean liberal. It is therefore not surprising that many of his Democratic opponents have criticized him, hoping to score political points and reduce his lead in the polls.
 Immigration will be very important in the 2020 election, partly because Trump will focus on it, considering it a very favorable issue to his reelection. The harsh rhetoric about unauthorized immigrants and his preference for legal immigrants from European countries, goes hand in hand with Trump's basic policy. It's very easy to remember his aggressive language against Mexicans, Muslims, and immigrants from "shithole countries." The rhetoric of building the wall on the border with Mexico to block migrants, seen as invaders, also demonstrates his preference for wealthy legal immigrants who do not need US government financial support. Trump's director of immigration services, Kenneth Cuccinelli, has even misinterpreted the words at the foot of the Statue of Liberty, reflecting his boss's preferences and hardline views. Cuccinelli said that America welcomes immigrants who can support themselves economically, forgetting the words on the pedestal of the Statue of Liberty that welcome the "tired, the poor, the huddled masses yearning to breathe free." Trump's ideology on immigrants consists of border closures without acknowledging the basic fact that all Americans are immigrants or descendants of immigrants, except of course for African-Americans and Native Americans. Democratic candidates, on the other hand, recognize the value and contributions made by immigrants in building and and developing the country. Biden, as a centrist candidate, moves away from Trump's harshness but remains on a platform ill-suited to his party's left wing.Biden's stand on immigration is obviously not Trump's. The former vice president favors a comprehensive reform that would offer a path of legalization to the 12 million unauthorized immigrants without criminal records and to the "dreamers", young people brought to the United States as children without authorization. However, activists and other candidates for the democratic nomination point to Biden's ties to Obama who was labeled "deporter-in-chief" for the large number of immigrants deported by the previous president. It must be remembered, however, that at that time Obama was working with the legislature for an immigration reform that was approved by the Senate.In the end, though, the proposal died in Congress, since John Boehner, Speaker at that time, did not bring up the Senate bill to a vote. Obama tried to make up for that failure by using his presidential powers. His DACA executive order (Deferred Action on Childhood Arrivals) allowed "dreamers" to obtain temporary legal residence. Trump, however, revoked the executive order, which is currently being examined by the judiciary to determine its legality.Elizabeth Warren, senator from Massachusetts, and Julian Castro, former mayor of San Antonio, both candidates for the nomination, distanced themselves from Biden, placing themselves to his left.In fact, Warren, currently number two in the polls after Biden, has recognized the value of Castro's extensive immigration plan by adopting its main points. Both favor the decriminalization of unauthorized entry into the United States, converting it to a "misdemeanor", a minor crime punishable only with deportation. The current law instead makes it a crime with the detention of adults and the inevitable separation of children from their families. This has been one of the most inhumane aspects of Trump's zero tolerance policy, as the images of innocent children in cages remain etched in our minds. Warren and Castro see the economic crisis and violence in Central America as the main cause that pushes migrants to a long and dangerous journey as they seek asylum in the United States.Castro and Warren would reactivate DACA, expanding it to include all young people who had come to America before the age of eighteen, instead of sixteen as Obama had originally established. Authorized immigration would also be reformed by increasing immediately the number of refugees to 125,000 and in three years to 175,000. It should be remembered that Trump has reduced these permits to 30 thousand. Warren and Castro would also eliminate the program established by Trump to force asylum seekers to stay in Mexico while their requests for asylum are being processed.The current exorbitant fees for obtaining green cards would also be reduced. Another fundamental point would be to make significant investments in Central America. This would create a political and economic climate to discourage emigration from those countries which are due to poverty but especially to the prevailing violence.Which immigration plan will be submitted by the Democratic Party to voters will obviously be determined by the outcome in the primaries. Biden, already looks beyond the primaries, focusing on the general election. Warren, whose polls are on the rise, placing her as Biden's likely direct opponent, seems to be thinking of the primaries at the moment. She is right. The growing Latino vote, especially in Nevada, California and Texas, which will hold some of the early primaries, could be decisive. But even in the general election the Latino vote in several swing states could prove vital to deny Trump's reelection.