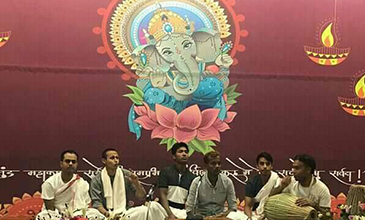 2019 Ganesh (Chaturthi) Festival in Seoul
Ganesh Chaturthi, one of the most colorful national festivals of India, was celebrated in South Korea at Seoul National University (SNU) by Indian communities on Sept. 1, 2019 to honor the elephant headed God Ganesha's birthday. Lord Ganesha is believed to be the remover of obstacles, the patron of arts and sciences, and the diva of intellect and wisdom.He is widely and popularly known as Ganapati or Vinayaka. Ganesh Chaturthi was first celebrated by Indian Student Association (ISA) at SNU in 2007 and has been a major annual festival of Indian community ever since. Ganesha festival 2019 successfully completed 13 years with the help of all Indians in korea, Indian student association, Krisna temples and different Indian communities in Korea.More than three hundreds of Indian residing at various parts of South Korea came to Seoul National University to join the grand celebration of Lord Ganesha. It was overwhelming to see Korean friends as well as citizens of other countries curiously participated in the celebration — it's like a big community festival open to all. We have also distributed free food as well as eco bags to everyone, which have done only in this event compared to other event celebrated by Indian community.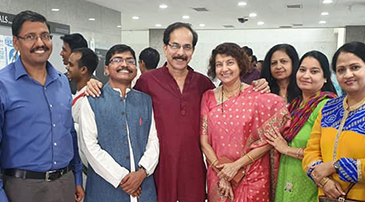 Chairman Vasudev Tumbe (3rd from left in the front row) of Indian Chamber of Commerce in Korea (ICCK) and his spouse Mrs. Sudha Tumbe (to his right) pose at 2019 Ganesh (Chaturthi) Festival held at Seoul National University in Seoul on Sept. 1, 2019.
The celebration started with the installation of Ganesh idol on the beautifully decorated stage with lots of flowers and lights, and accompanied with spiritual Indian music. Priests from Seoul ISKCON temple performed puja and aarti initially started with 'pranapratistha' where chanting of mantras invokes the presence of Lord Ganesha. At the time of rituals, coconut, modaks, fruits, and red flowers were offered to God. Throughout the puja and aarti, several Vedic mantras echoed down the mind of devotees. The cultural extravaganza started with the inaugural speech by chief guest Mr. Lokesh Chandra, CEO, SBI, Seoul. The mega event consists of various cultural performances such as Ganesh vandana, classical dance, singing, kids fashion show, etc. The invited guest also given valuable speech in this event.Tsering Angchuk (1st secretary Indian Ambessay, Korea), Vasudev Tumbe ji, Chairman (Indian Chamber of Commerce in Korea, ICCK), Sudha Tumbe (member of IIK), Lokesh Chandra ji, CEO (SBI, Korea), Yogesh Kedia ji, Sachin Satpute ji, President (Novelis, Asia), Sanjay yadav ji, President of Krisna temple Korea, Kaji Ji (president, SENT Be), Lal Singh (Green Floral), Manoj Kumar ji.Ms. Yukta Tyagi, who works as a english teacher as well as student in Dong-a university, Busan, performed flute on classical music. Various cultural performances such as Indian classical dance, Paramita Gumtya and Yadnika Bhat performed classical dance on devotional song, which have liked as well as praised by all auidence. Various cultural performances on Ganesh Bhajan, Rabindra Sangeet, Kids dance performances, Nepali folk song, ISKCON Pravachan as well as bhajan were the attractions of event.Kids beautifully dressed in Indian traditional as well as fusion style performances added flavor to the event. All the performers were acknowledged with token of appreciation. Ramakant Pandey, vice president of Madan Mohan Malwiye mission, India gave devotional speech on Indian culture and also elaborate the reason, why we are worshiping god. Sanjay Yadav of ISKCON Temple Pochon delivered short presentation about ISKCON movement in Korea and also future projects under the same banner.After a note of thanks by Dr. Lailesh Kumar and Dr. Pankaj Garg, an organizer of the event, all the devotees enjoyed aarti and prayed to God for betterment of life. After aarti, Prasadam, a sweet food offered to Lord Ganesha during puja was distributed to devotees. Most importantly, all devotees enjoyed the delicious Indian vegan lunch served by Otsal Indian restaurant. Organizers thanks to the sponsors and supporters of Ganesh Festival such as State Bank of India, SENT Be, Green Floral, Dr. Pankaj Garg, Otsal Indian Restaurant, ISKCON Temple Seoul and Our Shop Korea etc to make this event a grand success.We are thankful to all team members of Ganesh puja event, Shivani, Omkar, Prasant, Swetha, Raghvendra, Ipsita, Raghba, Sib Sankar Giri, Biswant Bhoi, Chirag, Abhinandan, Dnyandev, Ashok and Neeti for their hard work and support, without their support, this event has not be successful. We also thankful to Namste Korea channel group, who have covered the full video and casted in their channel. Thanks a lot to Prof. Rohidas Arote, for their help and guidance from India. Special thanks to shivani for making beautiful design for bags and poster and Swetha as well as Omkar for beautiful decorations.Finally, the Ganesh idol (made up of an ecofriendly clay) was immersed in spring water, bidding adieu to Lord Ganesha. According to myth, as the clay dissolves in water, the energy of Lord Ganesha spreads all over to bless the entire universe.
Ganapti Bappa Moraya!
The above story was written by Dr. Lailesh Kumar, postdoctoral fellow at Mechanical Metallurgy and Advanced Materials Processing Lab, Department of Material Science Engineering, Seoul National University (SNU) in South Korea.
He had post doctoral research experience in materials engineering at IISC Bangalore and completed PhD in materials engineering at NIT Rourkela in 2017. He served as general secretary and president of research scholar at NIT Rourkela. He loves traveling and speaks six different languages.