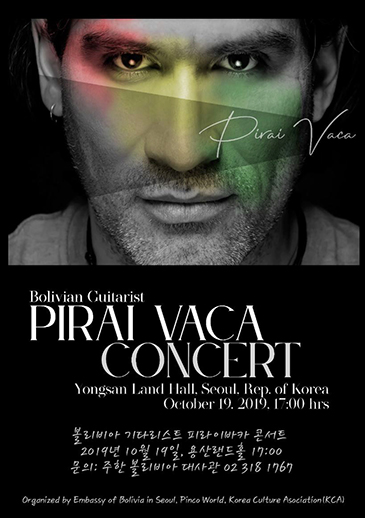 Piraí Vaca's Concert in Seoul
Charge d'Affaires Luis Pablo Ossio Bustillos of the Embassy of the Plurinational State of Bolivia in Seoul is scheduled to present the renowned Bolivia's guitarist Piraí Vaca to the local Koreans in Seoul on Oct. 19 (Saturday), 2019, the Embassy announced recently.Piraí Vaca's concert will take place in the auditorium of Yongsan Land Hall on the second floor of the Yongsan Electronics Land's New Building in Yongsan-gu, Seoul at 5 p.m. on the day.Vaca's concert will be held in collaboration with the Korean Culture Association to promote Bolivian art among the local Korean people.Piraí Vaca is highly recognized as one of the best guitarists in Latin America. He was introduced as one of the most admired Latin American guitarists.
Charge d'Affaires Luis Pablo Ossio Bustillos of Bolivia Embassy
" ... he made an impact on the audience with his musicality and control," the Washington Post once praised him.
He is currently in Asia on his tour, and he will present a sober and varied concert in Seoul, according to the embassy.Embassy official said that the Bolivian guitarist will play songs of such international composers as Isaac Albeniz, Francisco Tárrega, and Daniel Rojas.
For details or inquiries contact the Bolivian Embassy in Seoul
at embolseul@gmail.com