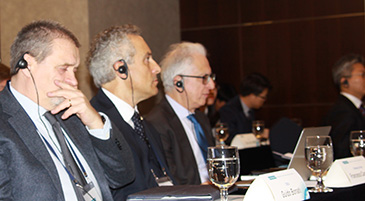 Italian Ambassador to South Korea Federico Failla (3rd from left) attends the Korea-Italy joint symposium on "smart agriculture" held at Lotte Hotel in downtown Seoul on Dec. 4, 2019.
The Korea-Italy joint symposium on "smart agriculture" was held by the Embassy of Italy in Seoul and by the Korea Rural Economic Institute (KREI) at Lotte Hotel in downtown Seoul on Dec. 4, 2019.The first bilateral symposium on "smart farming and agriculture" drew a carefully selected participants as well as presenters from both countries.The symposium, held at Asto Suite on the 36th floor of the hotel, started at 9:30 a.m. and lasted until 6 p.m. on the day.The symposium was focused on "ICT applications for a smart and more sustainable agriculture." ICT stands for Information and Communication Technology.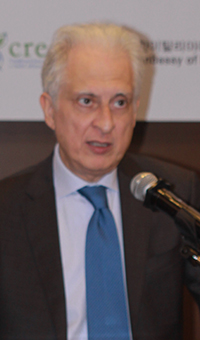 Italian Ambassador to South Korea Federico Failla
A total of 12 scholars and experts made their presentations on this area from both nations including Prof. Francesco Canganella, counsellor of the Italian Embassy in Seoul. The symposium was divided into three sessions: Status of ICT for Smart Agriculture, Development of ICT for Sustainable Agriculture, and Innovation for Sustainable Agriculture.Before the start of the symposium, the Italian Ambassador to South Korea Federico Failla delivered a carefully-worded congratulatory speech, followed by the opening remark by President Kim Hong-Sang of the Korea Rural Economic Institute (KREI).The first presentation was made by Ms. Park Ji-Yun of KREI on "Development Strategies of ICT for Smart Agriculture."
Italian scholar Mr. Guido Bonati of CREA followed her, presenting on "Broadband and Narrowband Applications for Agriculture and Rural Area: the Italian Experience.In her presentation Ms. Park said argued that South Korea faces crisis in agriculture as its farming population is rapidly dwindling and they are aging fast.
The number of South Korea's farmers reduced to 2.3 million in 2018 from 4 million in 2000, a 43 % decrease.
She argued for the strong need for smart farming and smart agriculture by using ICT.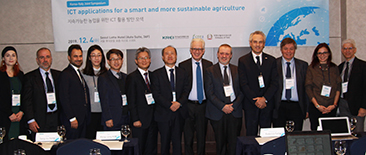 Italian Ambassador to South Korea Federico Failla (6th from right) poses for the camera with other participants at the Korea-Italy joint symposium on "smart agriculture" held at Lotte Hotel in downtown Seoul on Dec. 4, 2019.

Italian Ambassador's Speech:
I am particularly happy to participate to the opening of the first bilateral symposium on Smart Agriculture, jointly organized by the Korea Rural Economic Institute (KREI) and the Embassy of Italy in Seoul.I would like to express my gratitude to the Korean organizers for making this event possible, as well as to the Korean and Italian speakers for making this event a really bilateral one. The Italian government and the Italian Embassy look at the Republic of Korea as a major partner in scientific research. That is the reason why the Italian Embassy in Seoul has an office dealing with S&T cooperation. In our bilateral scientific relationships we have focused on specific topics, that we believe could lead to a fruitful cooperation for both sides. Life sciences, astrophysics and advanced materials two name just few of them.Following our history and cultural traditions, we always believed in a multidisciplinary approach, and especially in scientific research we have been following this path since ever.On this regard, I am pleased to recall that this year falls the 500th anniversary of Leonardo da Vinci's death. His genius and his firm belief that science and humanities are not mutually exclusive fit well with the Italian general approach to the development of knowledge.Today agriculture is at a crossroads from which two opposite roads branch out: on one hand the path of hyper-intensive cultivation processes that will have to satisfy the food demand of billions of people, on the other hand the need of a bio-ethical conscience but with the risk to produce little and for the few who can afford it.Between the logic of "quantity but not quality" and that of "quality but not quantity", there might be a third way, namely that it is through the use of some "intelligent technologies" by which agriculture can follow the path of sustainability without losing both productivity and profit for the people involved in it.Being able to "bridge" between agronomy, biology and engineering, offering a vision of what is possible tomorrow but using today's technologies, is the key-action in applying the smart concept also to the countryside, or better to imagine that even farming might be smart.As far as regard my country, it is reported that the Italian agriculture market 4.0 in 2018 was worth between 370 and 430 million euros, 5% of the global one and 18% of the European one.A survey conducted at a larger scale on about 1.500 farms in Italy showed that Italian companies are increasingly aware of the opportunities offered by the 4.0 paradigm, and are increasingly using solutions oriented to Agriculture 4.0 (55% of total). The control of production costs and the increase in production are the most urgent needs for companies, while the needs related to the acquisition, processing and interpretation of data are considered important but not yet priority. 55% of companies declare using machinery or advanced technologies for crop planning, sowing, cultivation, and harvesting, and 45% of these have been doing this for more than five years.Age and educational qualifications do not significantly affect the adoption of 4.0 solutions, on the contrary instead, the size of the land and the reference sectors do: under 10 hectares only 25% of companies adopt 4.0 solutions, compared to 65% of those over 100 hectares.I strongly believe that the Republic of Korea can get fruitful insights from our experience on smart agriculture, and mutual benefits can arise from the cooperation in applied research as well as in technological transfer.The present bilateral event is then a promising preliminary step towards a more extended collaboration.I hope that additional projects will emerge from today's works including, as I wish, academic bilateral collaboration, and to my opinion smart agriculture may well represent a suitable topic on regard.So allow me to express my best wishes to the present bilateral symposium and to the establishment of concrete joint activities.