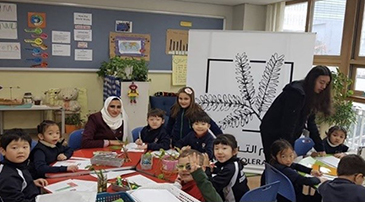 Ms. Mohrah Al-Dhanhani in white scarf poses withe students at the Dwight International School in Seoul.
The Embassy of the United Arab Emirates in Seoul promoted the values of tolerance to international school student in Seoul. As representative of the Embassy, Ms. Mohrah Al-Dhanhani visited the Dwight International School in Seoul, where she delivered a special lecture last February. The event focused on tolerance. It included several entertaining and educational competitions. These included an animated film, reading short stories and coloring on the books of drawing.The event comes in implementation of a project launched by the UAE's Ministry of Foreign Affairs and International Cooperation in line with its public diplomacy and cultural exchange agenda for the year 2019, the Embassy explained.
The UAE government proclaimed 2019 as the Year of Tolerance. Focus will be on tolerance in the community which aims at promoting its values among family members, and to consolidate them among different cultures, activating the role of community centers across the country to promote tolerant and cohesive societies.In addition, emphasis is given to tolerance in education with the objective of solidifying the teachings with regard the values of tolerance within educational systems – across schools and universities – within the UAE.Likewise, the workplace is meant by this tolerance for the purpose of creating a safe, tolerant, and cohesive workplace across public and private sector institutions and organizations, via educational programs that highlight equal opportunities for all.Moreover, there is a cultural tolerance with the aim of promoting intercultural communications, considered the main objective of this announcement, through the launch of a variety of events and programs in celebration of more than 200 nationalities residing in the country, and enhancing interactions between them via the arts and culture sector.The final objective of the announcement is to establish the UAE as model of tolerance for other nations to follow. It seeks to reinforce the status of the UAE as a global capital for tolerance, through a series of initiatives and projects that feature and reinforce tolerance and dialogue between various cultures, religions and civilizations.