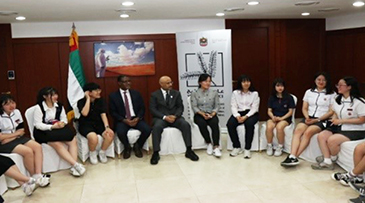 Mr. Rashid Al Shamsi (5th from left), deputy head of mission of the UAE Embassy in Seoul, hosts a group of students from Incheon Yongson School, and members of the Global Leaders Club. To his left is Dr. Adam Abdelhameed, press officer of the embassy.
The Embassy of the United Arab Emirates in Seoul introduced tolerance to Korean students. Mr. Rashid Al Shamsi, deputy head of mission, hosted a group of students from Incheon Yongson School, members of the Global Leaders Club who have interests in cultural exchange between their countries and other countries, where he held a cultural event on tolerance. He talked about the UAE as a model of tolerance.
The event is held in July 2019 in line with an initiative launched by the UAE's Ministry of Foreign Affairs and International Cooperation as part of its public diplomacy and cultural exchange agenda for the year 2019, the Embassy explained. The UAE government proclaimed 2019 as the Year of Tolerance. Announcement seeks to reinforce the status of the UAE as a global capital for tolerance, through a series of initiatives and projects that feature and reinforce tolerance and dialogue between various cultures, religions and civilizations.Emphasis is given to tolerance in education with the objective of solidifying the teachings with regard the values of tolerance within educational systems – across schools and universities – within the UAE.In addition, focus is given to tolerance in the community which aims at promoting its values among family members, and to consolidate them among different cultures, activating the role of community centers across the country to promote tolerant and cohesive societies. Likewise, the workplace is meant by this tolerance for the purpose of creating a safe, tolerant, and cohesive workplace across public and private sector institutions and organizations, via educational programs that highlight equal opportunities for all. Moreover, there is a cultural tolerance with the aim of promoting intercultural communications, considered the main objective of this announcement, through the launch of a variety of events and programs in celebration of more than 200 nationalities residing in the country, and enhancing interactions between them via the arts and culture sector.