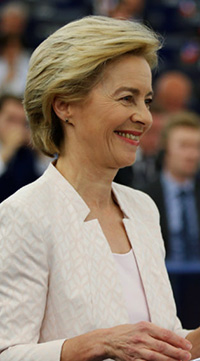 European Commission President Ursula von der Leyen
Climate change is not usually an uplifting topic. Take one look at the impacts of fires in Australia or California, the flooding in Indonesia, and famine in Zambia, and the outlook appears grim. These events are expected to become more common, more damaging, and more widespread, and our capacity to deal with them, and keep people safe, will be severely tested. The world is increasingly taking notice. Last week, the World Economic Forum released its Global Risk Report 2020, where climate change-related impacts swept eight out of 10 top risks.Mobilizing an effective global effort to address the problem seems daunting as well. Right now, the world relies on carbon-emitting fuels account for 80 percent of global energy consumption. Despite the impressive growth in energy supply coming from renewable and other lower-carbon sources, the amount of energy being consumed in ways that produce emissions has grown. All this matters, because in order to try and restore some balance to Earth's natural systems, the world's best scientists tell us we need to reduce greenhouse gas emission to net zero within just a few decades. Meanwhile, despite decades of effort and debate, global greenhouse gas emissions are growing, not declining.All of this is enough to make any reasonable person throw up their hands in exhaustion or take to the streets in protest as so many have done this year, or choose to focus on something else less concerning, as human beings tend to do. There is another way to think about the challenge of dealing with global climate change, though. It is a hopeful vision of why society may finally have all it needs from an economic, political, and technological standpoint to deal with this issue.Climate change is an unprecedented challenge without a proper analogy. Manhattan projects, moonshots, world war mobilization efforts, are all too small, too contained, and too targeted to be emblematic of the kind of change required to deal with climate change. The closest appropriate analogy is that of the industrial revolution — where a combination of technological advancements, social transformation, and policy adjustments fundamentally altered the built environment, economic constructs including commercial relationships, concepts of economic development, and eventually, the global political order. It was at once something society did but also something that happened to us. It changed the way we thought about work, safety, health, and the environment. It changed our patterns of trade and the tempo of our commerce. It changed the nature of war and geopolitics and led to additional technological evolutions that had further effects on the way we live today. It led us to organize society differently to defend worker's rights and the environment.That period feels a lot like the world we live in today. The world is in the midst of a technological revolution. The so-called Fourth Industrial Revolution is much more about communication, data, and computation than altering the nuts and bolts of our built environment. But over time, infrastructure, materials, and even energy resources will all be different as a result of the changes enabled during this period of innovation, as will the relationship between people and the world around them.This, too, can seem like a scary phenomenon, but its timing couldn't be better. Effectively managing climate change will require lots of information and innovation. So much that in years past it seemed impossible to imagine a world in which that scale of change could ever happen, with some even arguing it was arrogant for humans to try. Scientists have come to understand, however, that human activity has already fundamentally altered the Earth. The so-called Anthropocene era, in which many scientists now think we live, calls us to be more deliberate about our impact on the environment. It's not hubristic to think we can have a lasting impact on Earth's natural systems; we already have. This awareness, combined with our newly emergent technological capabilities, gives us an opportunity to think about the intersection of technology, society, and the environment in fundamentally new ways.The world is also experiencing societal transformation, similar to the time of the industrial revolution. All around the world, people are renegotiating their social compact with their governments and with each other. New forms of interaction have weakened old institutions, challenged community coherence, and given rise to a variety of forms of popular unrest. In the energy and climate world, this has been felt most profoundly in the rise of figures like Greta Thunberg, the teenage youth climate strike movement leader who has mobilized some of the largest protests in the world and has become a voice for hers and future generations. The rise of the Green New Deal in the United States and elsewhere also embodies this change, calling on governments to not only reduce emissions to combat climate change but rewrite the underpinnings of the U.S. economy to more fully address inequality, economic insecurity, and environmental injustice. These voices and movements have changed at least the rhetoric of our political debate and the expectations of investors and consumers. As a result, energy companies of all types are struggling — just like the governments that regulate them — to reconstitute their social license with the public against the backdrop of these new, if not universally held, expectations.Social mobilization and change are key to building support for the measures necessary to drastically reduce emissions and for preparing for climate impacts. On the former, people must be open to change and begin to set the parameters for governments about the types of change they seek. On the latter, dealing with the impacts of climate change will be about taking care of each other: protecting our homes and our communities and finding new ways to help the least fortunate prepare, respond, and even thrive. Social movements can create new ideas and institutions that make this possible.Climate change is a global problem that requires global solutions. For decades, climate negotiators and advocates have worked within the confines of the global political order and institutions where climate change played second, third, or even fourth fiddle to other major priorities. Look no further than the daily news, and it is clear that the world order is shifting rapidly. Old relationships and institutions are frayed and weakening; new relationships are being defined, and opportunistic actors are on the move. Many of our preconceived notions about alliances, institutions, security, trade, and self-interest are being renegotiated in real time.Indeed, it is a scary time due to the risk of miscalculation that could lead to protracted economic, cyber, nuclear, or military conflict. But it is also a time to fix what had become broken, old, and stale in the international system. The time may not have arrived yet, but at some point in the not-too-distant future a new or newly reconstituted set of alliances, institutions, and priorities will emerge from this period of flux, and they will shape or be shaped around new economic, security, or political objectives shared by a group of countries. Some countries now prioritize actions synonymous with tackling climate action as part of their competitive advantage. European Commission President Ursula von der Leyen said so plainly this week during her speech at Davos, and some of the world's fastest-growing large economies, like China and India, have also incorporated low-carbon growth into their industrial policies. Climate change is undoubtedly an issue the world will have to manage, one way or another, and is likely to be managed more effectively if countries work together. Effective strategies for dealing with climate change could become part of the foundation of this new global system.Nothing about the current moment in time is guaranteed to be positive for the climate. Each of the areas listed above could yield outcomes that put the world at a disadvantage for dealing with climate change. In fact, some experts are worried that the confluence of these three trends will lead to technology enable authoritarianism in some places: a decidedly gloomy outcome. And, just like the industrial revolution, no one person or group of people is capable of steering the world toward an overly prescriptive or definitive outcome. But for the first time in a long time, the scale and pace of change we see around us match that of the change we seek. Steering the world toward a more manageable climate in this context means addressing it on multiple levels — consumer choices, public policies, community engagement, investment and finance, innovation priorities, corporate strategy, and relationships between and among countries — and taking advantage of where change is occurring to embed things that are good for the climate. A positive outcome for climate change is not inevitable or easily achieved, but there is hope.
Sarah Ladislaw is senior vice president and director and senior fellow of the Energy and National Security Program at the Center for Strategic and International Studies in Washington, D.C.
Commentary
is produced by the Center for Strategic and International Studies (CSIS), a private, tax-exempt institution focusing on international public policy issues. Its research is nonpartisan and nonproprietary. CSIS does not take specific policy positions. Accordingly, all views, positions, and conclusions expressed in this publication should be understood to be solely those of the author(s).