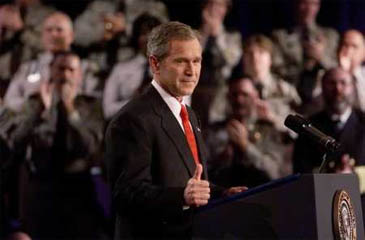 US President George W. Bush
In January of 2004, George W. Bush proposed an immigration overhaul which would match American companies with foreign workers needing jobs. The program would provide temporary legal status through a guest worker program to millions of undocumented workers in the U.S. and possibly others who would come into the country legally if jobs are available for them.Because the right wing of the GOP was very much opposed to the idea, Bush soft-pedaled it and the plan went nowhere.Recently, Bush picked up where he left off in January. He said he campaigned on the issue of immigration and intends to keep his promise.Will he spend some "political" capital on undocumented workers?Since he does not have to run for re-election, Bush may be concerned about his legacy as president. Fixing the immigration problem could become one of his, though very few, accomplishments.By keeping his promise, Bush would recognize the 45 percent support he received from Latinos in his reelection, a 7 percent increase over the 2000 election.The implementation of Bush's immigration plan would also reap political benefits for the GOP, which could even improve on the President's support with Latinos in the long run. Immigration is an important issue for Latinos and their increasing numbers could prove indispensable in future elections at the national but also at the state level.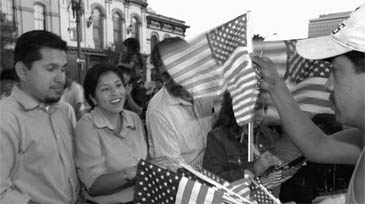 Mexican immigrants in the US
Legalizing undocumented workers, even with temporary guest worker visas, would also benefit the country. It would bring out from the shadows millions of undocumented workers who have established themselves in the U.S. In addition, we would not waste billions in our efforts to stop illegal immigration from Mexico.It would also save the lives of several hundred migrants who die each year at the US-Mexico border as they attempt to make the dangerous journey north. And of course it would do away with "coyotes," smugglers who prey on innocent people and sometimes leave them to die in the desert.Beneficiaries of legalizing people in the U.S. would also include those American companies which right now are breaking the law when they hire undocumented workers with the pretense they don't know about the legal status of job applicants. Although Americans for the most part blame the undocumented workers for their illegal "act," some are wising up to the fact that if companies did not hire them, illegal immigration would disappear.Will Congress pass a bill on immigration along Bush's general lines which would legalize undocumented workers?Conservative Republican legislators will balk at the idea. They are stuck on not wanting to reward illegal behavior. They fear more people would break immigration laws and feel it would make a mockery of those immigrants who come to the U.S. through legal channels. They have a point in some ways although reality forces people to look beyond the mere legality and pretend several million people will just disappear.Bush, of course, is a master salesman. He was able to convince Americans to reelect him in spite of his failed economy and the disastrous war in Iraq. Thus, if he wants to, he will be able to convince enough GOP legislators to vote his way.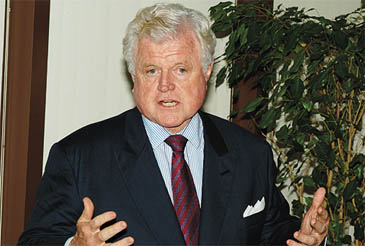 US Senator Edward Kennedy
He would not need very many of them because most Democrats would support a plan to provide legal status to undocumented workers. Senator Edward Kennedy, for example, made an immigration proposal in May of 2004, which is not very different from Bush's plan. Kennedy's plan is more "generous" in that it includes the possibility of permanent residency for some undocumented workers.When Bush first came to Washington he declared himself a uniter and not a divider. Implementing an immigration plan with the help of Democrats in a bipartisan way would lend credence to his statement and recognize that although he got elected, 49 percent of the country voted against him. It would mean keeping another promise he made as a candidate to unite the country.