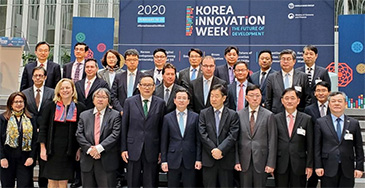 2020 Korea Innovation Week
A total of 170 participants — including 26 US state governors and leading US and Korean businessmen — attended an official reception of the 'National Association of Governors (NGA)' Winter Meeting that was held at the Residence of Korean Ambassador Lee Soo-Hyuck in Washington, D.C. on Feb. 8, 2020. They gathered to strengthen intergovernmental cooperation in hopes of resolving policy issues and to interact with major figures from all over the world. This year, Maryland Governor Larry Hogan (head of the NGA) and the Korean ambassador co-hosted the reception. During the meeting, Governor Hogan, who is known as a "Korean son-in-law" for marrying a Korean wife, articulated the importance of strengthening ties with Korea in commerce, culture, technology and more.
In addition, chiefs of Korean companies with investments in the US as well as governors and entrepreneurs discussed ways to enhance economic cooperation between the two countries and exchanged views on future technology and mobility innovations. Among them, Hyundai Motor's Executive Vice Chairman Chung Eui-Sun flew from Korea with Hyundai's Nexo — its hydrogen fuel cell powered vehicle — for the event and demonstrated its air purification function. It showcased how contaminated air turns into clean air through a three-stage air purification system in the vehicle. The state officials were able to witness firsthand, the eco-friendliness of hydrogen electric cars. Samsung and LG showed a video clip of world-renowned media artist Lee Yi-nam's work, called Inwang JehSek-do, through their high-tech display products that were displayed at CES 2020 in January.
As a highlight of the evening, a special video message was conveyed from South Korean President Moon Jae-In who underlined that the US-ROK alliance has become a "great alliance" that encompasses economic and global cooperation beyond security issues. President Moon expressed his appreciation to all of the officials and attendees for acting as a bridge in support of the US-ROK economic alliance. He also asserted that Korean companies have accumulated $147.5 billion for US investments across the states, contributing to job creation and industrial development. Ultimately, the event provided an opportunity to recognize the solidarity of the US-ROK alliance and the consolidation of economic relations between the two countries.