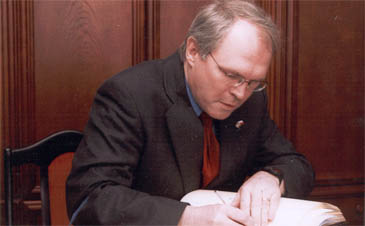 US Ambassador to Seoul Christopher Hill at work
US Ambassador to Seoul Christopher Hill, will succeed James A. Kelly for his post of assistant secretary, US State Department's Bureau of East Asian and Pacific Affairs, diplomatic sources in Washington DC said Jan. 12, 2005.James A. Kelly, who is assistant secretary of state for East Asian and Pacific Affairs, is expected to resign soon. Kelly was nominated as the assistant secretary by President Bush April 3, 2001, confirmed by the U.S. Senate April 26, 2001, and sworn in May 1, 2001.The sources said that State Secretary-Designate Condoleeza Rice picked up Hill after she was brooding who to choose for the position between Hill and Michael Green, advisor to U.S. President for Asia.Amb. Hill met with Rice and other high-ranking State Department officials in Washington DC around the end of 2004. And the sources argued that Hill's visit to Washington DC was for an interview with them for the post.For his new mission Hill will be finishing the top US envoy's job in Seoul, which he took only five month ago. Hill was started his Seoul post in August of 2004.John Thomas (Tom) Schieffer, the US ambassador to Australia, will most likely succeed Amb. Hill for the top diplomatic position in Seoul. A native Texan Amb. Schieffer is co-owner of Texas Rangers Baseball Club with President George Bush. He is a brother of prominent CBS anchorman Bob Schieffer.Amb. Hill has been quite active in his job as the top US diplomat in Seoul. He frequently appeared on local TVs and stressed that North Korean nuclear issue should be dealt with through the six-party talks.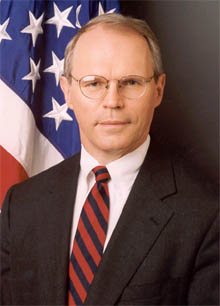 US Ambassador Christopher Hill
In his efforts to interact with local people, the 52-year-old career diplomat even tried to talk with young South Korean internet users, many of who are anti-American and pro-North Korean. He opened an internet community site "Cafe USA(cafe.daum.net/usembassy) for a direct conversation channel with young South Koreans.He became the first US ambassador to Seoul who braved a visit to Gwangju City in South Jeolla Province to pay homage to the ones who were killed during the 1980 Gwangju Incident.During the popular uprising thousands of Gwangju citizens rose up in their protest against then military dictatorship of South Korea and for the country's democracy. Hundreds of people were brutally murdered by the heavily armed troops which were under U.S. control.Still some South Koreans blame US for "allowing South Korean army to use its troops to kill civilians" or at least for "not doing anything about the massacre."Soon after his arrival to Seoul Amb. Hill started playing golf "to learn about Korea." Many Korean leaders, business or political, use playing golf for socialization. Recently the US Embassy in Seoul offered an English language program to the local people.Amb. Hill is one of the busiest foreign envoys who frequent all the major diplomatic gatherings in Seoul. Above all he allegedly started learning Korean language.
Profile: Amb. Christopher Robert Hill
Christopher Robert Hill was born and raised in Little Compton, Rhode Island in 1952 until he went to Brunswick, Maine for college education.Mr. Hill graduated from Bowdoin College in Brunswick, Maine, in 1974 with a B.A. (bachelor of art) degree in economics. He completed his M.A. (master of art) degree at the Naval War College in l994.Fresh out of college in 1974, Hill volunteered to serve as a Peace Corps member in Cameroon for two years. He joined the State Department in 1977.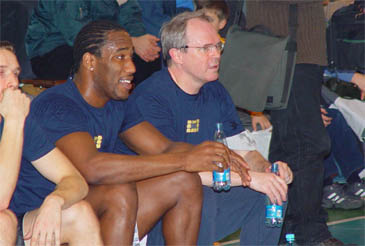 U.S. Ambassador to Poland Christopher Hill (right), plays in the "all star" basketball game sponsored by Gazeta Wyborcza, Poland's largest circulation newspaper, on Feb. 12, 2003.
As a senior member of the U.S. foreign service, Mr. Hill spent better part of his career mainly in Eastern Europe and the Balkans. As multi-lingual, he is capable of speaking fluent Polish and Serbo-Croatian, and some Macedonian and limited Albanian. Mr. Hill was the U.S. ambassador to Macedonia from 1996 to 1999.At the urging of then President Bill Clinton, Mr. Hill served a special envoy for the Kosovo crisis and played his role as a U.S. negotiator for the Bosnian peace accord.Mr. Hill received both the Robert S. Frasure Award for Peace Negotiations and the State Department's Distinguished Service Award for his achievement in the Bosnian peace negotiations. He earned his nickname "Balkan troubleshooter" while he was solving the knotty problems In Kosovo.After his missions in Kosovo, he served as the senior director for Southeast European Affairs with the White House's National Security Council (NSC).Mr. Hill also served as the senior country officer for Polish Affairs in the Department of State before he was appointed as ambassador to Poland by President Bill Clinton in Feb. 9, 2000.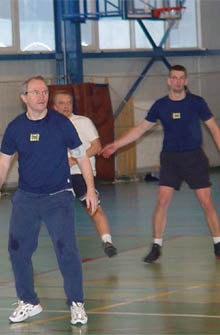 Amb. Hill playing basketball
U.S. Ambassador to Poland Christopher Hill (far left) plays in the "all star" basketball game sponsored by Gazeta Wyborcza, Poland's largest circulation newspaper, on Feb. 12, 2003. As U.S. ambassador to Warsaw he was quite successful in persuading Polish government to send its troops to Iraq in the face of strong objections from Poles. Speaking in response to the President George Bush's order to disarm Iraq, Amb. Hill was quoted as saying later that America had no other alternative."We tried everything we could to avoid this conflict. We used every institution possible," Amb. Hill said. "Ultimately the problem was that we had a dictator who not only has used weapons of mass destruction on his own people, on his own neighbors, but who has continued to refuse to get rid of those weapons of mass destruction. So ultimately we came to the end of the road."Amb. Hill stressed that the U.S. is very appreciative of everything Poland has done throughout the crisis. He noted that this has not been an easy time for Poles. "Many Polish people have direct experience of war, and they recognize what a dangerous thing it is, added Mr. Hill. "So, we are very appreciative of what the Polish leadership has done to support us in this venture."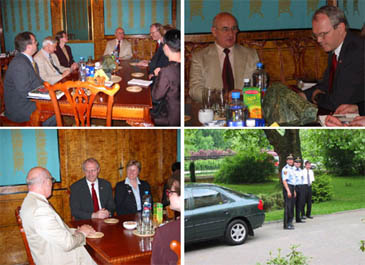 Amb. Hill and his wife Mrs. Hill visit Polish Filmschool Lodz.
He was awarded the prestigious Gordon S. Hargraves '19 Preservation of Freedom Prize while he was serving as U.S. ambassador in Warsaw for his outstanding achievement in Kosovo crisis.Mr. Hill's hobbies include sports activities. His favorite sports is paying tennis. He reminisces his paying tennis game atop a building in the middle of winter while he was working as an economic officer nearly two decades ago in Seoul.Mr. Hill is known to be a big fan of Korean baseball player Kim Byung-Hun of Boston Red Sox. In winter he regularly enjoys skiing.As an avid reader, Mr. Hill favors history books. His recent reading list includes "The Two Koreas: A Contemporary History" by Don Oberdorfer.Mr. Hill has one son and two daughters with his wife Patricia. His son now lives in Washington DC after college. His older daughter, who attends college in Boston, has many Korean friends. His younger daughter is a high school student who was born in Seoul in 1987.