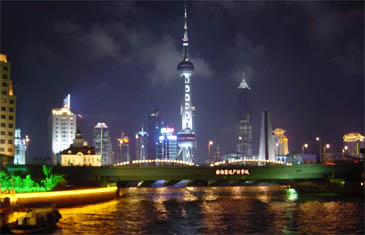 Shanghai Orient Tower
China's sudden emergence into the global stage is causing so much debate. To some people, its development will mean a Chinese domination in 21 century. A new world power, as historians claim, does alter world balance, often leading to new conflicts.Is a prosperous China a good news or a disaster in the making? The truth is that a rising China will benefit the entire world, not just China.China's expanding economy is creating a new global engine of growth. Today, China has become a biggest frontier market as well as a global manufacturing center. It has numerous direct benefits for the outside world.
| | |
| --- | --- |
| | China's First Spaceman — Yang Liwei, the 39-year-old fighter pilot has gone into orbit, and spend almost 24 hours circling the Earth. Lieutenant Colonel Yang Liwei, a 1.68-metre (5' 6") fighter pilot, was born in 1965 in Liaoning Province. |
First, consumers can get cheaper products than ever before. China now produces a vast range of cheapest products. This offers new choices for global consumers. To be sure, it saves countless money for them. Why should anyone pay $200 for a microwave oven, when he get one for $50 made from China?
How many people want to shop for the most expensive products? Maybe 1 percent. But 99 percent of us are not as rich as Bill Gates or George Soros. Most of us can get by without a Rolex watch. That is how Wal-Mart has $260 billion sales now. For this, China is playing a right role. (But some Rolex lovers claim this: China is causing deflation.)Second, all sorts of new opportunities emerge as Chinas economy expands. The world is economically connected more than ever before. It produces more wealth for the world as a whole.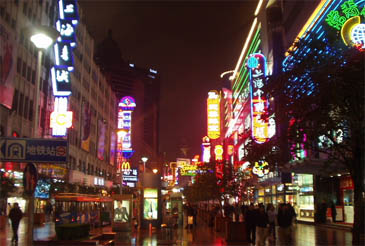 Nightly view of a Shanghai street
In fact, most products take a shared work involving numerous nations. Not a single nation can dominate. A TV set is made in China, but its chips are from Europe, Japan and US, metals and raw materials from Latin America and Australia, and some other components from a number of developing nations.In fact, international multinationals make more profits than the Chinese manufacturers. For every DVD made in China, the foreign technology patent holders charge at least $5. How much do the Chinese manufacturers make? 50 cents. Chinese businessmen say this: they make less money making DVDs than selling vegetables in the street corner.Wal-Mart purchases about $15 billion goods from China. But the tens of thousands of Chinese suppliers combined can make less than 5 percent of Wal-Marts profits.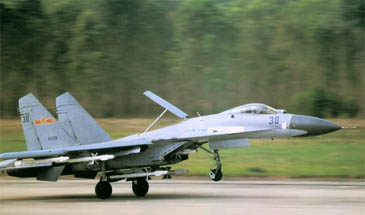 Su-27 Fighter of PLA Air Force
China's development is creating a new engine of growth. Chinas developing economy means, first of all, a rising domestic consumption. In 2004, international players sold around $550 billion to China, well over $130 billion for 2003. This Chinese buying could reach $1 trillion within five years.In Chinas stores, foreign brands are countless. When a consumer wants a washer, he confronts with vast choices: Sharp, LG, Siemens, Electrolux, Hitachi and Whirlpool, among others. Moreover, he will need to choose which stores to go to: Makro, Justco, Correfour, Wal-Mart or PriceSmart, among others.There are some 300 foreign retailers in China now. They are following each others tails closely and adding new mega stores in a hurry. More international retailers are on their way to China. A booming Chinese retail means a gold mine for them.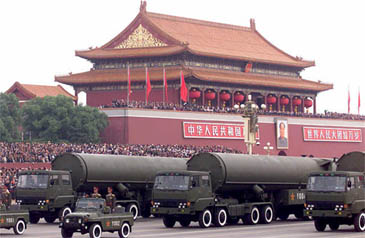 China's first mobile-launching ICBM: DF-31
Japan is coming out of economic slump for now. It is significantly aided by its ever-increasing export to China. In fact, in the last few years, more than 50 percent of increased export comes from China.Without China, Motorola, Samsung and Nokia would be 20 percent smaller. Indeed, China has saved their fortunes. They are grateful to the 330 million Chinese mobile users as in 2004. According to their projection, this market will jump to 500 million by 2007. India now has only 10 million mobile handsets, but it takes only two months to get them in China. How could any telecomm player avoid China?Benefits are hardly limited to these things. In fact, China's emergence shows a greatest convergence of civilizations. In today's world, sharing is more important than war, cold or hot.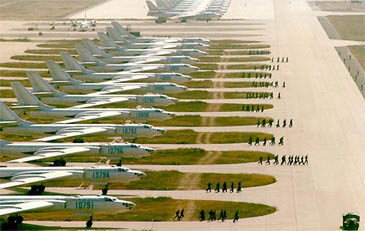 H-6 Bombers
Today, the world is more economically connected. But world politics lags behind. The cold war ideology is much alive still. It continues to block the road leading for more global sharing and commonwealth as well as joint responsibilities.The alternative is terrible for all. If China sticks with a general poverty, would the rest of the world benefit?In short, 21 century belongs to the world. China can only, and deeply wish to, share its progress with the world. This makes a sharp departure from the past. Europe's previous global reach led to dozens of colonies and sufferings to countless people in the outside world. The rise of Japan and Germany led to bloody wars in the past. But a developing China offers opportunities for the world.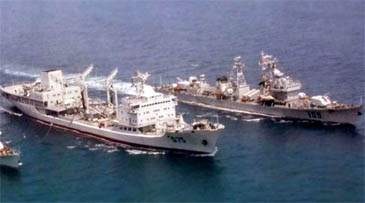 PLA Navy Surface Warship Fleet
Meanwhile, an average Chinese is simply delighted to exchange ideas and dreams with international people. He is not afraid to compete, but prefers to be on a merit basis. He dearly wishes China to be as open as possible. He is eager to meet international people in China and beyond. For him, becoming an equal partner in the world is much more significant than being number one or number fifty. He would be as happy as a bird if his hard work is noticed by others.