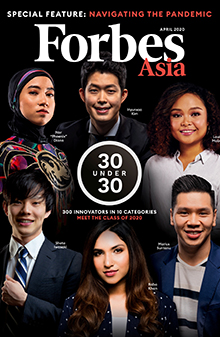 2020 Annual "30 Under 30 Asia" List
SINGAPORE (April 2, 2020) – Forbes announced today its fifth annual "30 Under 30 Asia" list, featuring 300 young entrepreneurs, leaders and changemakers across Asia, all under the age of 30, who are challenging conventional wisdom and rewriting the rules for the next generation. Amidst challenging times and global uncertainty, the Forbes 30 Under 30 Asia Class of 2020 features bright and innovative leaders who are ready and equipped to adapt to whatever the future may hold, with 30 honorees selected for each of the 10 categories. The categories are The Arts (Art & Style, Food & Drink); Entertainment & Sports; Finance & Venture Capital; Media, Marketing & Advertising; Retail & E-Commerce; Enterprise Technology; Industry, Manufacturing & Energy; Healthcare & Science; Social Entrepreneurs and Consumer Technology.Among those featured on this year's list are K-pop girl group Twice and actress So-dam Park—best known for her role in Oscar-winning film Parasite—from South Korea; the current world No. 1 female tennis player Ashleigh Barty and the founder of MyraSwim Bianca Anstiss from Australia; 14-year-old racing prodigy Juju Noda from Japan; Francis Plaza, Founder and CEO of PayMongo from the Philippines; Bain Wu, CEO of AI startup, INFIMIND, from China; Pulitzer Prize winning journalist Kyaw Soe Oo from Myanmar; Justin Lim, Cofounder of Fish & Chicks from Singapore; Ajeesh Achuthan, Cofounder of Open from India and sisters Isabel and Melati Wijsen, Cofounders of Bye Bye Plastic Bags from Indonesia.Rana Wehbe, Forbes 30 Under 30 Asia Editor, said: "This year's Forbes 30 Under 30 Asia list-makers inspire optimism in what is promising to be a tough year ahead. They are a resilient and energetic bunch who are facing challenges head-on and actively working for a future that matches their aspirations."
Wehbe added: "Young women under 21 especially stand out in our 2020 list: From Malaysia's hijab-wearing wrestler to Bangladesh's first female comedian and a social entrepreneur helping farmers in the Philippines improve their livelihoods – these fierce gamechangers are shattering gender, age and cultural stereotypes across industries."Featured highlights on the "30 Under 30 Asia" list include:
• The Arts (Art & Style, Food & Drink): Latesha Randall, 29, New Zealand, Cofounder, Raglan Coconut Yoghurt
• Entertainment & Sports: Nor "Phoenix" Diana, 20, Malaysia, Professional wrestler
• Finance & Venture Capital: Aditya Prasad, Harsh Pokharna and Gaurav Kumar, 26, 28 and 28, India, Cofounders, OkCredit
• Media, Marketing & Advertising: Raba Khan, 20, Bangladesh, Entertainer, The Jhakanaka Project
• Retail & E-Commerce: Donald Kng and Nico Li, 29 and 28, China, Cofounders, Vetreska
• Enterprise Technology: Hyunsoo Kim, 29, South Korea, Cofounder and CEO, Superb AI
• Industry, Manufacturing & Energy: Marius Suntanu, 29, Indonesia, Cofounder, Yummy Corp
• Healthcare & Science: Milad Mohammadzadeh and Sadaf Monajemi, both 29, Singapore, Cofounders, See-Mode
• Social Entrepreneurs: Louise Mabulo, 21, The Philippines, Founder, The Cacao Project
• Consumer Technology: Shota Iwasaki, 24, Japan, Founder, ShukatsunetThe 2020 list features a diverse set of 30 Under 30 honorees, with 22 countries and territories represented across the Asia-Pacific region. India leads the region with the highest number of honorees of 69 on this year's list, followed by China with 41. Japan came in third with 31 honorees while South Korea took the fourth place with 25. Australia, Indonesia and Singapore are tied in fifth place with 22 honorees each.Selected from over 3,500 nominations, researched by Forbes journalists from across the region and vetted by industry veterans, this select group of relentless individuals are disrupting industries and tackling major global issues. The criteria for honorees making the list include their demonstration of leadership, how they embody the entrepreneurial spirit that is synonymous with Forbes, and their potential of success in their industry. Other factors like innovation, disruption – and size and growth of their ventures in some categories – play a role in making the final decision.Honorees were vetted and selected by a panel of accomplished and acclaimed judges in each category. They include Hiroshi Mikitani, CEO of Rakuten; Roshni Nadar Malhotra, Executive Director and CEO of HCL Corporation; Trustee of Shiv Nadar Foundation; JP Gan, General Partner at INCE Capital; S.D. Shibulal, Cofounder of Infosys and Axilor Ventures; Kaifu Lee, CEO of Sinovation Ventures; Nisa Leung, Managing Partner at Qiming Venture Partners; Kuok Meng Ru, CEO of BandLab Technologies; Hua Fung Teh, Group President of ONE Championship; Allan Zeman, Founder and Chairman of Lan Kwai Fong Group; Jennifer Wai Fun Liu, Founder and Chairwoman of The Coffee Academics; Liu Genping, Partner at Vertex Ventures; Anna Fang, CEO of ZhenFund; Patrick Grove, Cofounder and Group CEO of Catcha Group; Janice Wong, Chef and food entrepreneur; Jo Soh, Program Director at The Bridge Fashion Incubator among many others.On the Cover (Clockwise):1. South Korean Hyunsoo Kim's machine-learning startup Superb AI, helps to streamline the process of creating deep-learning algorithms, in some cases at speeds ten times faster than conventional methods2. Louise Mabulo founded The Cacao Project to encourage local farmers in her hometown in the Philippines to plant cacao trees, which she found were typhoon-resistant trees following 2016's Typhoon Nock-ten3. Marius Suntanu's online catering service Yummy Corp in Indonesia serves up 14,000 meals a day in Jakarta and the nearby city of Tangerang4. Raba Khan, a multitalented celebrity in her native Bangladesh, has her own fashion brand, JKNK, and is regarded as the country's first female comedian through her amusing YouTube videos5. Shota Iwasaki's Shukatsunet site has established a flourishing business selling low-cost, easy-to-understand funeral plans in Japan6. Nor "Phoenix" Diana, who at 20, is Malaysia's first hijab-wearing female pro wrestler
For the complete Forbes 2020 30 Under 30 Asia package, visit https://www.forbes.com/30-under-30/2020/asia
On social media, please follow @ForbesAsia on Twitter | Facebook | InstagramAbout Forbes Under 30:
Forbes' Under 30 is a global platform, which comprises Forbes Under 30 lists featuring young game changers published in print and online all over the world; live summits in the U.S., Asia, Europe and Israel; and an Under 30 channel on Forbes.com.About Forbes: The defining voice of entrepreneurial capitalism, Forbes champions success by celebrating those who have made it, and those who aspire to make it. Forbes convenes and curates the most influential leaders and entrepreneurs who are driving change, transforming business and making a significant impact on the world. The Forbes brand today reaches more than 120 million people worldwide through its trusted journalism, signature LIVE events, custom marketing programs and 40 licensed local editions in 70 countries. Forbes Media's brand extensions include real estate, education and financial services license agreements.For more information, visit the Forbes News Hub or Forbes Connect.
Forbes Asia Media Contact: Catherine Ong, cath@catherineong.com or +65 9697 0007
Forbes Asia Media Contact: Ashley Silitonga, ashley@catherineong.com or +65 6221 3321