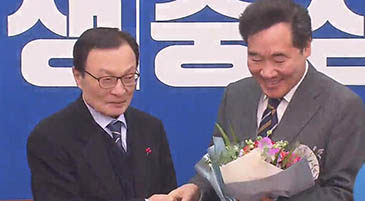 Lee Hae-Chan (left), chairman of the ruling Democratic Party embraces ex-Premier Lee Nak-Yeon at their party headquarters in Seoul on April 16, 2020 when they won the April 15 general election by landslide. Lee Nak-Yeon also won his seat in central Jongro district over his conservative rival Hwang Kyo-Ahn, the head of the main opposition United Future Party.
It was the big victory for the ruling Democratic Party in South Korea's 21st general election held on April 15, 2020. The liberal party and its coalition garnered as many as 180 seats in the nationwide National Assembly election while the main opposition conservative United Future Party and its satellite party won in 103 constituencies among the nation's full 300 seats. The remaining seats were split into to the smaller parties.Among the 253 constituencies the ruling Democratic Party won 163 constituencies while the main opposition United Future Party took 84 places. The five went to the independent candidates and one was taken by Justice Party.The ruling collation 60 percent of the ballots whereas the main opposition parties won 34.3 percent of the votes among 29,127,637 votes cast.
Analysts explained that voters supported the ruling party and they still harbor negative sentiments toward the past conservative governments of Lee Myung-Bak and Park Geun-Hye for their misrule and for mismanagement of the government. The former presidents are still in jail for their misdeeds.
The outcome of this parliamentary election is expected to make the current liberal party a gigantic party and to give it a leeway to even reform the Constitution.The victory of the ruling party was attributed to the high voter turnout by the younger generation including the voters in their 50s. The voting rates were 66.2 percent in this 2020 National Assembly election. It was the highest voter turnout in 28 years.