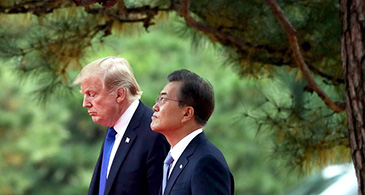 US President Donald Trump (left) and S. Korean President Moon Jae-In
The U.S.-Korea alliance has stepped up cooperation in the fight against COVID-19. On April 14, 2020, South Korea shipped 600,000 coronavirus testing kits to the United States Government following a request made by President Donald Trump to President Moon Jae-In during their telephone call on March 25th.
The two leaders discussed expediting the approval process of the U.S. Food and Drug Administration (FDA) for the export of Korean COVID-19 test kits. The bulk of the diagnostic kits were made by two of the three companies that obtained FDA's interim approval (emergency use authorization) in late March. The Korean companies then signed a contract with the U.S. Federal Emergency Management Agency (FEMA) in early April to supply the products. The exports were scheduled to arrive in the U.S. via a FEMA cargo plane and marked the first bulk order made by the U.S. federal government to be distributed throughout all the states in need.
Not only the federal government but also several state governments are cooperating with Korea. Perhaps, Maryland was able to secure the kits due to its Governor's character of being "Korea's son-in-law". In fact, Governor Hogan asked help from Korean diagnostic kit producers through his Korean wife since the early stages of the spread. Mrs. Hogan's hometown South Jeolla Province also announced its plan to provide medical supplies, such as 80,000 medical gloves and 600 medical gowns, to Maryland starting from April 7.
In addition, several state governments have also directly cooperated with Korea in securing test kits. Maryland, for example, was able to secure its own allocation of 500,000 diagnostic test kits given Governor Larry Hogan's unique and special relationship with Korea through his Korean wife, Yumi Hogan. At an evening event at the Korean Ambassador's Residence in Washington this past February, a video message by President Moon was played in which he referred to Governor Hogan—Chairman of the National Governors Association—as "Sawi," meaning "Son-in-Law" in Korean. Mrs. Hogan's hometown in South Jeolla Province also announced its plan to provide personal protective equipment (PPEs) such as 80,000 medical gloves and 600 medical gowns, to the State of Maryland starting from April 7th.
On April 10th, President Moon also had a phone conversation with Microsoft co-founder Bill Gates. They both agreed to enhance cooperation in efforts to develop vaccines and treatments for COVID-19. Leading the Bill and Melinda Gates Foundation for humanitarian campaigns, Gates articulated his plans to double the size of the Right Fund, a non-governmental agency based in Seoul, investing $20 million in total. The Gates foundation has also provided support to the Seoul-based International Vaccine Institute (IVI), an international agency dedicated to vaccine research and development. Gates conveyed that he expects the organizations to play a key role in overcoming the pandemic and praised Korea's quarantine initiatives and response system that have since become global models.
The Korea International Trade Association (KITA), representing over 71,000 member companies of Korea, understands that the critical shortage of medical supplies has exacerbated across the United States. If medical supplies are in need, please find products and vendors from this website. Our member companies in the medical supply sector and similar companies that export medical supplies to the U.S. will remain fully committed to work with the U.S. to combat the COVID-19 pandemic.
S. Korea Holds Successful Elections Amid Pandemic
On April 15, 2020, South Korea held its 21st National Assembly election for all 300 of its seats in the unicameral body. However, due to the outbreak of COVID-19, the electoral and voting process had to be handled with more caution. In an effort to ensure voters' safety, the Korean National Election Commission (NEC) instituted a number of safety precautions to prevent the spread of the virus at polling stations. Each voter was required to: Prepare his or her ID before entering the polling station
Wear a mask in advance when going to the polling station
Get a temperature checked, sterilize hands with hand sanitizer, and wear disposable plastic gloves at the entrance
Keep social distance of more than 1 meter from other voters inside and outside of polling stations
Put down the mask briefly at the polling station for identification when instructed
To guarantee every citizens' voting rights, the government confirmed that people in self-isolation would be able to vote on the day of the general election albeit limited to those exhibited no symptoms. If an individual had been tested to have a fever, he or she was escorted to a temporary voting booth under the guidance of staff to vote with a recommendation to visit a health center afterwards. They were prohibited from using public transportation and were only allowed to cast their ballots after general voting had completed.
Amid these challenging and unprecedented times, the polls for this year's National Assembly election closed with the highest turnout on record in 28 years at 66.2%. Furthermore, Koreans made extensive use of the "early voting" system that helped to mitigate the added burden of the health screenings at voting locations on election day.
President Moon expressed his respect to the Korean people for helping to conduct successful National Assembly elections, noting how Korea had garnered praise from the international community. U.S. Secretary of State Mike Pompeo also applauded South Korea on holding "successful" general elections and praised the country's commitment to democratic values even in a pandemic.
If you wish to learn more about the Korean government's response to the outbreak, please refer to this guidebook entitled "Flattening the Curve on COVID-19: How Korea Responded to a Pandemic Using ICT" and to this YouTube video titled "Tackling COVID-19 in South Korea."