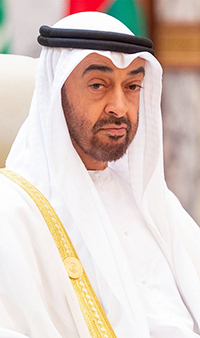 His Highness Sheikh Mohamed bin Zayed Al Nahyan, Crown Prince of Abu Dhabi and Deputy Supreme Commander of the UAE Armed Forces
To prevent the wide spread of novel coronavirus, international cooperation have been important. The UAE has been in close collaboration with international and regional organizations and other nations, including the Republic of Korea. It was one of the first countries to stand by China in this critical period. It also supported other nations including Afghanistan, Iran and Italy, to mention a few.The UAE evacuated 215 people of many different nationalities from China's Hubei Province and hosted them in a humanitarian facility in Abu Dhabi. It also facilitated the evacuation of 80 individuals from Iran, among them 74 South Korean nationals.With the Republic of Korea, His Highness Sheikh Mohamed bin Zayed Al Nahyan, Crown Prince of Abu Dhabi and Deputy Supreme Commander of the UAE Armed Forces, held a phone call with President Moon Jae-in on March 5 in which they discussed the bilateral special strategic partnership and cooperation in combating the virus.In addition, H.E. Sheikh Abdullah Bin Zayed Al Nahyan, Minister of Foreign Affairs and International Cooperation made two phone calls with his Korean counterpart, H.E. Kang Kyung-wha, to coordinate these bilateral efforts.Moreover, H.E. Ibrahim Al Hammadi, Minister of Education made a video call with H.E. Yoo Eun-hae, Deputy Prime Minister, Minister of Education on 21 April to discuss educational cooperation in response to COVID-19.As a head of mission, I have been in direct communication with officials at MOFA, Seoul, to facilitate the bilateral cooperation.
Health authorities in Abu Dhabi have developed an app to identify anyone who may have come in contact with those testing positive for COVID-19. The app, called TraceCovid, uses Bluetooth to pick up signals from nearby phones with the app installed. Some 10,000 workers are being screened for free each day in Abu Dhabi's industrial district as the UAE intensifies its testing campaign. The UAE has sent 18 tons of aid to Mauritania and 7 tons of medical aid to South Africa. To date, the UAE has donated 260 tons of aid to 24 countries since the start of the crisis.The UAE has launched the '10 Million Meals' campaign, the nation's largest food distribution drive, to support low-income families and individuals affected by COVID-19.In the words of His Highness Sheikh Mohammed bin Rashid Al Maktoum, Vice-President and Prime Minister of the UAE and Ruler of Dubai, "the '10 Million Meals' campaign aims to reinforce social solidarity and cohesion in the UAE to enable us to emerge from the global crisis stronger. The public, private, and humanitarian sectors are united today to empower our people to overcome the global crisis without leaving anyone behind".The Abu Dhabi's Etihad Airways plans a partial resumption of passenger flights from May 1 with the intention of gradually returning to normal operations as the global situation improves
The UAE began conducting special flights to repatriate more than 3,000 passengers from the UAE to Pakistan this week.To date, the UAE has facilitated the repatriation of 22,900 foreigners to their home countries through 127 air repatriations. 27 repatriation operations are in the pipeline for the coming days. The UAE has also worked with 43 countries to repatriate 2,286 UAE citizens and residents through 86 land and air evacuations. "We remain cautiously optimistic and will push ahead with our plans to resume normal flying", said Tony Douglas, Chief Executive of Etihad Airways.In the area of humanitarian aid and efforts to Combat COVID-19, the UAE shipped 260 tons of medical and food aid to 24 countries around the world. Some 260 thousand medical professionals assisted in the aid provision. Total cases in the country reached 10,349 as of April 27, 2020. A total of 1,978 have recovered and 76 have died. Total cases tested toped 1,057,326.