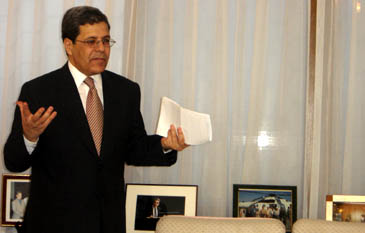 Amb. Jerandi explains to a group of South Korean women's delegation regarding Tunisia during the reception he and his wife held at their residence Jan. 11, 2005
Amb. Othman Jerandi of Tunisia and his wife held a rare reception for a group of 20 highly intelligent professional women at his residence Dongbinggo-dong, Yongsan-gu, Seoul Jan. 11, 2005.
During the reception the top Tunisian envoy to Seoul literally lectured in detail on the North African country for about 20 Korean women who are well-known teachers, professors, academics, artists, and medical doctors, prior to their trip to Tunisia.
The special group of professional women will undertake a visit of friendship and exchange of experience in women's empowerment and social activities in the North African country. They will leave Seoul for Tunisia Jan. 17, 2005 for a nine-day journey to Tunisia.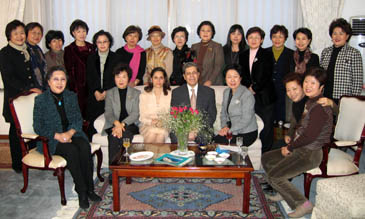 Amb. Jerandi and his wife pose with members of South Korean women's delegation during the reception.
They are composed of Dr. Byun Ju-Seon, president of " Children's Korea Council of Organizations " and chair of " Asia Pacific Regional Committee of the World Association of Girl Guides and Girl Scouts. " The group also includes Ms. Joo Young-Sook, professor emeritus of Duksung Women's University and Dr. Kim Tae-Lyon, president of the "Foundation for New Generation."
Dr. Kim is currently serving as an honorary professor at Ewha Woman's University for which she spent nearly four decades as psychology professor.
During the delegation's trip to Tunisia, a well-known tourist country and a country where women benefit from a very advanced status, the Korean ladies will get acquainted a variety of social and cultural activities in Tunisia.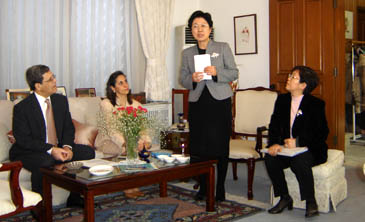 Dr. Byun Ju-Seon, president of "Children's Korea Council of Organizations," and leader of the women's delegation thanks Amb. Jerandi and his wife for the reception the ambassadorial couple threw prior to the delegation trip to Tunisia.
Tunisia is a vibrating nation full of vitality. The North African country is pretty advanced in the political, economic, and social fields, which are moving very fast.
"This visit will certainly contribute to strengthening the mutual friendship which exists between both countries and will seal links of cooperation between feminine and civil associations of both countries," said Amb. Jerandi in the statement.
Amb. Jerandi made the statement during reception which started at 2 p.m. on the day.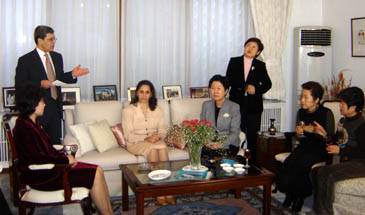 Through the statement the top Tunisian envoy to Seoul categorically explained about his nation including political, economic, social, as well as cultural aspect of Tunisia.
While he was introducing Tunisia as a model country in the African Continent for its economic development, Amb. Jerandi particularly emphasized the privileged status which women enjoy in Tunisia as a result of an exceptional legislation making them the equal of the men in all domains.
An Arabic music accompanied Amb. Jerandi's lengthy and detailed yet quite informative and amusing presentation of Tunisia. Goodies comprising Tunisian dishes and teas added flavor to the warm and hearty reception the top Tunisian diplomat threw for the delegation of Korean women at the end of the presentation.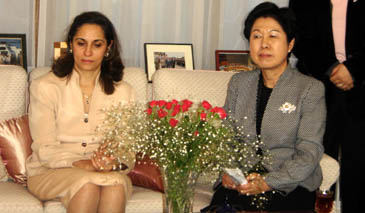 The women's group is composed predominantly of university professors and teachers. They were Prof. Kim Myung-Cha of Sookmyung Women's University, Prof. Park Sang-Youn of Kyungpook National University, Prof. Chung Kyung-Soo of Soong Eui Women's College, Prof. Lee Hee-Sook of Seoul National University of Education, Prof. Kim Young-Wha of Hallym University, Prof. Moon In-Ok of Ewha Woman's University, and Prof. Chang Kong-Ja of Chungbuk National University Library,
Two other educators were Ms. Kim Seon-Yong of Kyungbok Senior High School and Principal Sohn Kyung-Hee of Bangsan Middle School.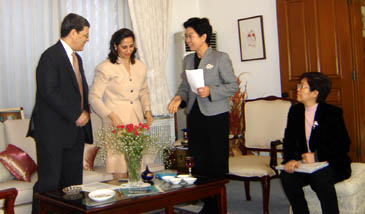 Other members were either from medical profession or other social and business sectors. They were President Kim Tae-Lyon of the Foundation for the New Generation, Director Kim Jeong-Ock of Songpagu Jeil Library, President Cho Wan-Sook of a local psychiatric clinic, President Seo Ki-Won of I Bis World, Ms. Chung Soon-Duck, conductor of a church choir, and Ms. Hong Kyung-Ja, former Air Canada official.
Among the women were two artists including Ms. Sim Sang-Duck, an oil painter, and Kim Jin-Soo, a noted local artist.
Related Photos