Asia-Pacific
Letters from Dhaka
New Dimension in South Asian Regional Politics after the US-Taliban Treaty
By MA Hossain
Bangladesh Correspondent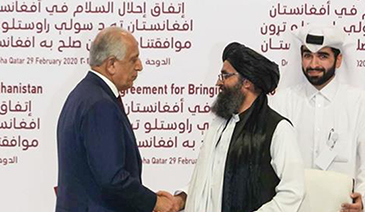 The US-Taliban agreement inked on Feb. 29, 2020
World media is still shy to lament the United State's debacle in Afghanistan. The epidemic Covid-19 becomes pandemic, where Taliban regaining power in Afghanistan will become catalytic endemic in south Asian regional politics. On Feb. 29, 2020, the US-Taliban agreement inked, which started last one year in Doha. From this agreement, the US just ensured the guarantee of preventing any further attacks on the US and it's allies by terrorists enjoying safe Haven or support in Afghanistan. Since 18 years of war, the US has suffered 2,400 military fatalities. It also spent US$ 137 billion in various form of reconstruction aid in Afghanistan. As per the agreement, the US led international force will leave Afghanistan within 14 months.On the other hand, Taliban gets it's mission accomplished by their aprox 60,000 fulltime fighters. It also substantiated by the US President Donald Trump's briefing, termed Taliban as "Great fighter " and "possibly take over the power " needles to write, Taliban rewrites the courageous victory against another super power after Britain and Russia (former Soviet Union ) under the present leadership of Haibatullah Akhandzada. And very soon Afghanistan will be emerged as Islamic Emirate of Afghanistan.Russia, China and Iran were very much supportive of logistics to Taliban during decades long engagement with US led coalition forces. After leaving US presence, the vacuum will be filled by these countries with nation building investment as well as new actors will be scrambled to grab a share of new market.As per the United States Geographical Servey(USGS), Afghanistan has numerous natural mineral resources which yet to explore. And it is geographically vital to facilitate the gate way to central Asia, Persia, and East.Despite the US-Taliban treaty, Al Qaeda(AQ) need not to use Afghan territory as launching pad. AQ has a strong hold in Somalia, Mali, Burkena Faso, Yemen, Syria, Nigeria, Niger, Kenya and they have established a strong foothold in Kashmir.The emergence of new Afghanistan will change the regional geopolitical scenario. Afghanistan has 1600 miles common border with Pakistan. Pakistan created a tactical relations with Taliban for their internal stability. Talibans are 46% pashtuns of Afghan 35 million where same tribes are 15% of Pakistani 215 million and Taliban has a offshoot Teherik e Taliban Pakistan(TTP) in Pakistan. Talibani signator in US-Taliban agreement, Molla Abdul Ghani Baradar was released by Pakistan government on October 2018 who was arrested by a joint US-Taliban operation in 2010. It is believed that Pakistan will be a very close ally to Taliban.In my opinion, India's steps are far behind to face the upcoming security threat. National Registration of Citizens(NRC), and Citizens Amendment Act(CAA) should have launched once Mr Trump announced his intention to pull out US troops from Afghanistan. More so India must have a backdoor negotiation with Taliban but India kept it's efforts restless to foil the intra Afghan peace process with the help of Israel.India has a diplomatic and commercial presence in Afghanistan. They also invested billions of dollars in nation building projects to asist Ghani government which is under rated by Trump's administration. Complete lockdown of Kashmir and abrogation of article 370(a) had ignited Kashmiri people which paved the way for AQ activities. AQ need a supportive base in this region to free Taliban for Islamic emerates.No doubt Pakistan is waiting for this situation to unrest it's arch-foe. And Pakistan will play the same tactics as buffer zone for Kashmiri jihadhists, persecuted Muslims inside India, other armed groups and independence aspirants in India. Notwithstanding India's all these steps are very late. They have executed their suppression theory and trying to establish bigoted 'Hindutva' ideology on such a moment when the near Muslim jihadhists are in winning situation. that definitely will be an opportunity for the religious extremist groups.Bangladesh is a Muslim majority country so the impact of Taliban's victory is very much expected. More so the anti-Indian sentiment may turn into anti-Hindutva for the persecution on Muslims by Bharatiya Janata Party. Bangladeshi people are well aware of India-Israel tie up to suppress Muslim fundamentalists which also is Israel's great concerns. Bangladesh is already bearing millions Rohingya's burden after that it will be a wilddream if not daydream to bear the influx of Muslim refugees from India. Srilanka had seen the rise of Islamic fundamentalism after the atrocities committed by the Buddhist. Same thing happened in Myanmar and emergence of ARSA as aspirants of independence of Arakan is nothing but an armed group of Muslim fundamentalists. All these religious fundamental groups will get aspirations and moral boost up by Taliban's success.So, the very complex and entangled situation are ahead in this regional politics which will be dictated by the religious fundamentalism. No doubt high valued words democracy, right to freedom etc, etc are to be shelved in museum.

Related Articles
Ideological Warfare: Conception, ...
Al-Qaeda, Global Terrorism and Threat to ...
Iran: Reshaping the Regional Politics in the ...
Bangladesh: Hefazat-e-Islam and Militancy
Turkey Emerges as the Global Power
Opportunity Looms over Rohingya Repatriation
Pompeo's Al-Queda Conspiracy and Bangladesh
Asia: The Game-Changer for the Superpower
Covid-19: The Job Crisis Is Deepening Globally!
Has 'Big Brother' India Failed to Perceive the ...
What Options Left for North Korean Leader Kim ...
Superpower Conflict : World Order Is at Stake!
The Creation of "Koryo Union" Is the Only ...
N. Korea: No More Threat to World Peace and ...
Singapore Summit: Historic Aagreement, ...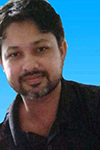 M A Hossain, a political and defense analyst, writes on diversified topics in Bangladeshi and foreign newspapers. He has served in the United Nations. His articles are already featured in prominent newspapers like, South China Morning Post, The Arabian Post, The National (UAE),The Seoul Times, Modern Ghana, The New Nation, Malaysia Today, The Al Bilad(S.Arabia), The Financial Express, The Asian Age, South Asia Journal, etc. He can be contacted at: writemah71@gmail.com