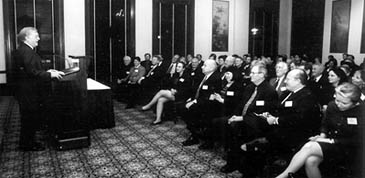 Tom Schieffer, who was appointed US ambassador to Australia, addresses the Kellogg Alumni Club of Australia.
John Thomas "Tom" Schieffer, who has been serving as US ambassador to Australia since August 2001, is most likely to replace current US Amb. Christopher Hill who was Jan. 11, 2005 appointed as assistant secretary of the US State Department's Bureau of East Asian and Pacific Affairs. Schieffer is a close friend of the top American envoy to Seoul.A confidant and former business partner of President George W. Bush, Schieffer has been Schieffer has been a highly visible defender of the policies of the Bush Administration. In 2004 his brother Bob Schieffer, CBS News anchor, was the moderator of the third presidential debate between Bush and John Kerry.John Thomas (Tom) Schieffer was born on October 4, 1947 in Fort Worth, Texas. He grew up in Fort Worth attending public schools, and graduated from Arlington Heights High School in 1966. Ambassador Schieffer attended the University of Texas in Austin where he majored in government and minored in history, receiving a B.A. degree in 1970 and a M.A. degree in international relations in 1972.While still attending the University of Texas, Ambassador Schieffer worked in the offices of State Senator Don Kennard and Governor John Connally. In 1972, at age 25, he was elected to the Texas House of Representatives and served three terms.After studying law at the University of Texas, Ambassador Schieffer was admitted to the State Bar of Texas in October 1979. His practice evolved into one focusing on business transactions, particularly those associated with investments and oil and gas.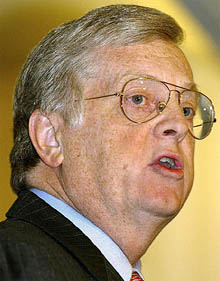 John Thomas (Tom) Schieffer
Courtesy AFP
In 1989, Ambassador Schieffer was an investor in the partnership led by George W. Bush and Edward W. (Rusty) Rose that bought the Texas Rangers Baseball Club. He was designated as Partner-in-Charge of Ballpark Development in 1990. In January 1991, he was named President of the Club reporting directly to general partners Bush and Rose.He was responsible for the day-to-day operations of the club as well as the building of The Ballpark in Arlington, Texas. When Bush was elected Governor of Texas in 1994, Ambassador Schieffer assumed Bush's duties as General Partner. The partnership sold the team in June 1998 to Dallas financier Thomas O. Hicks.Ambassador Schieffer stayed on as President until April 1999, when he resigned to become a consultant on the development of the real estate around The Ballpark. After visiting projects around the United States and Europe, Ambassador Schieffer completed his consulting work for Hicks in May 2000. Until he was confirmed by the Senate, Ambassador Schieffer served as the President of J. Thomas Schieffer Management Company and Pablo Operating Company.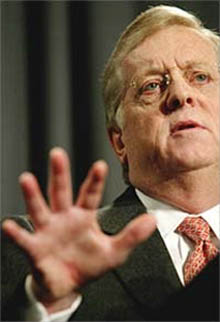 John Thomas (Tom) Schieffer
Ambassador Schieffer's civic and charitable interests have focused on politics, education and youth activities. He was the Tarrant County Coordinator for Governor Mark White, the Finance Chairman for Congressman Pete Geren, and was also active for many years in the campaigns of Senator Lloyd Bentsen. In 1987 he was appointed to the Board of Trustees of the Tarrant County Junior College, a publicly elected board, and was elected without opposition in 1988.Over the years Ambassador Schieffer has served on numerous charitable and civic boards and has received numerous civic and humanitarian awards. Until confirmed he served on the boards of The Penrose Foundation, the Dallas County Community College Foundation, the Dallas 2012 Olympic Committee, the Tarrant County College Foundation and the Winston School. He was also a member of the executive committee of the Dallas Chamber of Commerce where he co-chaired the Legislative Affairs Committee.In business, Ambassador Schieffer served on the advisory board of the JP Morgan Chase Bank in Fort Worth and the Board of Directors of Drew Industries of White Plains, New York, a publicly-traded company listed on the New York Stock Exchange.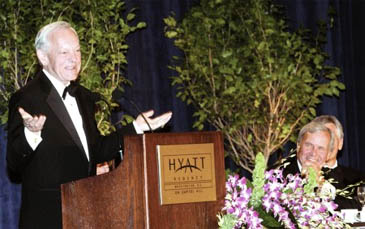 CBS' Bob Schieffer (left), brother of Tom Schieffer, roasts NBC's Tom Brokaw.
Ambassador Schieffer presented his credentials on August 23, 2001.Ambassador Schieffer married Susanne Silber of San Antonio, Texas, on September 22, 1979. They have one son, Paul Robert Schieffer, who attends university in the United States.