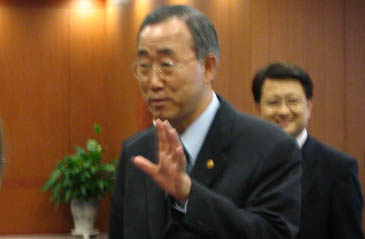 Foreign Minister Ban Ki-Moon of South Korea
South Korea's Foreign Minister Ban Ki-Moon will embark on his official tour of four-African nations — Algeria, Tanzania, Kenya, and Lybia — from Jan. 16 to Jan. 24, 2005, its ministry announced Jan. 12, 2005.Ministry of Foreign Affairs and Trade spokesman said that Minister Ban will be the first foreign minister from South Korea to visit Algeria, Tanzania, and Lybia since the opening of the diplomatic relations between the three African countries and South Korea.The spokesman said that the visit to Africa by South Korea's diplomatic chief is aimed at enhancing bilateral friendship and economic cooperation with major countries of Africa, whose influence is growing fast as an emerging market for energy and natural resources.In particular, Ban is scheduled to meet with Lybian leader Muammar Qadhafi for talks on solutions for the North Korean nuclear issue. Under pressure from the US and international society Lybia declared its renunciation of weapons of mass destruction (WMD) April 27, 2004.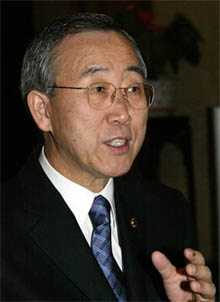 Foreign Minister Ban Ki-Moon of
South Korea
Algeria, South Korea's fourth largest trading partner of all the African countries, will be the first on the itinerary of Ban's African tour. During his visit to Algeria from Jan. 17 to 19 Ban will have a meeting with Algerian Foreign Minister Abdelaziz Belkhademand and sign the agreements for aviation and visa exemption for diplomats.During Jan. 21 to 23, Ban will visit Tanzania in central Africa for cooperation in economic, scientific, and technological sectors of the two countries. He is expected to announce that the Seoul government will supply the EDCF (Economic Development Cooperation Fund) loans for Tanzania to set up the career education and information technology education centers in the African nation.Ban will move onto its neighboring nation of Kenya from Jan. 23 and 24. He will meet with Kenyan officials for boosting mutual cooperative ties. In his Jan. 25-27 visit to Lybia Ban will talk with its leader Muammar Qadhafi and discuss ways of peaceful solutions for North Korea's nuclear issue. Also on the discussion table will be how Lybia gave up programs for the weapons of mass destruction (WMD).Unspecified number of South Korea's businessmen will accompany Ban for his Lybian trip to find out how they can support South Korean companies' participation in various construction projects including the huge waterway construction, and development projects for gas and energy resources. They include representatives from the Korea Petroleum Development Corporation and the related construction companies.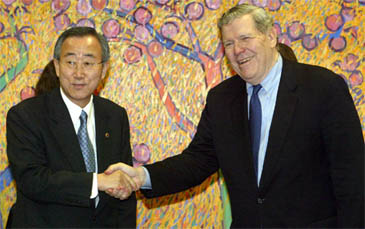 Foreign Minister Ban Ki-Moon meets with James A. Kelly.
Photo Courtesy YNA
"North Korea appears to be watching how President George Bush organize his cabinet," Ban said in an press conference Jan. 12, 2004. "Pyeongyang is expected to respond to the six-party talks soon after President Bush gets inaugurated for his second term."Ban also touched on the local press report that US Amb. Christopher Hill was designated as assistant secretary for US State Department's Bureau of East Asian and Pacific Affairs, but said "I have no confirmation about the report.""Ever since he started his mission in Seoul in last August, Amb. Hill has been very active in improving Korea-US relations for the last five months." Ban continued "A lot of local people praise him very highly.""It would be a very positive for bilateral ties and the negotiations for nuclear issue if he was chosen as the assistant secretary." he commented "Amb. Hill is regarded as a highly capable diplomat in Washington DC."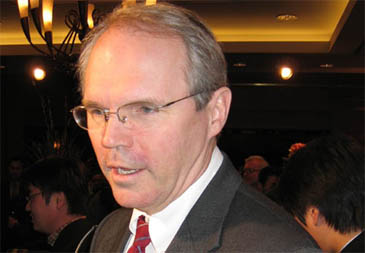 US Ambassador to Seoul Christopher Hill
Diplomatic sources in Washington DC said that US Amb. Hill was designated as assistant secretary for US State Department's Bureau of East Asian and Pacific Affairs, the position held by James A. Kelly who has been dealing with North Korean nuclear issue.Amb. Hill is expected to succeed Kelly who will soon resign from the post in charge of all the Asian affairs except for Middle East and South Asia. In particular, whoever is in the post should deal with the thorny nuclear issue of Pyeongyang.