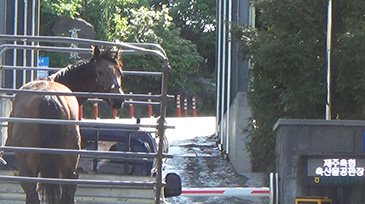 Many retired race horses on South Korea southern Jeju Island were brutally and illegally slaughtered according the animal rights group PETA (People for the Ethical Treatment of Animals).
Jeju — After viewing the extended footage of the covert video filmed by People for the Ethical Treatment of Animals (PETA) U.S. that shows shocking abuse and the killing of horses at a large slaughterhouse in Jeju, The Stronach Group has adopted a new policy that will prevent any of its horses from being sent to South Korea.The company – which owns several major racetracks and is one of the world's largest and most influential horse racing companies – was particularly appalled that those responsible for viciously beating the horses in PETA's video have still not been charged.A statement from The Stronach Group, sent to PETA U.S., follows:
The Stronach Group, as a global industry leader committed to prioritizing the safety and welfare of Thoroughbred racehorses, is deeply disturbed by the cruel and inhumane treatment of retired racehorses in South Korea. We have seen the undercover footage captured by PETA and, while the Korea Racing Authority (KRA) and the local authorities have taken action to prosecute some of those responsible for this cruelty, we believe that every individual who participated in these cruel acts should be held accountable and prosecuted.
We recognize that the KRA has taken some steps to transition racehorses into second careers but without assurances that all North American racehorses sold to South Korea will be protected after their racing and breeding careers, The Stronach Group has enacted a policy that will prevent any racehorses or broodmares owned or bred by our Adena Springs facilities from being sold to South Korea. The Stronach Group remains open to negotiating with the KRA a binding agreement to ensure the proper protection of these noble animals.
The company's full statement can be viewed here.
The PETA U.S. undercover investigative video, titled "K-Cruelty," shows that retired racehorses and other horses were repeatedly beaten in the face as they were forced into the slaughterhouse to be killed for their flesh. The footage was filmed at the Jeju Livestock Cooperative Association, which is the largest horse slaughterhouse in Korea and owned by the national corporation Nonghyup. Some horses were slaughtered in front of other panicked animals, which violates South Korea's Animal Protection Act. In an unprecedented legal conviction, three workers and the Nonghyup company itself were found guilty and fined for killing horses in full view of other horses in January 2020. This is the first time that a South Korean company or its workers have been prosecuted for illegally killing horses. Astonishingly, however, those people who viciously beat the horses have still not been charged.
Dr. Changkil Park, member of the Korean animal protection organization Voice for Animals and a professor at Sungkonghoe University, held a press conference in Seoul on July 23 to urge the special prosecutor to charge the people who viciously beat the horses. Dr. Park asserts that the workers and drivers who abused the horses and the Jeju Livestock Cooperative Association, which permitted such routine cruelty to happen, need to be held accountable.
In the wake of the investigative video, the KRA faced enormous pressure to dedicate more of its profits to aftercare programs for retired racehorses. Dr. Jinkap Kim of the KRA spoke at the Asian Racing Conference in Cape Town, South Africa, in February 2020 and made the following statement:
Videos and pictures at a slaughterhouse showing cruelty toward retired racehorses were released by PETA and a Korean animal protective group in May 2019. The case has greatly influenced Korea's horse racing industry and highly increased public outcry for reforming the welfare of racehorses as well as aftercare.
But hypocritically, the KRA continues to support and even subsidize the slaughter of ex-racehorses, and 496 horses have been killed in Korea in just the first six months of 2020. One of these horses, named Indian Gangja, fractured his cannon bone while training on June 4 and was slaughtered two days later at the Jeju Livestock Cooperative Association. A mare bred by The Stronach Group named Water Lili, was slaughtered there on November 14, 2019.
"PETA commends The Stronach Group's new policy, which prevents horses from being exported to Korea for slaughter," says PETA Senior Vice President Jason Baker. "The KRA must now save itself from further embarrassment by immediately prosecuting the workers caught on camera repeatedly beating horses in the face."
PETA—whose motto reads, in part, that "animals are not ours to abuse in any way"—opposes speciesism, a human-supremacist worldview.Broadcast-quality extended footage from PETA's Korean horse slaughterhouse exposé is available here. For more information, please visit PETAAsia.com or follow the group on Twitter, Facebook, or Instagram.