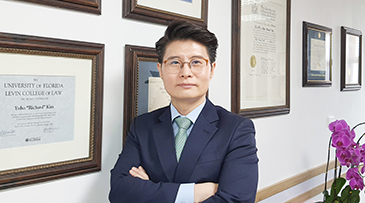 Attorney Richard Kim Yu-Ho poses for the camera at his newly-opened "Law2B" office in Hanoi, Vietnam.
UC-Berkeley-educated lawyer Richard Kim Yu-Ho specializes in Vietnam, helping those who launch business. New York-licensed Korean attorney, officially registered as a foreign lawyer with Vietnam's Ministry of Justice, has been practicing in Vietnam for the last one decade.With his abundant hands-on experiences on settling global business disputes, he opened his own legal firm "Law2B" in Hanoi, Vietnam on July 1, 2020 in his efforts to more and better assist local Vietnamese and foreign customers with their legal needs."Law2B" is the sole comprehensive management consulting company ever established by any Korean attorney in Vietnam.
Prior to the establishment of his office he worked at Baker McKenzie law firm as the head of the Korea practice in the Vietnam office. Earlier he worked for a major Korean law firm specializing in foreign investment to Vietnam as the head of the Hanoi branch.He will play even bigger role in the legal and business market in Vietnam, as it gets more global in the years ahead.
The Seoul Times has recently interviewed Richard Kim Yu-Ho and the following is the full text of the questionnaire.
Questionnaire to Attorney Richard Kim Yu-Ho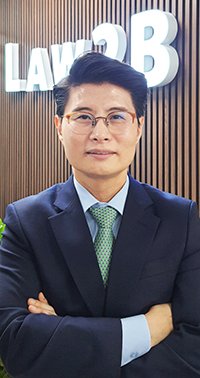 Attorney Richard Kim Yu-Ho
at his office in Hanoi, Vietnam
Q1: What is the official English name of your company that you opened recently in Vietnam and where is it located?
A1:
"Law2B" is a Vietnam-based management consulting company, opened in Hanoi, Vietnam, on July 1, 2020. Law2B is the abbreviated form of "Law to Business."We offer the actual problem-solving solutions and the keys to success to our clients in pursuit of business in Vietnam, rather than throwing overwhelming amounts of information at them. With over 13 years of working experience in Korean, Vietnamese, and global law firms, and with my expertise in Vietnamese law and global business standards, I ensure that Law2B provides the practical and realistic solutions to clients to best suit their needs while doing business in Vietnam.
Q2: How many people are currently working at your company? And what kinds of services is your company offering or specializing in?
A2:
Currently Law2B consists of nine people who are lawyers, business consultants, trainees, and legal interns. Seven people are working in Hanoi and two people are working in Korea.
Law2B provides a wide range of services including but not limited to investment advisory, corporation establishment, mergers and acquisitions (M&A), contract review, real estate, labor management, visa and work permit, dispute and litigation, liquidation, rehabilitation, bankruptcy and restructuring. The work behind this one-stop model is done by Law2B and its external affiliated lawyers and local experts in each field.
Q3: What is the situation with foreign legal firms in Vietnam? How many of them are currently in operation? What are the differences between them and your company?
A3:
There are many foreign law firms in Vietnam. Although there were only a few Korean law firms at first, the top 10 largest law firms have now all been running their offices in Vietnam since late 2016. Additionally, Vietnam now hosts fierce competition among and between Korean law firms.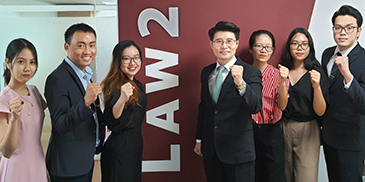 Attorney Richard Kim Yu-Ho (center) poses for a camera with his lawyers and staff at his "Law2B" office in Hanoi, Vietnam.
Law2B stands out amongst Korean law firms and other consulting companies in Vietnam because of our proven legal knowledge and rich practical experience with a very reasonable cost for our services. I am also one of the longest living and practicing Korean lawyers in Vietnam. With this experience, I wrote a book called "Vietnamese Laws That Investors and Founders Must Know,"which was on the list of best-sellers among multiple Vietnamese law books. Written in Korean, the book is available at Korea Chamber of Business in Vietnam (Korcham), Korean Chamber of Commerce and Industry in the South&Middle of Vietnam (Kocham), Korean Association in Hanoi, Korea Federation of SMEs (KBIZ) in Vietnam, and in all fine bookstores in South Korea. My book is also sold on Amazon USA. And recently, after several weeks of the rigorous selection process, Law2B has been certified as an official consulting firm for the restructuring of Korean companies in Vietnam under the Korean government subsidy program. Participating Korean companies can be subsided for restructuring cases, including, but not limited to liquidation, bankruptcy, mergers and acquisitions (M&A), and capital reduction.In this regard, I myself am a certified bankruptcy administrator with the Vietnamese Ministry of Justice in regards to restructuring and insolvency issues.In summary, Law2B provides practical solutions derived from great legal knowledge and rich practical experience at a reasonable cost.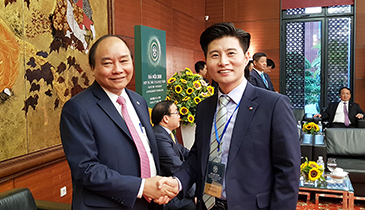 Attorney Richard Kim Yu-Ho (right) meeting with Vienamese Prime Minister Nguyen Xuan Phuc
Q4: How long have you been working in Vietnam as a lawyer? When and on what occasion did you go to Vietnam?
A4:
I was the head of the Korea practice at Baker McKenzie Vietnam while working as a special counsel lawyer of the corporate and M&A team from January 2018 to June 2020. Prior to joining Baker McKenzie, I worked for LOGOS law firm — one of the largest law firms in Korea — for 10 years. I was the chief of the Hanoi branch from 2010 till 2017 and an associate in the Seoul office from 2008 to 2010. I worked at VILAF law firm — one of the top law firms in Vietnam — in 2007 when Vietnam joined the World Trade Organization (WTO). That experience gave me the perspective to see Vietnam as a great business opportunity. Later, for that reason, I joined LOGOS law firm, the first Korean law firm that entered Vietnam. The original term of my job as the Hanoi branch chief was supposed to be two years but eventually ended in me serving as the branch chief for eight years. For me, being a lawyer is not a job but a life-long career. As such, I have prepared for a long time throughout my career to open my own firm.I thought now is the right time to open my own company, as I have experience at a Vietnamese law firm (VILAF), Korean law firm (LOGOS), and a global law firm (Baker McKenzie) as well as have written several Vietnamese legal books. I wanted to start before it is too late.
Q5: What are your thoughts on ties between South Korea and Vietnam? Could you elaborate on the overall bilateral relations including economy, trade, and diplomacy?
A5:
On Dec. 22, 1992, Vietnam and South Korea established diplomatic relations. The two countries also signed a Free Trade Agreement (FTA) in 2014.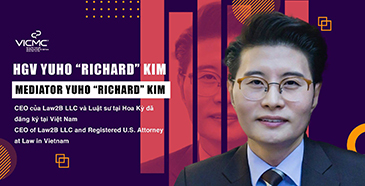 Attorney Richard Kim Yu-Ho appearing on Vietnamese media
I had the opportunity to participate in the ASEAN-ROK Commemorative Summit and the 1st Mekong-ROK Summit in 2019. Following in the footsteps of the ASEAN-ROK Commemorative Summit and the 1st Mekong-ROK Summit, Vietnam (one of the five Mekong countries) and South Korea will upgrade their relationship to a "Comprehensive Strategic Partnership" to further strengthen and deepen the bilateral relationship. I believe there are a lot of opportunities for Korean investors in the long-term conduction of business within Vietnam.
Q6: Could you tell us about the Korean Wave in Vietnam?
A6:
In Vietnam, its younger generations have been able to enjoy and understand Korean culture through their exposure to popular Korean media such as Korean dramas or K Pop.It seems that the two countries share a cultural similarity from their
Confucian and Buddhism values. They also have similar historical backgrounds.
Q7: Could you be more specific about the cultural similarities and differences between Vietnam and South Korea?
A7:
I have worked in four countries: the United States, Hong Kong, South Korea, and currently Vietnam. During the process, I was able to strongly feel the impacts and conflicts that cultural differences have and create.For example, if we were to ask a Vietnamese person how long it takes to go to work from home, almost all, if not all, Vietnamese people would answer in terms of distance, giving answers like 5 km or 7 km. However, Koreans want an answer in terms of time, such as 15 minutes or 30 minutes, and not in terms of distance.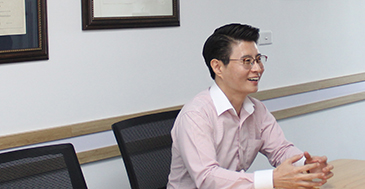 Attorney Richard Kim Yu-Ho at his Hanoi office
There is an expectation for a type of answer from the Koreans' point of view, but when an answer like this comes, it can be frustrating, and it seems that many disputes arise from these differences. Law2B fully understands the needs and perspectives of foreign investors in Vietnam.During the recent COVID-19 crisis, the relationship between Vietnam and South Korea seems to have diminished as cultural differences inflated through exaggerated media pieces. I hope Koreans understand Vietnamese people and their culture as well as for Vietnamese people to have an open mind towards understanding Korean culture, so that Vietnam and Korea can develop an even stronger relationship than the one displayed before the pandemic.
Q8: What are your future business plans or business strategy in Vietnam?
A8:
I have seen a lot of companies who have not been able to receive proper consultation due to high costs and subsequently attempt to try and solve problems without the proper guidance, only to experience more difficulties after. Law2B's advice is based on the Vietnamese law but still practical. With knowledge on the difference between the law and the actual practice of it in Vietnam, Law2B provides a practical and realistic solution. We want to provide a service that truly satisfies customers at a reasonable cost, and if anyone is considering doing business in Vietnam, we hope that they will consider Law2B. Law2B is already rapidly growing and expanding its business.
Q9: What are your hobbies? How do you maintain your health? Do you have any Vietnamese friends?
A9:
I enjoy swimming and watching movies with my family. From time to time I spend time with both Korean and Vietnamese people that I have been able to make connections with during my time here.
Q10: Last but certainly not the least, could you reveal your family? Do they live with you in Vietnam?
A10:
I live with my wife and son. My son was only two years old when he first came to Vietnam. Now he is already a high school student.
Who Is Attorney Richard Kim Yu-Ho?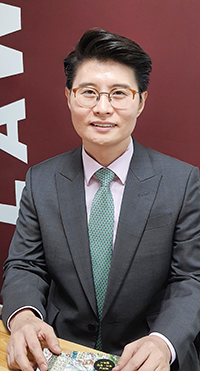 Attorney Richard Kim Yu-Ho, president and CEO of "Law2B"
Attorney Richard Kim Yu-Ho, educated at UC-Berkeley in the US, is New York-licensed international lawyer now specializing in Vietnam. Currently he is the president and CEO of "Law2B," a law firm he set up in Hanoi, Vietnam on July 1, 2020.Actually "Law2B" is the comprehensive management consulting company and Kim was officially registered with Vietnam's Justice Ministry as a foreign lawyer to practice in Vietnam.Before the establishment of his company he had already spent over a decade working the Korean and foreign legal firms including Baker McKenzie and Logos. He served as the head of their Hanoi branch. In particular he focused on foreign investment to Vietnam.Now, with his ample field experience in rapidly expanding Vietnamese market Kim is regarded as more expert than any other lawyers on the investment to the emerging Vietnamese market.
Kim is extremely well-informed about the local Vietnamese law and culture. He knows the difference between the law and the practice in Vietnam.Kim graduated from the University of California at Berkeley with a BA degree in Economics in 2001. In 2007 he also finished his JD degree program at the University of Florida Law School. He received a lawyer's licence of New York state.
Richard Kim Yu-Ho was born in Insa-dong or Marry's Alley in Jongno-gu district in central Seoul on March 23, 1973.He grew up in Seoul attending primary school, middle, and high school all in Seoul.He graduated Sindong Elementary School in 1986, Gyeongwon Middle School in 1988, and Sehwa High School in 1991.
Kim is happily married and has one son who is highschool student. His son multilingual who speaks Spanish and English fluently as well as Korean.