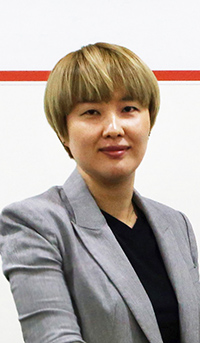 Jang In-A of South Korea's Smile Gate sits on Forbes Asia's Power Businesswomen List.

SINGAPORE (Sept. 15, 2020) — Forbes today announced the 2020 Asia's Power Businesswomen list, spotlighting 25 outstanding female leaders in the Asia-Pacific region. The full list can be found at www.forbes.com/asia-power-businesswomen and in the September issue of Forbes Asia.
Rana Wehbe Watson, editor of the 2020 Asia's Power
Businesswomen list, said: "As the world battles with uncertainties brought about by the pandemic, it is more important than ever that Forbes Asia highlights these businesswomen who are rising to the occasion and excelling during these challenging times. The list this year recognizes 25 women at the helm of companies and institutions across a wide range of industries such as biotech, education, logistics and law. Their track record of success and resilient leadership set inspiring examples for others to follow."Among those who made the list is HCL Technologies' Roshni Nadar Malhotra, the first woman to chair a listed tech firm in India and one of a handful of female chairpersons in the male-dominated global tech industry. In her last position as vice chairperson, she backed HCL's US$1.8 billion purchase from IBM of a portfolio of its products. The acquisition, which closed last year, was the biggest by value in the company's 29-year history. Nadar Malhotra is also featured on the cover of the September issue of Forbes Asia.Samantha Du is a force to be reckoned with in China's booming pharmaceutical market — and her success is unrelated to Covid-19 demand. The 56-year-old entrepreneur leads Shanghai-based pharma company Zai Lab, whose $6 billion market capitalization has increased threefold since its IPO valuation on Nasdaq in 2017. Du founded the company in 2014 and got ahead of the competition by adopting a licensing model, acquiring the rights — often exclusive — to sell foreign firms' drugs in China.Maki Akaida has moved up the corporate ladder since 2001, when she joined Fast Retailing, operator of the global fast-fashion retailer Uniqlo. Now CEO of Uniqlo Japan, she has been tapped by Fast Retailing's CEO Tadashi Yanai, Japan's richest person, as a potential successor.Melanie Perkins, an alum of the 2016 Forbes 30 Under 30 Asia list, cofounded graphic design software company Canva with Cameron Adams and Cliff Obrecht in 2013 while she was still an undergrad at the University of Western Australia. The company has raised more than $300 million since, with the latest round ($60 million) in June valuing it at $6 billion.Lily Kong is the fifth president of Singapore Management University (SMU) and the first woman to lead one of Singapore's top universities. Kong took the helm of SMU in January 2019 and has continued to expand its entrepreneurship capacity for students. In February, SMU opened a new building that includes incubation space designed to foster innovation and entrepreneurship among students, alumni and local businesses.Jang In-A is one of the few women worldwide to run a gaming company. She joined Smilegate Entertainment in 2007 as a game developer and rose through the ranks to become CEO in 2015. She now heads one of South Korea's largest gaming companies by sales, with $451 million in revenue last year and about 600 game developers.The youngest to make this year's list is 29-year-old Lucy Yueting Liu, an alum of the 2017 Forbes 30 Under 30 Asia list. Liu and her three cofounders started Airwallex in 2015 to help customers conduct multi-currency cross border transactions more cheaply than banks. The company, valued at nearly $1.9 billion, is headquartered in Hong Kong and has clients ranging from China's JD.com to Australian startup Cosmetics Now.Over the past two decades, Preeyanart Soontornwata, president and CEO of B.Grimm Power, has grown the power unit of Thai conglomerate B.Grimm into a $3.7 billion company that operates 47 power plants in Thailand, Laos and Vietnam, with five more in development. She also oversaw the company's IPO in 2017.Caroline Russell is the third generation to lead Malaysia's largest tea producer by output, BOH Plantations, founded by her grandfather in 1929. The family-owned business has four plantations spread over 1,200 hectares that annually produce about 4.5 million kilograms of tea — about 70% of Malaysia's tea output. Taking the helm as CEO in 2003, Russell has expanded BOH's range of teas and international sales and was named executive chairman after her father retired last year.Nabilah Alsagoff and her two friends cofounded Jakarta-based Nusa Satu Inti Artha, best known by its brand name Doku. The company pioneered cashless transactions in Indonesia, leapfrogging domestic banks to offer e-wallet services. Last year, Doku handled 63 trillion rupiah ($4.3 billion) in payments, 50% more than in 2018 and making it Indonesia's leading e-payments service.Olivia Limpe-Aw is the fifth-generation head of Destileria Limtuaco, the Philippines' oldest distiller, which her great-great granduncle founded in 1852. Since taking the helm in 2004, she has added new products and focused on growing the business overseas. The company now sells more than 40 spirits, wines and liqueurs, including tropical-fruit blends, and exports within Asia and to the U.S.Truong Thi Le Khanh, founder and chairwoman of Vinh Hoan, has spent the past 23 years building her listed company into Vietnam's largest seafood firm by market capitalization. Last year, the firm was also the best performer in the country's seafood industry, with $50 million net profit on $340 million revenue.For the complete list, please visit www.forbes.com/asia-power-businesswomen.
About Forbes
The defining voice of entrepreneurial capitalism, Forbes champions success by celebrating those who have made it, and those who aspire to make it. Forbes convenes and curates the most influential leaders and entrepreneurs who are driving change, transforming business and making a significant impact on the world. The Forbes brand today reaches more than 160 million people worldwide through its trusted journalism, signature LIVE and Forbes Virtual events, custom marketing programs and 40 licensed local editions in 70 countries. Forbes Media's brand extensions include real estate, education and financial services license agreements.
For media queries:
Catherine Ong Associates Pte Ltd
Catherine Ong Ashley Silitonga
cell: +65 9697 0007
cell: +65 9025 3532
cath@catherineong.com
ashley@catherineong.com