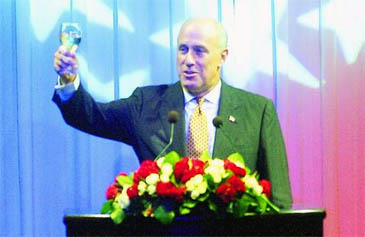 APPC President Douglas Paal Courtesy Taipei Times

Along with the current US Ambassador to Australia Tom Schieffer, Mr. Douglas H. Paal, president of the Asia Pacific Policy Center (APPC) is very likely to be appointed as the new US Ambassador to Seoul. The current top US envoy to Seoul, Mr. Christopher Hill was recently designated to succeed James A. Kelly as assistant secretary of the US State Department's Bureau of East Asian and Pacific Affairs. Kelly has been dealing with North Korean nuclear issue.
Profile: Douglas H. Paal
Mr. Douglas H. Paal, who is also the writer, a former Asian affairs specialist in the Bush administration, is currently serving as president of the Asia Pacific Policy Center (APPC), a non-profit institution dedicated to policy research on the Asia Pacific region.Paal was the director of the American Institute in Taiwan, Taipei Office. He assumed his duties in the spring of 2002.The Taiwan Relations Act of 1979 designated the American Institute in Taiwan as the instrumentality to conduct the commercial, cultural and other relations between the people of the United States and the people on Taiwan.Mr. Paal has served in various Government positions dealing with Asian and Pacific affairs.From 1972 to 1974, he served as a naval officer in Vietnam and did language study in Tokyo, Japan. He was with the CIA as an analyst and Deputy National Intelligence Officer from 1976 to 1982.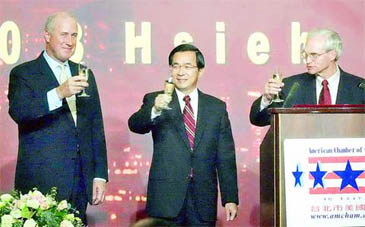 Douglas Paal (left) toasts with Taiwanese President Chen Shuibian (center), and American Chamber of Commerce President Gus Sorenson. Courtesy Taipei Times
Paal began service on the National Security Council Staff in December 1986 as Director for Asian Affairs. He also served on the policy planning staff of the Department of State and at the U.S. Embassy in Singapore. Paal remained with the National Security Council until 1993, rising to the position of Senior Director for Asian Affairs and Special Assistant to former President Bush. After leaving government in 1993, Paal formed the Asia Pacific Policy Center, a non-profit educational institution offering brief publications on issues of interest regarding the United States and Asia as well as co-hosting international conferences. Separately, He performed consulting services for a number of American firms. Mr. Paal was appointed by President Bush April 4, 1999 as special assistant to the President for National Security Affairs. He also served as senior director for Asian Affairs on the National Security Council Staff.Paal was educated at Brown, Stanford, and Harvard Universities. He received B.A. and M.A. degrees in political science and Asian history from Brown University in 1970 and subsequently did graduate work at Harvard University in history and east Asian languages.Paal is married to Betsy A. Fitzgerald. They have two daughters, Alice, 23, a Peace Corps volunteer in Mauritania; and Victoria, 21, a senior at the University of California at Santa Cruz. Paal and Betsy reside in Bethesda, MD.