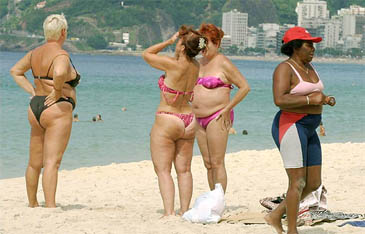 Just as summer arrived and Brazilians were heading for their beaches, like Ipanema, in Rio de Janeiro, they were hearing some bad news: 40 percent of Brazil's adults are overweight, by international standards. In a country where fewer than four million are undernourished, more than 10 million are officially fat.
RIO DE JANEIRO — Fat Brazilians? In a body-conscious society whose gifts to global culture include the girl from Ipanema, the tanga bikini and Gisele Bündchen and other supermodels, the idea seems heretical. Yet a controversial government study released late last month confirms it: Brazil is experiencing an epidemic of obesity.According to the report, conducted by the Brazilian Institute of Geography and Statistics and issued right as summer arrived and people began flocking to the beaches in skimpy clothing, just over 40 percent of Brazil's adult population is overweight. Overall, 1 adult in 10, or more than 10 million people, are obese, by international standards, compared with fewer than four million who were deemed to be undernourished.President Luiz Inácio Lula da Silva immediately disputed the findings. Since taking office two years ago this month, the left-leaning Workers' Party government that he leads has always maintained that hunger, not obesity, is Brazil's main social problem and, as a result, has made a Zero Hunger program the centerpiece of its health and public welfare agenda."Hunger isn't something to be measured by research," Mr. da Silva contended. "Not everyone wants to recognize that they are going hungry. They are ashamed."But the statistics show what nutritionists and doctors regard as undeniable proof of an alarming growth of obesity since the mid-1970's, when the survey was first done in its current form. As elsewhere around the world, the main culprits, they say, are an unbalanced diet and a sedentary lifestyle, with some variants that are particularly Brazilian.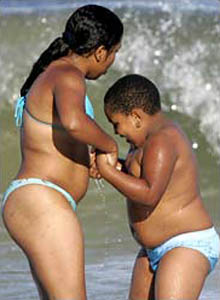 Copacabana Beach in Rio de Janeiro. The alarming growth of obesity in Brazil since the mid-1970's is owing in large part to sweets and a sedentary lifestyle.
Brazilians have, for example, a pronounced sweet tooth, perhaps natural in a country that is the world's largest exporter of sugar. People routinely sprinkle sugar on naturally sweet fruits like pineapple or papaya, and it sometimes seems that half the mass of a cafezinho, the espresso coffee consumed everywhere in the country, is sugar, not liquid."Brazil and the United States are the countries that have the highest levels of consumption of sugar in the world, accounting for about 19 percent of calories," said Carlos Augusto Monteiro, a nutritionist at the University of São Paulo who was a consultant to the government study. "Consumption of soft drinks, for example, has grown 400 percent in the last 30 years, and we think that could play an important role in Brazil's growing fatter."In addition to incorporating increasing amounts of fatty, processed foods in recent years, the Brazilian diet is also unusually heavy in starches and other carbohydrates. A typical luncheon plate, especially in the countryside or in poor neighborhoods, will contain not only a small piece of meat and beans for protein but also rice, potatoes, pasta, bread and cassava too. Like people in more economically developed countries, Brazilians also lead a more sedentary life these days. Between 1940 and 2000, Brazil's population, now 175 million, went from being 80 percent rural and 20 percent urban to 80 percent urban and 20 percent rural, which has resulted in a marked decrease in physical activity.Brazilian notions of what is considered beautiful or sexy may also be a factor in encouraging plumpness. Traditionally, the idealized feminine form here has been the "guitar-shaped body," a woman with a slender bust and waist and an ample rear end."American men may focus on breasts, but the Brazilian man has always wanted something to grab on to," said Constanza Pascolatto, one of the country's leading commentators on issues of esthetics, fashion and beauty. "Women were always being told, 'You have to eat or else you're going to look like a stick,' and were encouraged to be fleshy."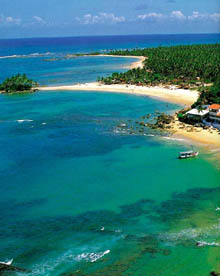 Beaches in Brazil
While that preference may still be strong, especially in rural areas and among the poor, the urban middle and upper classes seem to have succumbed to the global preference for slimness. Dr. Monteiro noted that in São Paulo there are now clinics to treat anorexia and bulimia, problems that barely existed 30 years ago but are appearing now because of the "mixed messages that are being sent" through the media about desirable body types.The poor, who the study found are the group most likely to be overweight, receive the same messages but do not have the money to explore other options. Jose Roberto Lucena, for example, is a street vendor here who stands 5 feet 7 inches tall, weighs 231 pounds and worries about his health but argues that he is doing the best he can raising a family on wages of less than $200 a month."I certainly can't afford to go to a gym, and though I know that vegetables are good for me, they are very expensive," he complained. "My 5-year-old daughter is overweight too, and even after the doctor ordered her on a diet last month, it's been hard to get her to eat things like salad."Some commentators here have suggested that Mr. da Silva's unwillingness to accept the study may stem in part from his personal history. As he never tires of reminding Brazilians and the foreign leaders he meets, he experienced hunger himself as a poor peasant child and can vividly recall the sensation of going to bed on an empty stomach.Today, though, Mr. da Silva is one of those Brazilians who struggles to keep his weight under control. With a mixture of sympathy and amusement, the national press has chronicled his efforts to limit his consumption of barbecue, beer and buchada, a fatty tripe dish native to his home region that is the bane of nutritionists."The truth is that Lula's hunger has not faded away," the columnist Arnaldo Bloch speculated recently in the Rio daily O Globo. "As much as the president eats and drinks and eats and drinks, the hunger and thirst remain. It is a hunger and thirst that is ancestral, that returns to strike daily" and which he, like others who were once poor, "has never overcome."
The above article is from The New York Times.