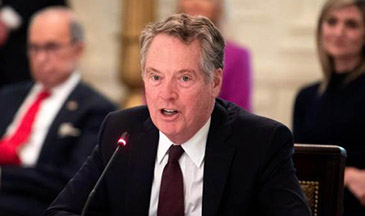 United States Trade Representative (USTR) Robert Lighthizer
The Office of the United States Trade Representative (USTR) on Oct. 2, 2020 launched two investigations of Vietnam under Section 301 of the Trade Act of 1974, including one into alleged currency undervaluation. The president has repeatedly complained about Vietnam's large trade surplus with the United States, and the USTR action is one of several launched by the administration targeting Vietnam's currency practices. But the administration has also touted the growing security partnership with Vietnam, which shares U.S. anxieties about China, and the trade actions could run counter to the broader strategic alignment between Hanoi and Washington.Q1: What is Section 301 and why is Vietnam being investigated?A1: Section 301 is designed to address foreign unfair trade practices. It authorizes the president to take retaliatory actions against any government that the United States determines has violated an international trade agreement or whose practices burden or restrict U.S. commerce. After an initial investigation, USTR has a range of options which include seeking to negotiate a settlement involving compensation or elimination of the trade barrier in question, or imposing retaliatory tariffs.At the start of October, USTR launched two Section 301 investigations. The first seeks to determine whether Vietnam is importing illegally harvested or endangered timber from Cambodia and other source countries. Vietnam is a major exporter of wood products, especially furtniture, to the United States. The second and more controversial investigation is into Vietnam's alleged currency undervaluation. USTR accuses Vietnam of undervaluing the dong by about 7 percent in 2017, 8.4 percent in 2018, and 4.7 percent in 2019. The investigation seems to have caught Vietnam and many observers by surprise, despite its consistency with actions by other U.S. government agencies targeting Vietnam's currency practices.Q2: Why are Vietnam's currency practices being targeted?A2: USTR's October 2 action is the latest in a string of trade- and currency-related investigations of Vietnam by the Trump administration. The United States' trade deficit with Vietnam is one of its largest and has grown despite the White House's complaints. (Note that the growth of the deficit is partly the result of U.S. and other companies moving production from China to Vietnam, a trend that in turn has likely been accelerated by the U.S.-China trade war.) The U.S. deficit in goods with Vietnam approached $35 billion in the first half of 2020, trailing only the deficits with China, Mexico, and Switzerland. The Trump administration accuses Vietnam of undervaluing its currency as a means of boosting exports. Doing so would make Vietnamese goods cheaper for foreign consumers and undermine the competitive position of U.S. firms.There is no precise way to measure currency undervaluation. The Trade Facilitation and Trade Enforcement Act of 2015 establishes three criteria that the U.S. Treasury Department must use in assessing whether a country is engaging in unfair currency practices: the size of a country's bilateral trade surplus with the United States, its global current account surplus, and whether it persistently intervenes in foreign exchange markets. In its required semiannual report to Congress in May 2019, Treasury found that Vietnam (and a number of other countries) exceeded the thresholds for the first two of those criteria. As a result, Vietnam was placed on a watch list of countries with potentially unfair currency practices. Treasury's next report, in January 2020, found that Vietnam exceeded the threshold for only one of the criteria—the bilateral trade deficit—and that its currency was less undervalued than in years past.In April 2020, the administration issued new regulations, for the first time ever allowing countervailing duties (CVDs) against foreign countries for currency undervaluation. Two months later, the Department of Commerce launched antidumping and CVD investigations into passenger vehicle and light truck tire imports from South Korea, Taiwan, Thailand, and Vietnam. In addition to Vietnamese government subsidy programs, the department singled out the country's alleged currency undervaluation, noting it was the first time Commerce had ever investigated "currency subsidies" in this way.Commerce is required to consult with Treasury as part of the new CVD currency investigations. In August 2020, Treasury determined that Vietnam's currency was undervalued, increasing the chances of Commerce imposing duties. To reach its judgment, Treasury, in another first, released a detailed explanation of the methodology it uses to determine currency valuations. Treasury's model has met some criticism from prominent currency experts.Q3: What does this investigation mean for the U.S.-Vietnam strategic relationship?A3: The 301 investigation comes against the backdrop of deepening defense ties between the United States and Vietnam. The two are increasingly aligned on the threat posed by Chinese maritime coercion and other activities in the region. China's assertive pursuit of its South China Sea claims overlap with Vietnam's own claims in the area and threaten key components of the freedom of the seas that are integral to U.S. national interests. Growing ties with Vietnam feature prominently in the Trump administration's Free and Open Indo-Pacific vision. This builds on similar progress under the Obama administration, during which the United States signed a comprehensive partnership with Vietnam, lifted a decades-old embargo on the sale of lethal weapons, and began stepping up joint exercises and ship visits.Despite this increasing strategic alignment, Vietnamese officials have remained wary of the Trump administratin's trade policies. The White House has pegged Hanoi as a target over the trade deficit since President Trump's first day's in office. U.S. and Vietnamese officials made mention of a possible free trade agreement during the early days of the administration. But after seeing the bruising negotiations imposed on South Korea, Canada, Mexico, and Japan, leaders in Vietnam have preferred to avoid trade issues where possible and invest in the strategic relationship, seeming to hope that doing so would insulate them from the president's ire on the deficit. That calculation seemed to be working until the summer. No matter how the 301 investigation proceeds, it will not change Vietnam's strategic interests nor its perception of a growing external threat from China. The same is true of the United States, regardless of who wins the presidential election. Hanoi and Washington will continue to seek further cooperation on security and diplomatic matters in Asia. But potential U.S. tariffs will create disgruntlement in Hanoi, especially if Vietnamese officials and the public believe they are being unfairly targeted simply because of the trade deficit. Tariffs will also fuel doubts about U.S. reliability and seriousness, not just in Vietnam but among other parties in Southeast Asia. A negative finding in the investigation will give Vietnamese leaders pause as they debate U.S. strategic overtures, and it might even necessitate retaliatory action in the short term. That is perhaps more likely as leaders in Hanoi quietly jockey for position ahead of the Party Congress and accompanying leadership transition in 2021.Q4: How will the Section 301 case unfold?A4: USTR has a number of options for taking forward the Section 301 case following its investigation. It could decide that there is no basis for further action and drop the case. It could seek a negotiated settlement with Vietnam that ends the undervaluation or provides compensation to the United States for the damage done. It could file a dispute-settlement case at the World Trade Organization. And it could impose tariffs or other retaliatory measures against Vietnam. These tools could also be used in combination. USTR's choices will be shaped by how the Trump administration in a second term, or a new Biden administration, balances commercial and strategic relations with Vietnam. One important point to watch is whether a Biden administration would eventually move to rejoin Vietnam and other partners in the Comprehensive and Progressive Agreement for Trans-Pacific Partnership (CPTPP), the regional trade deal from which President Trump withdrew the United States in early 2017.
The above story was written by Gregory B. Poling, Matthew P. Goodman, and Simon Tran Hudes. Gregory B. Poling is a senior fellow for Southeast Asia and director of the Asia Maritime Transparency Initiative at the Center for Strategic and International Studies (CSIS) in Washington, D.C. Matthew P. Goodman is senior vice president for economics and holds the Simon Chair in Political Economy at CSIS. Simon Tran Hudes is a research associate for the Southeast Asia Program at CSIS.
Critical Questions
is produced by the Center for Strategic and International Studies (CSIS), a private, tax-exempt institution focusing on international public policy issues. Its research is nonpartisan and nonproprietary. CSIS does not take specific policy positions. Accordingly, all views, positions, and conclusions expressed in this publication should be understood to be solely those of the author(s).