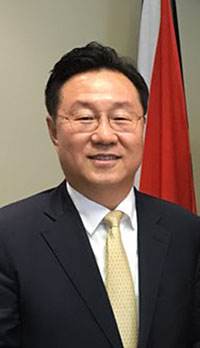 Dr. Park Jong-Dae, S. Korean ambassador to S. Africa
"I am very sad to be leaving South Africa and the African continent," said Dr. Park Jong-Dae. His posting to South Africa as Ambassador of the Republic of Korea comes to an end as he returns home to take up a professorship as he retires from an illustrious career as a diplomat in the foreign-service for his country. He shares his thoughts, experiences and highlights of his Ambassadorship with Kirtan Bhana, Founding Editor of The Diplomatic Society in this exit interview. "South Korea will always be grateful for the role played by South Africa and Ethiopia in supporting the war that enabled our country to acquire its independence, freedom and the democracy we enjoy today." Ambassador Park was referring to the ideological conflict between 1950 and 1953 that led to the division of the Korean peninsula into North and South at the 38th parallel. A demilitarized zone still exists today as a grim reminder of a division which tore a nation apart.Today South Korea is ranked among the top 10 economies of the world, rebuilding the country from one of the poorest in the aftermath of a devastating war, through effective use of the greatest resource, human capital. Empowering its people was the only solution for a country with a mountainous topography and minimal natural resources.Dr. Park Jong-Dae signing a copy of his book 'Re-inventing Africa's Development' for Kirtan Bhana, Founding Editor of The Diplomatic Society at the 2019 Changwon K-Pop World Festival regional round held in Pretoria, South Africa In direct contrast is South Africa on the southern-most tip of the mighty African continent, which is "abundantly blessed with precious mineral resources and natural beauty." It has the potential to be one of the wealthiest country's in the world, says Park.South Africa's glorious history of the fight for human rights, democracy, equality and justice were made legendary by exemplary leaders like Nobel Laureate Nkosi Albert Luthuli, Nelson Mandela, Lilian Ngoyi amongst many others, explains Ambassador Park of his experiences and encounters during his term in Pretoria. Park aptly describes South Africa as a young democracy at the height of transition. He displays an understanding of the injustices of the past and acknowledging South African president Cyril Ramaphosa's role in bringing about good governance to a system which has been broken by corrupt practices, maleficence, uncompetitive business behaviour, collusion and fraud.The lessons from political factionalism beholden to colonial and apartheid legacies is evident in other countries in Africa that has constrained their development, should be closely examined. Solidarity around progressive policy and economic realism, transparency, uniformity and consistency are the guiding practices that will bring about good governance and lead South Africa to prosperity says Park, who expressed a real optimism about South Africa, a country he is planning to visit on many occasions in the near future. The corona virus, Covid- 19, global pandemic brought an unprecedented halt to his active diplomatic schedule as physical distancing, personal hygiene and digital communication proliferated. Ambassador Park did, however, facilitate the a telephonic conversation between President Moon Jae-in of South Korea and South African President Ramaphosa to discuss the impact of the pandemic on relations between the countries and to express solidarity among nations in combatting the disease.Ambassador Park recalls a telephone conversation between the two presidents in 2018 which sought to address the onerous and inconsistent South African Visa regime which is proving to be a significant impediment to investment, trade and tourism initiatives entering the country. These concerns were also raised by a number of other diplomatic representatives in the country.South Africa as a diversified market economy, with advanced infrastructure and financial systems, and stable politics is an attractive proposition in Africa. According to Park the recent agreement, the African Continental Free Trade Area (AFCFTA) adds to the allure as it plans to consolidate distribution, connect trade channels, and develop market bases and innovating products and services for a united African consumer.The internal interactions and transacting will also serve as a buffer and make the continent less susceptible to external economic shocks and fall outs. In relation Korea is the top of the list for entering into free trade agreements allowing for flexibility and reach. An agreement with South Africa is not far down the line as more Korean companies are exploring opportunities to make investments.Another highlight of Ambassador Park's post in South Africa was the launch of his book 'Re-inventing Africa's development'. It explores the value of development cooperation in relation to South Korea and his experiences in Africa from the time he arrived here as a young man with his father on a diplomatic mission and his own missions to Uganda and South Africa. Park was motivated to pen his thoughts and ideas as respect, fascination and a genuine curiosity of South Korea's unprecedented development grew. Through his research on development cooperation Park gained a great deal of knowledge of Africa and meaningful insights about his own country's development success. His initial encounter with Africa was that it was more developed and wealthier than his own country and on his return found that South Korea had far surpassed Africa in the development index. The book was meant to inspire Africa's development, and to learn the lessons and principles of development cooperation which has become a key pillar of South Korea's foreign policy. "My time here in South Africa has been worthwhile as it has further built my expertise and is emotional as I reach the completion of my diplomatic career here on the African continent.""A special mention of the significant increase in cultural, art and people to people exchanges between the countries has led to the decision to open a Korean Cultural Centre in Pretoria early next year. Food, fashion, music and art will create much needed interactions and events that will create greater understanding and awareness." Parasite, the Korean movie that has received many accolades and awards is a significant recognition of South Korea's film making industry. Ambassador Park acknowledged the work of The Diplomatic Society in keeping the Diplomatic community informed. Diplomats, officials and the Diplomatic Society team wish Ambassador Park a heartfelt farewell and much success in his future endeavours.
The above story was written by Kirtan Bhana, founding editor of The Diplomatic Society and the article is from the Diplomatic Society.