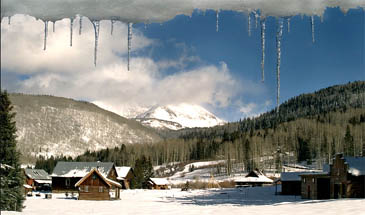 Dunton Hot Springs, an 1890's Colorado mining town, survived hippies and bikers to become a lush resort where painstakingly resurrected shacks are filled with exotic artwork.
DUNTON HOT SPRINGS, Colo. — Nothing exceeds like excess in the deceptively sedate little town of Dunton Hot Springs. In the 1890's, Dunton was a rowdy crossroads for trappers, gold miners and prostitutes. Eighty years later, it became a hippie hangout and a magnet for drunken bikers, wannabe poets and singer-songwriters who came to find their muses while camping for the summer in ramshackle cabins, which they rented for a buck or two a week.These days, it's an Architectural Digest rendition of a miner's camp, a luxury spa hidden in the San Juan Mountains, where the 19th-century log cabins are filled with hundreds of thousands of dollars of exotic artifacts and artwork collected from all over the world by the owner's wife, a former art dealer from Munich. At $600 to $800 a night for a couple, the museum-quality cabins are occupied by the sort of people who recognize the unsigned William Eggleston photographs in the former dance hall and appreciate the period antiques in the guest quarters.On a recent Friday night, my husband and I bundled up against the cold and stepped out the door of Dunton's log cabin library, a snug nest appointed with a bottle of Dickel whiskey, fresh glasses and a grizzly bearskin tossed before a well-stoked fire. We'd been perusing the library's collection of antiquarian erotic art. It was a little after 7, and overhead was a blizzard of stars. Dunton is so remote — even from the town of Dolores, its nearest neighbor 35 miles away — that not a hint of light pollution seeps into its private swatch of black sky. We followed the guttering light cast by oil torches planted in snowdrifts, past a half-buried relic of a pickup truck and a yoga-massage studio that was once a pony express stop, to the largest building in town, which, appropriately enough, used to be a saloon. The structure of weathered wood and corrugated metal was wrapped by an L-shaped porch furnished with Adirondack chairs, rusty mining implements and a huge rack of elk antlers. Inside, a pair of cowboy saddles straddled the doorway, perched on wooden posts in a Ralph Lauren-esque flourish.Tyson Horner, a cherry-cheeked Iowan Falstaff and assistant general manager of the place, stood behind a densely graffiti-ed bar. Sultry jazz from an XM radio channel medicated the room like musical lithium. While Mr. Horner poured me a zinfandel, my finger traced the unofficial roster of Dunton's former denizens carved in the saloon's original bar — from a few hundred gold miners in the 1890's to almost as many hippie nudists and well-marinated bikers who squatted here in the 1970's, leaving bullet holes in the bathhouse roof and the charred remains of cabins they set on fire for the fun of it.Many of the names and initials no doubt belonged to tourists who came to wallow in the healing waters after the mines played out in 1918. Their inscriptions are preserved with Smithsonian care under a dozen coats of gleaming varnish. "Did you catch those names?" Mr. Horner's eyebrows arched as his practiced index finger nimbly found a prominent "Butch Cassidy," and just below it, a smallish "Sundance.""Come on," I said. "That's got to be a prank.""Well," he pulled on the word, grinning broadly, "they're not sayin', but rumor has it they holed up here in 1889, after they robbed the Telluride bank — their first heist.""And, of course, they would have had their trusty pocket knives with them," I responded, accepting the glass of wine. I had come to Dunton Hot Springs looking for a less-is-more weekend, a Luddite's paradise. I wanted to be pampered and well fed, to earn rosy cheeks working up a sweat in the crisp mountain air, to soak in the geothermal pools until pruney, then curl up with a great book by the fire. Dunton didn't disappoint.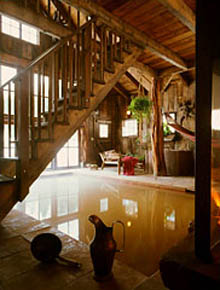 CABIN FERVOR: The amenities at the old mining town include a the bathhouse.
Wisely, Bernt Kuhlmann and Christoph Henkel, the producers of this pluperfect frontier town, shunned the theme-parkification of other historic Western sites — the stagecoach rides, mock gunfights and hotel rooms with cowboy-themed lamps — and relied instead on Dunton's true West DNA, with a few surgical enhancements. They painstakingly resurrected the shacks that were salvageable and trucked in similar-era cabins to replace those that were beyond repair. Then they installed desirable anachronisms like radiant-floor heating, wireless broadband Internet and videoconference facilities. They even added electric lights in the summer tepee bedroom.The interior of each cabin was reborn as a piece of art in its own right — a magazine stylist's collage — created largely by Katrin Bellinger Henkel, Christoph's wife. She chose an 18th-century Rajasthani matrimonial bed as the centerpiece for the honeymoon cabin. "The Cadillac Portfolio," 13 Eggleston photographs depicting an unheroic South in the late 1960's, hangs in the dance hall-screening room, somehow fitting in above the foosball table. Over the bed in one particularly Architectural Digest-worthy cabin, she hung an antique Indian robe where a headboard might be. Dunton's reconstruction was so flawless that its unvarnished grit seemed to have been scrubbed clean. Instead of being dumbed down, Dunton had been, well, dandified, just enough to appeal to the current clientele — international magazines that come to shoot fashion spreads and Hollywood and European royalty like Tom Cruise and Princess Caroline of Monaco, who tend to expect Frette linens and don't flinch at the tariff.IT'S a far cry from the abandoned mining town that Mr. Henkel, an heir to a German household products fortune, and his close friend, Mr. Kuhlmann, a colorful Austrian who favors lederhosen and dabbles in screenwriting, acting and Colorado real estate, stumbled on a decade ago. The friends were skiing in nearby Telluride when they learned that Dunton Hot Springs was on the market for $1.12 million — roughly the price of a condo in Aspen. Fifteen minutes after crossing the rickety bridge over the west fork of the Dolores River, they had decided to buy the town, even though most of the structures were listing, moldering or had already caved in.They intended to develop it into an exclusive enclave of vacation homes for a few handpicked members of their tribe — writers, publishers, film people, international men and women of mystery. Their initial affection for Dunton and their desire to resurrect and perfect it was fed by the stories of Karl May that they'd read as boys. May, a popular German writer of highly romanticized adventure tales about Indians in the Old West, wrote during Dunton's heyday in the 1890's. His sentimental portrayal of frontier life shaped the image of the American West for generations of German-speaking readers, though May had never actually set foot in America. "He made it all up," Mr. Henkel said. "If you read his stories today, they're really quite corny." Mr. Henkel and Mr. Kuhlmann soon grew too attached to the town and its quirky personality to consider selling off lots. To defray the blockbuster budget for building their opulent, film-set vision of the "Vild Vest" — the millions of dollars they poured into the renovations, the haute rustique furnishings and the eclectic artifacts — they decided to rent the town out for corporate retreats at $10,000 a night.When that didn't generate enough income, they opened it as a luxury spa and an outdoor sports haven, offering a full menu of massage therapies, four hot springs (two inside, one outside and one in a tepee) and everything from guided mountain biking to white-water rafting, backcountry heli-skiing and snowshoeing. There's even an ice rink at the foot of the saloon porch steps.One of Mr. Henkel's favorite activities when he's at Dunton (he and his family spend about 80 days a year here) is to skin up the nearby mountains on skis, schuss back down, then slip into 103-degree water up to his ears in the cavernous bathhouse, where the air is thickened by steam rising from a rock-lined pool. The steam condenses on the bronze Mexican statuary strewn about the room and floats up into a private aerie with a massage table where guests can be gently rocked and vibrated into demi-consciousness in a Trager therapy treatment. Though the resort can accommodate up to 34 people, on our weekend we were one of only two couples in residence. Mary-Catherine McAlvany, a jewelry designer who lives two hours away in Durango, had surprised her husband, Dave, a gold trader, with a romantic weekend for his 30th birthday. They were staying in the Well House, a spacious guest cabin with slate floors, a wood-burning stove and a hot spring-fed sandstone tub.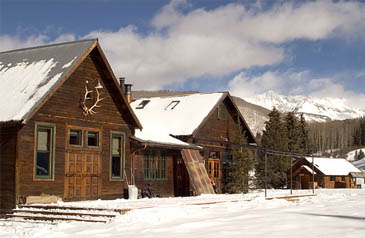 RUSTIC CHIC: The owners of Dunton Hot Springs have restored or replaced many of its 19th-century cabins and other buildings.
"It's a big splurge for us," Ms. McAlvany said. "But the fact that we're the only ones here makes it feel like we rented the whole town for the weekend." Over a dinner of organic Mexican roast chicken with poblano con crema, and chayote and tomatillo salsa, Mr. McAlvany, who had his own restaurant in Boise, Idaho, said that to him the most attractive things about Dunton were the extreme remoteness and the eclecticism of the place. "I think the reason Mary-Catherine brought me here," he said, "is because we like to ice climb and practice yoga. It's kind of a rare combo — not many places offer both."Regrettably, the 35-foot waterfall (a quick snowshoe trek past the library and the open-air wedding chapel) wasn't frozen solid enough to hold ice climbers that weekend. But the next morning, after an excessive breakfast of homemade granola with fresh pineapple, kiwi and blackberries; asparagus omelets; banana bread; and unnecessary bacon, we headed out on Dunton's network of cross-country ski trails.There are trails that pick up just beyond the horse barns and steep ascents up through the aspen and spruce at the back of the 187-acre property. But we chose the gentle climb up the unplowed pass toward Telluride, following the curves of the west fork of the Dolores. As our dog bounded through the deep powder ahead of us, my husband and I tried to keep pace, arms pumping metronomically, working up a lather. It wasn't the most graceful performance — neither of us had clipped into a pair of cross-country skis in at least a decade — but Dunton's beauty police must have been off duty. No one even winced when our skis stuttered instead of gliding like butter. The sun had warmed the air to a balmy 45 degrees and sent sparks flinting off the bleachy white snow. The partly frozen river was an exquisite palimpsest of ice: along the banks where the ice was thickest it had built up rough pimply scars from several freezes, but as the ice thinned closer to the line of the current, it became milky, then as clear and fragile as crystal. Then there were the two imposing "fourteener" peaks, El Diente and Mount Wilson, towering above us. It was ... perfect. That's the thing about Dunton Hot Springs: underneath the high-gloss finish and the relentless tastefulness is a rare authenticity. It is possible that there is simply too much eye candy at Dunton — the refined rusticism of the decor, the amazing art and photography — and too many ways to indulge yourself. But at a certain point you just have to give in and enjoy it. The Henkels may have gilded and Karl May-ified Dunton, but underneath the place still has a soul.
If You Go
DUNTON HOT SPRINGS is on West Fork Road, off Highway 145 between Telluride and Cortez, Colo. (970-882-4800;
www.duntonhotsprings.com
). Visitors can fly into the Telluride, Cortez or Durango airports and and rent a car or have the resort arrange transportation by luxury S.U.V. or helicopter for an additional charge. There are 11 individually decorated cabins. Rates start at $250 a person a day, including meals, nonalcoholic beverages and unlimited use of the three hot springs. Helicopter skiing is available in conjunction with Telluride Helitrax (866-435-4754).
The above article is from The New York Times.