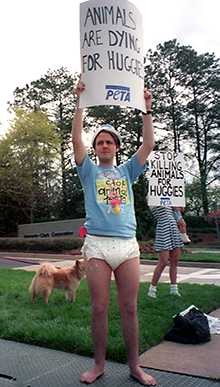 Jason Baker is a senior vice president with People for the Ethical Treatment of Animals (PETA) Asia.
Editor's Note: The following letter was received by The Seoul Times recently. The Seoul Times announces the contents of the following story are only personal view of its writer.
I've been with People for the Ethical Treatment of Animals (PETA) for over the past quarter-century, working to expose cruelty to animals across five continents, and during that time, I've lost track of the number of job applications I've read.Twenty years ago, I helped set up PETA India and later our Australian affiliate, and I've seen the best and the worst applications. I've always been amused by the strange things that applicants think they should tell me.As your prospective boss, I only need to know why you're a good fit for the job; I don't need your autobiography. Don't make the mistake of thinking that applying to a charity such as PETA, Greenpeace, or the Red Cross is any different from applying to any other job. In fact, at PETA, we have very high standards for hiring, because we have to stretch every won we have. Your résumé and cover letter must be professional, relevant to the job that you're applying for, and — most importantly — coherent and concise. Remember that your résumé is the first thing that a prospective employer will see, and it can mean the difference between being invited for an interview and being ignored. Every detail reflects your ability to do the job.Before you even decide to send in your résumé, find out what the organization's objectives are. For example, if you're applying for a job at PETA, you need to know that we promote a vegan lifestyle and have well-defined positions on many animal rights issues. To learn more about an organization's work and what your responsibilities might be as an employee, visit its website and watch a few of its videos.Consider volunteering at its office for a few hours or helping it with one of its events. Find out whether you like the environment and the work ethic and whether the ideals of the organization match your expectations. About half of PETA's staff members started out as volunteers or interns.When you're ready to submit your application, remember this secret: Your cover letter is far more valuable than your résumé. You may have next to no experience in the field that you're considering, but if you can put together a polished, professional cover letter with no mistakes, you will at least demonstrate some drive, initiative, and attention to detail.If you want your résumé to be discarded without being read, be sure to put a spelling mistake in the subject line of your e-mail. Prospective employers won't read very far if you randomly capitalize words or put them in all caps. And forgive me for stating the obvious, but whatever you do, don't list people as references who don't like you or who are unlikely to say good things about you. I've seen this happen.Another way to show a lack of attention to detail is to include (intentionally or not) the "FW:" in your subject line or to print the name of the organization in a different color. This makes it clear that you're just banging out a form letter that you found somewhere on the internet or saw in a book.While it may be obvious to us that you've sent in a form letter, it's easy enough to add a few lines in order to personalize it. It's critical that you discuss the specific job that you're applying for (or, at least, the organization) in your cover letter. Whatever you do, don't use a generic cover letter that could be used with any job application. I've never hired anyone who left PETA's name out of a cover letter.Avoid generalities. When you describe yourself, whether in the cover letter or in your résumé, don't tell me that you're honest and hard-working. I've yet to see an applicant who claims to be dishonest and lazy. Don't tell me that you love to travel to other countries — most people like to travel. All that says is that you have unrealistic expectations that your job will be glamorous and exciting.Don't talk about the way the job will benefit you — talk about ways you can benefit the organization. You simply need to say, "I like this and that about the organization, and I would be good at doing this and that." If you're applying to PETA, say something like, "I have a passion for helping animals, and I think that I could be effective in helping to inform the public about animal suffering." Of course, the more specifics and the more relevant personal experiences that you can cite, the better.While it's crucial to be specific, that doesn't mean that your résumé has to be long. There's a nasty rumor going around that longer résumés are better. This is absolutely false! You don't need a job consultant to tell you that employers don't have time to read 10- to 20-page résumés. (Yes, we get those.)Some people have more details in their résumés than you would find in Bill Gates' curriculum vitae. When you fill your résumé with worthless junk, you're only detracting from the good parts. Your résumé should never be more than two pages long—and you'd better include your Nobel Prize if you make it a full two pages.You should never, ever talk about anything from grade school—well, unless you are an elementary school teacher. When you tell me about your awards in grade school, you are saying, "I have accomplished nothing significant since then." High school is also off limits if you've been at a college or university for more than two years. If you went to college, you obviously went to high school.And no matter what university you attended, we're now looking at your most recent work. (So please don't send us your college transcripts unless we specifically ask for them, which we won't.) If you've been out of college for more than five years, any information about your education other than which schools you attended and when you graduated is unnecessary, unless it's directly related to the job. I was the captain of my high school tennis team and was student body president in college. I'm proud of my achievements, but guess what? No one cares, except maybe my mother. Make sure your résumé stays focused on details about you that matter to employers. I find it really amusing when applicants include their hobbies on their résumés. You are applying for a job, not going out on a date. A prospective boyfriend or girlfriend might like to know that you enjoy exercising, going to the movies, or playing the flute — but a prospective boss normally won't. Everyone likes to watch TV and listen to music, so don't mention things like that. I don't want to know that you like to play video games or chat online. (Really, people say things like that — a lot.) While it may be common in some countries to include details about your family on a résumé, the reality is that we don't need them, and they only take the focus off you. The silliest thing that I've ever seen listed on a résumé was an applicant's blood type!If you're applying for a job at PETA, don't talk about working at a zoo (and I've seen that on résumés) unless you're going to tell me how your experience will help PETA stop the suffering of captive animals. If you have something in your résumé that doesn't seem directly relevant to the job that you're applying for, leave it out or explain specifically how that experience will make you a better fit for the organization.Of course, you want your résumé to stand out, but the way to do that is to follow up with a phone call to make sure that it was received. Don't send 6-megabyte files with bright-pink pages and photos of yourself playing the guitar—unless that somehow relates to the job. As part of PETA's application process, prospective employees receive a list of questions asking how they feel about our work and tactics. We never hear back from 80% of the people who apply. Of those who do reply, some send responses that are so unprofessional that it can be shocking. We have a variety of questionnaires that are tailored to each job. We won't beg people to respond. If a prospective employer gives you a questionnaire to fill out, respond as quickly as possible. It shows that you're enthusiastic about the job, and that can often help—especially if you don't get all the answers right.No one is just going to look at your résumé and then call you up to tell you that you have the job. You will have to attend interviews and will probably need to take one or more tests of some sort. Consider everything that you do during the interview process, from dressing properly to being on time, as a test. And be sure to plan ahead so that you don't get caught in traffic before your interview, even if that means arriving half an hour early and waiting in a coffee shop around the block. Being late for your first interview shows that you don't care enough about the job. No excuses accepted!Nothing makes you stand out like your personal appearance does. An interviewee once told me that he didn't know what to wear because he was applying to PETA and didn't want to look too professional. I almost started to choke. You can never look too professional. No one looks at someone in a suit and says, "Hmm … he doesn't look like he takes this job seriously." However, you might look at a person dressed in jeans, a T-shirt, and sandals and think that. It may not be fair, but that's how society works. Charities are trying to get their message out to everyone, not just to the rebellious types—even if they make up most of the staff.If you do make it to the interview stage, be confident but not arrogant. Don't make demands from the start—that says, "I'm a problem," and it means you probably won't get the job. Come prepared: Make a list of the questions that you think are going to be asked, and be ready to answer them. It's OK if you look like you studied for the interview. It's even OK to take notes. Bear in mind that charities pay charity wages. Working for a nonprofit can be rewarding, but if you want a banker's salary and a banker's house, go work at a bank. Be honest about the salary that you want to make. Don't evade the question when it's asked. If you can be honest about salary requirements during the interview process and show that the topic doesn't make you uncomfortable (and the truth is, no one likes to talk about it), it will say to the interviewer that you will be a straight-talking, frank employee — and we all want that. Now that the secret is out and you know what we're looking for in applicants, it's time to look over your résumé and cover letter very carefully and start applying. PETA is currently looking for a campaigner in South Korea. Good luck!
Jason Baker is a senior vice president with People for the Ethical Treatment of Animals (PETA) Asia.