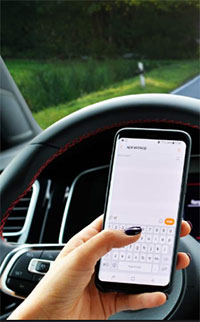 Bad driver behaviors
Editor's Note: Mr. Greg Evans' story was written around the end of the year 2020.
As the 2020 holiday season comes to a close, I want to be the first to say what everyone else has been thinking. What is going on, on our highways and byways? I don't know if I am just getting older and more ornery or if the driving is just becoming that much worse. I am convinced that if it is possible to have a phobia of bad drivers, then I have it!And living anywhere within a stone's throw of humanity, and you are probably suffering silently and unknowingly with some form of PTBDSD, Post-Traumatic Bad Driver's Stress Disorder. And the stress I am referring to is strictly due to horrific driving manners. We aren't even getting into the unending construction on America's roadways or the handing out of driver's licenses like tic-tacs.At any given moment, day or night, weekday or weekend, they seem to find their way to the pandemic abandoned streets like it is the zombie apocalypse. Did the pandemic cause this problem, or was it this bad before?Who even remembers life before Covid-19? That is like sitting around reminiscing about life before the smartphone. Both Covid-19 and the smartphone, we can agree, are man-made catastrophes.It wasn't by accident driving laws were enacted. Spend a weekend driving around metropolitan Charlotte, for example, and you will see why. Humans will try to get away with anything if they believe they can, especially on the roadways, and the debris that lines the main thoroughfares resembles Kuwait circa 1991.You may be wondering what extreme behavior would warrant someone to be attached to this rather preposterous, and subjective list. I guarantee if you leave your house and drive anywhere, whether America, Seoul or even Antarctica, you WILL come across a ...BAD DRIVER: A firm refusal to use "the blinker," that clicking signal device thing that is installed in cars to allow those behind you, and in front, to know which direction you plan to turn and drive, so as not to cause an accident, a traffic jam, or incite some goon to swiftly and effectively beat you into a coma.BAD DRIVER: Texting at the red light as if the green light won't appear within 30 seconds to a minute. The light turns green, but the driver ahead of you doesn't push down on the accelerator because they are texting. You lay on the horn, thick and salty, HONK!! HONK! HONK! HONK! The texter inevitably responds with some Westside hospitality while singing what appears to be K-pop in the mirror. You say, "I can't hear you; is that BLACKPINK?" … to be continued…BAD DRIVER: What is the obsession with texting and driving, racing at dangerous speeds in a 2,000-pound hunk of death metal with your face ¼ inch from the screen of a smartphone?BAD DRIVER: It is not just white-knuckle-clasping of a smartphone while behind the wheel that makes me cringe. It is also the eaters, drinkers, hair-brushers, teeth-brushers, eyelash appliers, makeup administers, readers, nappers, video game players, nail polish removers, television watchers, ALL WHILE DRIVING.BAD DRIVER: Pretty much anyone with a seat leaned back so far it looks like nobody is driving. Is it because they can't see out of the back window from an obstructed view? Or is it something much more neurotic, tattooed on their brain behavior at birth? Maybe I am a cynic. Or that is my crutch, seeing the world as it is, opposed to how I want it to be or think it should be. And yet, I am a courteous driver, conscientious of road and highway etiquette. That is not normal conduct; people are out for themselves. Hence the astronomically tedious list of lousy driving behaviors. And notice I used an adverb, astronomically, which is more or less poor writing practice for clear and concise journalistic output. You then get the "bad driving" of writing if you didn't pick up on the analogy.BAD DRIVER: Driving slowly in the fast lane. I can't understand it. I don't know if there is any real explanation why people refuse to move over when they are aggressively getting tailgated by someone six inches behind and behind the tailgater by four other tailgaters, all lined up. Those snails have no road civility, and they probably don't say thank you when you hold the door at the restaurant and kick your dog when you aren't looking.BAD DRIVER: Tailgaters. They are as irritating as slow drivers. The Krispy Kreme is open all day buddy! Relax! They ride on you and flash their lights and gesture obscenely to you and your young daughter.BAD DRIVER: Yield does not mean STOP! EVER! It means carefully merge onto the road, and the only time you come to a complete stop is if there is a semi barreling down the road and the only two options are stopping or immediate death.BAD DRIVER: The amateur racer wannabes. They pull up next to you and rev their engine that sounds more like an old vacuum coughing. BAD DRIVER: Rubberneckers. Why? People are so nosy, like those old gossipy yentas that sit on the stoop and critique how you live your life. Any car trouble on the side of the road and the public are staring like hippos in the river watching the tourist's boat. It is disturbing to no end to see people's fascination with other's suffering. If you are on the side of the highway, more than likely, things aren't going right. And for whatever reason, you make the grandest entertainment for the rest of humanity that can't get enough, as long as it isn't themselves. This fact is not at all isolated to America, but worldwide. Dear Santa, For Christmas I want a bazooka for the trunk of my car for the sole purpose of the possibility of breaking down and being stranded on the side of the road, so I can watch the rubberneckers scatter. I am pretty confident that there are people out there that feel as I do. If I was mayor, bad drivers wouldn't get fined, they'd get waterboarded.