Asia-Pacific
Letters from Dhaka
Pompeo's Al-Queda Conspiracy and Bangladesh
By MA Hossain
Bangladesh Correspondent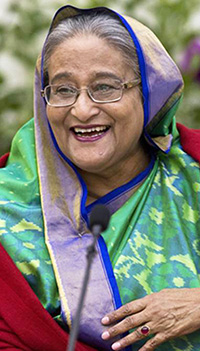 Bangladeshi Premier Sheikh Hasina
In a recent speech at the US National Press Club, the US Secretary of State Mike Pompeo, made a claim that Iran is the 'new Afghanistan' for Al-Qaeda (AQ) militants.' This outrageously gratuitous claim was a quintessential example of the servile attitude by a bevvy of sycophants of conspiracy theorists.By all means, and especially after the incident in Capitol Hill, it would be unwise to term either Donald Trump or Mike Pompeo as the epitome of democracy, rather they are the mere puppets of Jewish lobbyists, weapon dealers who divided the World and created division in the society just to sell their arms. Some analysts may have termed Pompeo's hyperbole about Al-Qaeda as his analytic conclusions; but in all fairness, it was not based on the US intelligence. This could possibly have been scripted by their patrons of "Israel first" Middle East policy. So in this juncture, why does Bangladesh get tantamount importance to them? In this narrative, I will try to unmask the relation between Al-Qaeda conspiracy and Bangladesh.First, the allegation of Iran Al-Qaeda tie rings hollow, to say the least. Iran and AQ are ideological foes. Iran, the former Persian heavyweight, is guided by Shia Islam; whereas, AQ is inspired and imbued with Sunni Islam and dominated by Salafi Arabs. I may take the liberty of reminding my readers an adage, quite popular during Hilary Clinton era- "if you don't listen to America, you will find democracy in your country". The flagrant examples are the Arab Spring, Afghan, Libya, Iraq war. Accordingly, under the auspices of Authorization of Use of Military Force (AUMF) adopted in 2001, the US forces are allowed to strike on AQ anywhere in the world. The AUMF authorizes the President of the US to use force against any nation, organization or person, whom he considers liable to aid in planning, authorizing, committing and/or aiding the terrorist attacks that occurred on Sept. 11, 2001, or harbouring such organizations or persons.So quite conveniently for Donald Trump that should he succeed in tagging Iran as the host nation of AQ, it will be an easy task to order a strike against Iran. Mr. Trump does not care about democracy; he only hails the interests of Jewish businessmen and lobbyists. Iran is not an imminent threat to the USA, but it poses a severe threat to Israel. So Pompeo's assertion can only be seen as a strain on the US-Iran relationship, where the Biden administrations mull revising the "hawkish policy" on Iran. Mr Trump is gauged for his dangerous and disastrous rhetoric. So the duty is comprehendingly performed by his cohort, which appears to be a frantic last-ditch attempt to further the destructive intention of Israel's foes. There was no substantial evidence of Pompeo's statement rather clear confession of target killing.There have been records where Iran played a reversal, even hostile, role against AQ. Iran has supported anti-Qaeda allies in Afghanistan, detained and deported members of AQ who crossed the border and entered in Iran. It is also worth noting that the veracity of the claims on Iran's tie with AQ has been contested domestically by the CIA and the US Congress. Pompeo's latest conspiracy theory of Iran will sow further division at home as well.Second, where is the nexus between Bangladesh and AQ conspiracy theory? Again, I want to remind some incidents to my readers. The first visit of Israeli Prime Minister Benjamin Netanyahu in India, his Indian counterpart hailed, "I(Israel) for I(India)" at the grand reception in the airport. Another incident, 'Howdy Modi' a presidential election campaign for Trump was organized by Indian PM Narendra Modi breaking all the diplomatic norms. Israel and India have special bilateral relations and defence pacts. Both nations have the same goal against a particular religion.Now, Bangladesh has immense importance in geopolitics. India's integrality largely depends on the attitude of Bangladesh. So in South Asia, Bangladesh gets the highest priority at the south bloc in New Delhi. Delhi got almost all the privileges from Bangladesh where in return it disappointed Dhaka, and that is why the Government of Bangladesh feels the pressure from inside to prioritize development partners. China came forward with the assistance of billions of dollars which irked New Delhi. India sought help from its strategic partner Israel to disintegrate Bangladesh from China bloc. To put Bangladesh in pressure, Pompeo's statement is more than enough; though, Dhaka, in its most scintillating effort, did not waste a moment to debunk Pompeo's misinformative and fabricated representation of Bangladesh.Bangladeshi Premier Sheikh Hasina has demonstrated "zero tolerance" against all kinds of extremism and violence. To curb the militancy, Bangladesh is the role model and factually Hasina's Government deserves the recognition globally. Notwithstanding, some petty journalists have been writing of the presence of AQ in Bangladesh in their tabloids. A Hindu retired major in a Bangla daily is continuously writing favouring the interest of India. It is unprecedented and unbecoming of an Army Official, since the country comes first to any man in uniform. The Government must neutralize and forestall these sorts of propagandists and hold them on the account. The notion of freedom of expression does not give a carte blanche to play with the interest of my country. If these publications are not adequately answered, then one fine morning we may hear the echoing of statements like Pompeo's.In my opinion, the way Israel planned the policy to "hit the belly of the crocodile" in the Middle East, the same way arranged for their strategic partner to mount pressure on Bangladesh. If India can prove her 'Big brotherly' attitude or 'Neighborhood First' policy than Bangladesh will have no option to surrender to India's dictations. But this is a fictitious, hypothetical theory, we all know espionage agency can control some politicians but not public, they can infiltrate in administration but not admiration for any nation. Both Bangladesh and Iran have accused Pompeo of his disastrous and frustrating lies. But in global and regional contexts, conspiracy theories are a common phenomenon. If the country is united and uprooted the abettors of foreign conspirators than nothing to worry.

Related Articles
Ideological Warfare: Conception, ...
Al-Qaeda, Global Terrorism and Threat to ...
Iran: Reshaping the Regional Politics in the ...
Bangladesh: Hefazat-e-Islam and Militancy
Turkey Emerges as the Global Power
Opportunity Looms over Rohingya Repatriation
Asia: The Game-Changer for the Superpower
Covid-19: The Job Crisis Is Deepening Globally!
Has 'Big Brother' India Failed to Perceive the ...
What Options Left for North Korean Leader Kim ...
New Dimension in South Asian Regional Politics ...
Superpower Conflict : World Order Is at Stake!
The Creation of "Koryo Union" Is the Only ...
N. Korea: No More Threat to World Peace and ...
Singapore Summit: Historic Aagreement, ...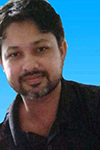 M A Hossain, a political and defense analyst, writes on diversified topics in Bangladeshi and foreign newspapers. He has served in the United Nations. His articles are already featured in prominent newspapers like, South China Morning Post, The Arabian Post, The National (UAE),The Seoul Times, Modern Ghana, The New Nation, Malaysia Today, The Al Bilad(S.Arabia), The Financial Express, The Asian Age, South Asia Journal, etc. He can be contacted at: writemah71@gmail.com