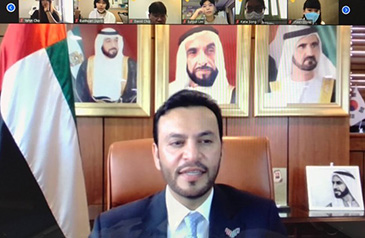 UAE Ambassador to S. Korea Abdulla Saif Al Nuaimi in Seoul
The Embassy of the United Arab Emirates in Seoul participated in the 21st Diplomatic International Forum of Seoul (DIFOS) 2021 organized by Hugh O'Brian Youth Leadership Korea (a.k.a. HOBY KOREA), by Virtual Forum Platform on Jan. 23 (Saturday), 2021.His Excellency Abdulla Saif Al Nuaimi, the ambassador of the United Arab Emirates to the Republic of Korea, delivered a lecture on the UAE's efforts in the field of youth empowerment, in the presence of a large number of students and officials from various universities and schools in Seoul. From the embassy Ms. Mohrah Al Dhanhani, first secretary, and Mr. Saoud Al Teneiji, third secretary of the mission were present at the event.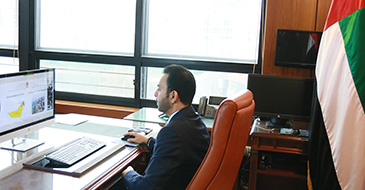 UAE Ambassador to S. Korea Abdulla Saif Al Nuaimi in Seoul
The ambassador began the lecture by giving a general background about the UAE, its culture and tourism, and talked about the most important elements of empowering youth and women in the UAE.Then he reviewed the educational programs, activities and initiatives that are held in the UAE for the purpose of promoting and developing youth and about establishing dedicated councils in empowering youth leadership in order to create empowered future leaders and to introduce various vital and future initiatives in empowering youth in the UAE.The ambassador continued to talk about the special strategic partnership between the state and the Republic of Korea, the course of cultural cooperation between the two countries, and the joint student programs.HOBY KOREA is one of the most important youth organizations that are pioneering youth empowerment on the global level.