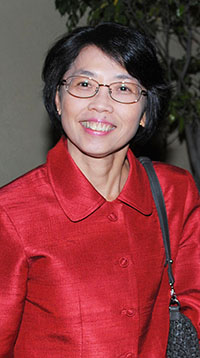 Thai Ambassador to South Korea Rommanee Kananurak
What: A PETA supporter dressed as a monkey will leave a pile of humanely picked coconuts at the Royal Thai Embassy in Seoul tomorrow to remind the ambassador that it's nuts that monkey labor is used in Thailand's coconut industry by companies like Chaokoh.
Where: Outside the Royal Thai Embassy, 42 Daesagwan-ro, Hannam-dong, Yongsan-gu, Seoul
When: Friday, March 5, 12 noon sharp
A PETA investigation revealed that Thailand forces monkeys — who are kept caged and chained for life — to pick coconuts used in coconut milk products.
PETA's investigators found cruelty to monkeys on every farm, at every monkey-training facility, and in every coconut-picking contest that used monkey labor. PETA stands for People for the Ethical Treatment of Animals.When not being forced to pick coconuts or perform in circus-style shows for tourists, the animals were kept tethered, chained to old tires, or confined to cages barely larger than their bodies—deprived of any semblance of a natural life.Many monkeys displayed repetitive behavior indicative of extreme psychological anguish, including one who chewed on his own limbs. One coconut farmer confirmed that when monkeys are terrified and try to defend themselves, their canine teeth may be pulled out.
"Compassionate consumers from South Korea and around the world won't tolerate animal abuse, which is why Thailand must end monkey labor immediately," says PETA Senior Vice President Jason Baker. "Until monkeys are out of the coconut-picking industry in Thailand, PETA is calling on everyone to buy coconut products sourced elsewhere."
More than 28,000 other stores — including international chains Tesco and Costco — have banned coconut milk brands that use coconuts picked by monkeys since PETA's first investigation. Broadcast-quality footage from PETA's investigations is available here and here.
Your coverage is invited. RSVP to Youngwha Kimon on 010-9128-0121 or Nirali Shah at NiraliS@PETAAsiaPacific.com.
PETA—whose motto reads, in part, that "animals are not ours to abuse in any way"—opposes speciesism, which is a human-supremacist world view.For more information, please visit PETAAsia.com or follow the group on Twitter, Facebook, or Instagram.Nirali Shah
NiraliS@petaasiapacific.com