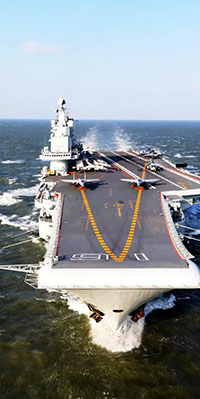 China's first homemade aircraft carrier, Liaoning (辽宁舰) is a Chinese Type 001 aircraft carrier. It commissioned into the People's Liberation Army's Navy. It's the largest warship ever constructed in the country.
Seaborne trade is the lifeblood of the global economy. Around 80 percent of trade in goods is transported by seagoing vessels, many of which are built in China and sold to companies around the world. On the surface, purchasing container ships and tankers from China appears innocuous. China is, after all, the world's largest producer of merchant ships. Yet the lines between commercial and military activities at Chinese shipyards are becoming increasingly blurred, raising concerns about whether foreign capital is helping to support China's ongoing naval modernization. Shipyards dot the Chinese coastline, with the heaviest concentration located within a roughly 300-kilometer stretch of the Yangtze River between Nanjing and Shanghai. The largest of these is Jiangnan Shipyard, which sits on Changxing Island and is operated by Jiangnan Shipbuilding Group, a subsidiary of the sprawling China State Shipbuilding Corporation (CSSC). With some $120 billion in assets, the state-owned CSSC is the largest commercial shipbuilder in the world.Between 2018 and 2020, Jiangnan received orders to build at least 49 commercial vessels, more than half of which were for companies based outside of mainland China or Hong Kong. For example, the Evergreen Marine Corporation — Taiwan's largest container shipping company — bought four small container ships from Jiangnan in December 2018 at a total cost of $124-140 million. The deal marked the company's first shipbuilding purchase from mainland China, but more would soon follow. In December of the following year, Evergreen ordered two additional container ships from Jiangnan, which, once delivered, will be among the largest in their fleet.Companies from Singapore, the United Arab Emirates, Japan, France, Belgium, the Netherlands, and Sweden also bought vessels from Jiangnan in recent years. Perhaps the most notable of these are the nine container ships powered by liquified natural gas (LNG) that French shipping giant CMA CGM purchased in 2017 for $1.2 billion. The first was delivered to CMA CGM in September 2020, and it is currently the largest LNG-powered vessel in the world.Commercial vessels are, however, not all that Jiangnan produces. The shipyard is also responsible for delivering warships to the People's Liberation Army Navy (PLAN), and the workshops, fabrication facilities, and slipways used for producing naval vessels are often the same as those used for merchant ships. Neither Jiangnan Shipbuilding Group nor its parent company CSSC are shy about this dual purpose. Jiangnan describes itself as the "birthplace of the nation's (commercial) industry and defense industry," and CSSC includes "supporting national defense construction" among its core missions.This emphasis on military and commercial activity is a hallmark of China's military-civil fusion (MCF) strategy, which is a top priority for President Xi Jinping. Under the banner of MCF, the Chinese Communist Party is seeking to fuse the country's economic and social development strategies with its security strategies to promote innovation and integrated development.This blending of commercial and military activities is particularly evident when tracing the development of China's third aircraft carrier. Known as the Type 003, the carrier has been under construction at Jiangnan since at least late 2018 and, once operational, is expected to significantly upgrade the PLAN's capabilities.Sometime between May 24 and June 2, 2020, prefabricated components of the Type 003's hull were relocated to a drydock on the western side of Jiangnan for assembly. Satellite imagery from May 20 reveals that just days before, the same drydock was being used to build one of the aforementioned LNG-powered container ships ordered by France's CMA CGM. Fast forward to January of this year, and imagery confirms that work on no less than five LNG-powered vessels for CMA CGM has continued in the shadow of China's new carrier.Visible in the same satellite image are two container ships bearing the distinctive hull markings of Taiwan's Evergreen. One such vessel is moored at a T-pier jutting into the Yangtze River. Docked alongside it are two Type 055 cruisers and a Type 052D destroyer. Both surface combatants were highlighted as elements of the PLAN's growing capabilities in the Department of Defense's most recent annual report on the Chinese military. It is also worth noting that a Type 052D took part in a 2020 naval drill that stoked tensions with Taiwan.The arrangement at Jiangnan is not unique. Situated about 18 km to the southwest is Hudong-Zhonghua Shipyard, another major hub in China's shipbuilding empire. Like Jiangnan, Hudong-Zhonghua builds commercial vessels for foreign-owned companies, including separate orders over the past three years from two Japanese companies — K Line and Mitsui OSK Lines — for three LNG-powered carriers. Evergreen is once again in the mix; two container ships the Taiwan-based conglomerate purchased in November 2019 are being built at Hudong-Zhonghua.It should come as little surprise that the shipyard also develops military vessels. The Hudong — Zhonghua Shipbuilding Group, another subsidiary of CSSC, fields foreign shipbuilding orders while also proudly proclaiming to be the "cradle of Chinese frigates and landing ships." Key among the naval vessels that Hudong — Zhonghua produces are the Type 054A frigate and the Type 075 amphibious assault ship, the latter of which is yet to be commissioned. The Type 075 is expected to significantly upgrade the PLAN's ability to project power into China's near seas. Its ability to transport, land, and support ground forces operating outside the Chinese mainland should be particularly worrying to Taiwan.By purchasing vessels from Chinese shipyards, foreign companies are immersing themselves in an opaque ecosystem where demarcations between commercial and military shipbuilding activities are either unclear or nonexistent.As shipbuilding has grown more specialized, shipyards in Europe and the United States have largely focused on either military or commercial production. Shipyards elsewhere that do produce both military and commercial vessels often separate their facilities. Take, for example, South Korea's Hyundai Heavy Industries (HHI), which builds merchant and naval vessels at its Ulsan Shipyard. HHI is readily transparent about which facilities at Ulsan are designated for naval development. The situation appears more muddled in Japan. Japan Marine United (JMU), for example, works on both commercial and Maritime Self-Defense Force vessels at the same shipyard in Yokohama.Any blending of shipbuilding activities within allied nations is far less of a concern for the United States than what is happening in China. The revenue generated from foreign sales are critical to advancing China's shipbuilding industry, and it is hard to imagine this financial boon not also paying dividends for the ongoing modernization of the PLAN. As the December 2020 maritime strategy report published by the US. Marine Corps, the Department of the Navy, and US Coast Guard makes clear, this modernization is occurring in lockstep with China's rising assertiveness and an intention "to dominate its regional waters and remake the international order in its favor."China's lack of transparency should raise red flags, especially for countries with shipping companies that rely on Chinese-built hulls. Particularly concerning are foreign orders placed with Jiangnan, Hudong-Zhonghua, and any of the other 145 subsidiaries operating under the umbrella of CSSC. This has been clear since at least 2017, when the former chairman of China Shipbuilding Industry Corporation (one of two major state-owned enterprises that merged to form CSSC in 2019) stated that the company was advancing MCF by tapping commercial technologies to advance military modernization.Washington has begun to act. In November 2020, then-president Donald Trump signed an executive order mandating that US individuals and companies divest from funds that include investments in 31 Chinese firms tied to the Chinese military. The list included both companies that now comprise CSSC in recognition of their role in advancing China's military buildup. This designation, however, has not halted CSSC subsidiaries from producing multimillion-dollar commercial vessels for US allies and partners.As the new Biden administration formulates its China policy, it should evaluate US exposure to China's shipbuilding industry and, importantly, call upon its allies and partners to do the same. South Korea and Japan boast major shipbuilding industries that may welcome an influx of orders from companies deterred from doing business with China. While such a move would undoubtedly run into short-term capacity issues, the United States can help spearhead a long-term shift.The US government has recently launched initiatives, such as the Clean Network program, to work with selected partners to secure critical industries. A similar approach could help to connect trusted partners in the shipbuilding industry. Doing so starts with an earnest conversation among like-minded nations about the consequences of wading in the murky waters of China's shipbuilding industry.
The above writer, Matthew P. Funaiole, is a senior fellow for data analysis with the iDeas Lab and senior fellow with the China Power Project at the Center for Strategic and International Studies (CSIS) in Washington, D.C. Co-writer Joseph S. Bermudez, Jr., is a senior fellow for imagery analysis (non-resident) with the CSIS iDeas Lab and Korea Chair. Another co-writer Brian Hart is a research associate with the CSIS China Power Project.
Commentary
is produced by the Center for Strategic and International Studies (CSIS), a private, tax-exempt institution focusing on international public policy issues. Its research is nonpartisan and nonproprietary. CSIS does not take specific policy positions. Accordingly, all views, positions, and conclusions expressed in this publication should be understood to be solely those of the author(s).