America
Letters from America
The Silent Voices — A Look inside the Work of Women's Rights Activist Marilyn Roustand
By Greg Evans
Special Correspondent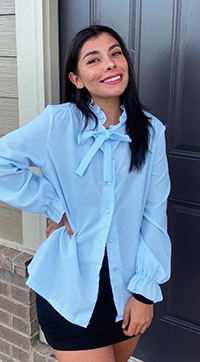 Marilyn Roustand, women's rights activist
"I have only had the opportunity to assist at one protest; it is very dangerous to protest in Mexico.""To be a woman is very dangerous in Mexico. These past few years have been really hard for Mexican women. The machismo culture in Mexico is affecting women's lives and it is something that is on my mind all the time," Marilyn says. She smiles warmly but there is noticeable concern in her eyes as she reflects on the conditions back home. "It is heartbreaking," she says almost in a whisper.Arriving from the bustling mega metropolis of Mexico City boasting a population hovering close to 22,000,000 and settling in the rural rolling green hills of East Tennessee, Marilyn experienced a healthy dose of culture shock. The food was different, the language, the weather, the small-town life…everything. "At first the hardest part about the transition was understanding the southern accent," Marilyn says with a chuckle. "And the cold, when I first came it was spring and was so chilly."Mexico City's subtropical highland climate averages between the mid-50s and low 60s, a far cry from those brisk East Tennessee mountain mornings. Marilyn's hometown is located in an area that is historically significant dating back some 12,700 years with the discovery of the Peñon woman, Paleo-Indian remains found near an ancient lake. It was also the capital of the Aztec Empire founded by the Mexica people in 1325 known then as Tenochtitlan and would be the center of power for the invading conquistadors led by Hernán Cortés 194 years later in 1519. Marilyn enrolled in college at King University in Bristol, Tennessee and the journey from the Western Hemisphere's largest city, Mexico City, would take some adjustment, but it was a change that she welcomed.Marilyn declared her major in business with a focus on economics and a minor in mathematics. Along with her interest in business is her passion for women's rights in her home country of Mexico; a pursuit of cultural, social, economic and political equality in a society that is overtly male dominated. "In the 21st century to be a woman in Mexico is dangerous. It is something that is on my mind the whole time. I went to one protest in Mexico City when I was there for break, it was heartbreaking and at the same time so empowering to see the unification of women," Marilyn says of the continuous struggle that is occurring in her homeland.Violence against women in a historically machismo culture is not spot news, it has been an ongoing problem for generations, and it continues to be a problem even now in the modern age. It is one that needs to be out in the forefront of people's minds. Marilyn says, "Oppression has always been there but now it is not hidden anymore. The exposure is key. Something that I noticed is how social media has helped the spreading of information; back in the past all the exposure of information was controlled by the government but now with social media we have access to both sides of the story."Though Marilyn is a star tennis player who will no doubt be successful in whatever course of business she decides to pursue, her passion remains equality for women in Mexico. "I like to support as much as I can with my tiny actions, and in the future, no matter what job I have, I'd like to have a bigger impact on Mexican society and try to help end the misogynistic behavior."There is a man in her life though that has influenced and inspired her and someone she sees as her greatest role model, and that is her father. A boy growing up hard outside Veracruz in the eastern Mexican jungles, at the tender age of fourteen, he ran away from a rough homelife and landed in Mexico City. There he started a new life – he had no money and really nowhere to turn, and instead of letting the world walk all over him, he persevered through hard work, dedication and a belief in himself, eventually becoming a prominent doctor.Through hard work and focus and never ever quitting, anything is possible, and Marilyn lives her life with this affirmation. Due to the excessive violence toward women and those that protest the mistreatment of women, her parents have been anxious about her participating, but Marilyn still does what she can to help promote parity."The more I think about my generation, I realize how open-minded they are, especially women. It is a motivation seeing younger women wanting to be involved. It is impressive how inspired the younger generations are and how brave."In March of 2020 thousands of women went on a nationwide strike in protest of the violence against women. Contemporary Mexican artist Lorena Wolffer said, "It's no longer possible to continue living in a country where a woman can be murdered in a brutal way, without any consequence."Marilyn encapsulates the courageous, and forward-thinking leader that is unafraid to challenge the status quo. She stands up for the rights of the oppressed in a society where violence and fear tactics are routine, and the silent voices suffer alone. It is shining stars like her that change the world.

Related Articles
I Could Tell by the Way Lalisa Looked at Me ...
Great Art of Suffering -- Degenerate Life of ...
The Dreaded Slump
An Evening in Savannah
A Successful Life Is There for the Taking!
The Millennial's Guide to a Successful ...
The Zen of Blackpink
The Mayan Predictions Were Spot On!
Confessions of a Single Dad -- I Lost the ...
Blurred Highway
How You Too Can Overcome Depression and ...
Ghost Sightings Around Mooresville Predate ...
No Place Better to Spend Autumn Evenings than ...
Poking a Hornets Nest -- A Carolina Beach ...
First-Ever Filipino Restaurant Experience, And ...
Pfizer Vaccine Approved by FDA in America
The Blurred Highway
The Speed Trap -- A Cash Register for Small ...
What Glitters Truly Is Gold -- Through the ...
There Is Buzz with Elon Musk -- Will Dogecoin ...
Inside Africa -- A Missionary's Work in ...
A Night of Celebration -- 4th of July and a ...
Miami Building Collapse -- Possible Flaw in ...
Building Collapses in Miami, Florida, Leaving ...
Color Blindness in a Colorful World
Lake Norman, the Great Energy Vortex
The Great Hostage Hoax
A Little Bit of Laos -- A Culinary Adventure
Anti-Asian Attacks an Ongoing Problem
By the Grace of God -- The Cylk Cozart Story
Eli Broad, Billionaire Philanthropist, Dies at ...
Clutch Coffee Bar Expanding to Florida
Ten Years Later: Chris Hondros Honored by ...
Local Charlotte Boutique Is Turning Heads
Sailing on Lake Norman without a Rudder
Zen and the Art of Ziplining at Lake Norman
The Proper Etiquette for Street Fighting in ...
A Yankee in Dixie
First Hiking Experience, Lake Norman -- Where ...
Who Is the Bigger Band, the Beatles or BTS?
Misogynism Within the Gaming Community
When Has It Gone Too Far -- the Illicit Affair!
The Camping Experience! Well Eventually ...
Taken from Jurassic Park and Put into ...
10 Most Irritating Bad Driver Behaviors
Throw Me a Bone -- What in the World Is a ...
Charlotte, North Carolina's South End ...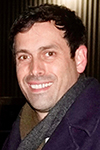 Greg Evans, associate director of communications of King University in Bristol TN, in the US, serves as a special correspondent for The Seoul Times. The seasoned journalist has been writing for such papers as the Mooresville Tribune, Lake Norman Citizen, the Bristol Herald Courier, and the Sentinel-Progress (Easley, SC). He can be reached at gaevans1@king.edu