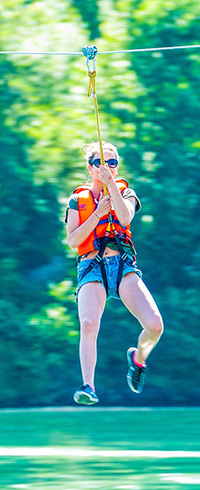 Ziplining at Lake Norman
There is something zen about the freedom and movement of traveling from one end of a zipline to the other. This article discusses finding clarity of mind by riding on a zipline.
You may not have even realized it existed, a zipline, a stone's throw from the seashell scattered shoreline of Lake Norman. In the early morning dawn, when it is quiet when the cool water lapping against the boats is the only sound before even the birds start their day with a song, a fresh yellow sun begins streaming through the trees, illuminating the dog park and spreading its warm glow over a place that even The Dalai Lama would consider for spiritual growth or a timeshare for vacation. It is here that one might come to find that moment of tranquility, that sliver of peacefulness, racing a hundred or so feet down the zipline. For those few seconds, it is just the wind in your ears, movement, the flickering of the rising sun through the trees, and clarity of mind.It doesn't matter what might be going on in your life at that particular moment. You could be in a job that is unsatisfying or a relationship that is teetering on the brink of collapse or dealing with family conflict, whatever it is, it disappears for those few seconds that you are soaring from one side to the other. There is just something about movement, about floating, that sets the mind temporarily at ease. And it is in that moment that we reflect, we stand beside ourselves in a state of lucidity. Off to the right, fifty yards or so is the beach, dock, and gentle ripples on the water catching fleeting shimmers of the early morning's smile. The houses across the small bay are still dark. The anxiety of life has subsided. The upcoming meetings are forgotten, the morning traffic angst dissipates with the mist, the rising cost of living, and the price of emotional fatigue seem inconsequential.There on that seat, attached to a wire, zipping across what seems like a highway toward a new future, a new breath of fresh air, a collection of answers to so many questions, a perfectly painted picture in an imperfect world, hanging upon a wall in an imperfect home. But for that brief minute to be able to find yourself, that is pure.And then it ends. The line reaches the final stop. You swing for a minute and just sit there, lost in your introspection, lost in your perfect moment. And you bring the zipline back to repeat it, to become one once again with the deliberate movement of your thoughts, of your body and your soul, all together with the movement of time. It is there we can reconcile with our yin and yang, understand what it is to be content in a blip of contemplation. The empty playground behind us with the echoes of children's laughter in the swaying branches above, not a care in the world wrapped in layers of complexity. How fast we are going is hard to say? I guess that goes both for the zipline and everyday life, only on the zipline we are forced to look around, there are no constraints, nothing blocking us, nothing keeping us from moving. Life is somewhat like a zipline only there are so many distractions, so many opportunities for missteps. On a windy day the line rocks from side-to-side, a sailboat appears in the distance, drifting steadily and silently toward its own sense of freedom. It is magical and unadulterated. There is nothing more authentic than the privilege of gliding like a leaf on some current mediating on growth and self-assessment. You are in control, but you are not, you are in constant motion, a controlled motion. The fear of facing yourself at that moment is exhilarating. You lean back to prolong the ride as if it is going to change the speed, but it won't, just like in life. The zipline goes from point A to point B, there is no variation. It knows its purpose. And in the moment of motion, you find your purpose, order, reconciliation, and worth. Because what is there without a purpose? To go from here to there, but along the way, that space you need to fill in between to satisfy that purpose. A stationary life becomes stagnate. A cesspool of dissent, vice, distrust, dereliction, debauchery, and a being wholly distorted. On a zipline along the shoreline of Lake Norman in the early morning dawn, is where the world finally made sense. And the scent and sensation of comfort were like lying in a bed of 1,000 tulips, a devotion to yourself to go after that purpose with every ounce of energy left to give, and then in sleep will be that movement, carrying you forward, always moving forward. The troubles, the chaos of the real world, it all starts to go away when you find that purpose. The zipline will always move forward. It is such a beautiful and simple thing. To take you along an invisible path, a spiritual path, to that final destination, fulfillment.