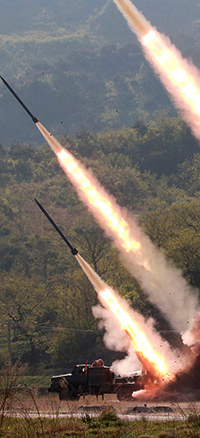 North Korean missile test
As US President Joe Biden suggested on March 24, 2021 telling reporters "it's business as usual," North Korea appears to be resuming its cycle of provocations. On Wednesday, North Korea carried out its second provocation during the Biden administration by launching two short-range ballistic missiles. Launched from Hamju in eastern North Korea at 7:06 a.m. and 7:25 a.m. Korea Standard Time, the ballistic missiles traveled about 450 kilometers (280 miles) at an altitude of 60 kilometers (37 miles) toward the sea between the Korean Peninsula and Japan. This followed this past Sunday's early morning launch of two cruise missiles from the western port county of Onchon.
Q1: Are these launches in response to the visit of US officials to the region last week?
A1:
The missile launches are likely North Korea's response to the "2+2" meetings between high-ranking US and South Korean and Japanese officials to consolidate alliances, and the US-South Korean military exercises held March 8 to 18, at least in terms of its timing. However, these alliance actions are not responsible for provoking North Korea. Early provocations in a new US administration have been a longtime pressure tactic by North Korea.CSIS data show, for example, that 45 days after former president Barack Obama's first inauguration in 2009, North Korea launched a three-stage rocket. Twenty-three days after Obama's second inauguration in 2013, North Korea conducted its third nuclear test. And 23 days after former President Donald Trump's inauguration in 2017, it tested a new medium-range ballistic missile.The timing of the missile tests could also be related to the cycle of North Korea's winter training exercises, which have just concluded.
Q2: What is North Korea after?
A2:
These weapons demonstrations were carried out against the backdrop of Pyongyang rejecting reported US overtures early in the Biden administration for dialogue. This suggests North Korea is using weapons demonstrations to build leverage and as a pressure tactic to force unilateral concessions from the United States for a return to the negotiating table.
Q3: Is there anything different this time compared with past North Korean tactics?
A3:
China. The missile launches also come shortly after reported talks between Chinese president Xi Jinping and North Korean leader Kim Jong-Un, in which China reaffirmed the alliance between the two countries. This suggests either a consolidation of the China-North Korea position against the US alliance system, or an embarrassing rogue North Korean act for Xi, who might have not known of the forthcoming demonstrations.
Q4: What should we expect going forward?
A4:
If past is any precedent, we should expect more weapons demonstrations from North Korea, including possibly longer-range weapons tests. For example, during Obama's first term, North Korea followed the April 2009 rocket launch with a May nuclear test, six short- and medium-range ballistic missile launches, and two incursions into the Northern Limit Line between May and November. And during Trump's term, North Korea followed the February 2017 missile test with a September hydrogen bomb test and 19 more ballistic missile tests throughout the year, including three intercontinental ballistic missile tests. There could a compressed timeline for future provocations, as we saw in the first quarter of 2020.
Victor Cha is senior vice president and Korea Chair at the Center for Strategic and International Studies in Washington, DC, and vice dean for faculty and graduate affairs and D.S. Song-KF professor of government at Georgetown University.
Critical Questions
is produced by the Center for Strategic and International Studies (CSIS), a private, tax-exempt institution focusing on international public policy issues. Its research is nonpartisan and nonproprietary. CSIS does not take specific policy positions. Accordingly, all views, positions, and conclusions expressed in this publication should be understood to be solely those of the author(s).