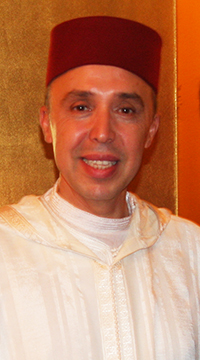 Mr. Chafik Rachadi, Moroccan ambassador to South Korea
Mr. Chafik Rachadi, Moroccan ambassador to South Korea, will invite a host of foreign ambassadors, local government officials, art and media personalities, and officials of the Korea-Africa Foundation at the closing ceremony of its cultural exhibition titled "House of Morocco," the Moroccan Embassy in Seoul announced recently.
Minister Counsellor Sidi Mohammed El Bakkari, deputy head of the mission, said on April 2, 2021 that the closing ceremony will be held at the Multicultural Museum in northwestern Seoul at 2 p.m. on April 9 (Friday), 2021.He said that the Moroccan ambassador will deliver a speech at the ceremony.Traditional Moroccan arts including ornaments, artifacts, porcelains, window patterns are on display at the exhibition "House of Morocco," according to the embassy.The Moroccan exhibition is being held under the theme of "Treasures of the Mediterranean Sea and North Africa."The Moroccan exhibition is sponsored by the Seoul City Administration.The Minister Counsellor said that the exhibition is aimed at introducing the Moroccan culture, society, and geography to the local Korean people.
It is also directed at promoting the Moroccan history and civilization of the Kingdom of Morocco among the Koreans.The exhibition is being held with the aim of promoting the culture of Maghreb or the Grand Maghreb countries of Morocco, Algeria, and Tunisia in South Korea. The Maghreb, West in Arabic, is the Northwest Africa area.The scheduled ambassador's speech will be delivered toward these causes.
For details or inquiries call the Moroccan Embassy in Seoul at 793-6249.