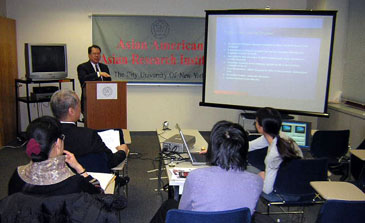 The establishment of dual language programs and schools is one of the new initiatives of the New York City Department of Education. The speaker will discuss the implications and challenges of dual language pre-collegiate programs/schools.

Chris Loughran believes that "to be bilingual" will become a strong asset in the new millennium and that's why her son Ryan has been going to a dual-language school since Kindergarten. Ryan is now 11 and he keeps on honing his bilingual skills in Junior High School.A recent report published by Goldman Sachs points out that Ryan is on the right track to succeed in the global economy. The report sings the praises of dual-language schools, which teach academic subjects in two languages. The report stressed that if young Americans wish to take leadership roles, they must have skills and knowledge of "languages, geography, and cultures."Although foreign language teachers have been saying the same things for years, it's nice to see an investments company reiterate the same ideas.Sadly, American education is still focusing on English monolingualism although some things are beginning to change. The number of dual-language schools championed by Goldmans Sachs is small but growing rapidly.There are now about 300 dual language schools nationwide, more than double the number of 1995. Although the most typical combination is English-Spanish, others involving Asian and European languages are also available.These dual-language programs are very popular and waiting lists are very common in school districts that make them available. Typically, they exist in communities which have sizeable immigrant populations or in university towns where multilingual education is highly prized.The federal government encourages dual-language schools and provides funds to implement these programs. San Bernardino schools, in Southern California, for example, received $1,375,000 over five years to implement their dual-language program.The advantages of bilingualism become evident in the entire education of students. Students educated in more than one language develop a mental agility that monolinguals lack. One of these advantages has to do with something researchers call a "plasticity" of the brain.Bilingual children recognize that just as there are two ways to say something, there are also two ways to learn and solve problems.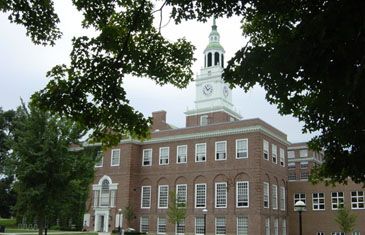 Dartmouth College
This mental agility is evident in learning foreign languages. Just as it's easier for someone who knows how to play a musical instrument to learn a second and a third one, thus it is also easier for someone who knows a second language to learn a third, or even a fourth one.Studies at Dartmouth College and George Mason University found that kids educated in dual-language schools outperform monolingual children on standardized tests. Students in dual-language schools did better than those in traditional bilingual education and those educated only in English.The benefits of bilingualism become evident as kids grow into adults and will affect their pocketbook even in the US, a country in which English is clearly king. In Florida, Hispanic families speaking only English averaged a yearly income of $ 32,000, while those speaking both Spanish and English had incomes of $50,376, according to a study conducted by the University of Florida.Yet, naysayers exist. Ron Unz, a California software entrepreneur who spearheaded anti-bilingual education initiatives in California, Arizona, and Massachusetts, stated that dual-language schools sound like "bilingual education" with a "different name."However, bilingual education and dual-language programs are very different. The first approach tries to teach school subjects in the immigrant kids' native language to ease the transition into English-only education. Dual-language schools, on the other hand, aim to make students fluent in two languages regardless of their home language.Unz tried also to eliminate bilingual education in Colorado but he failed because many parents were concerned that the initiative would have also done away with dual-language programs and deprived their kids of the opportunity to become bilingual.Colorado's parents were wise. If your school district does not offer a dual-language program, contact your school board and request it. It will be a great investment for your kids but for the rest of the country as well.