Media
Letters from America
Ten Years Later: Chris Hondros Honored
by North Carolina Journalism Hall of Fame
By Greg Evans
Special Correspondent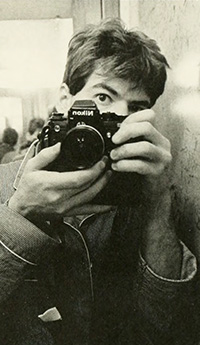 US photojournalist Chris Hondros from North Carolina was killed in Misrata, Libya on April 20, 2011 by a rocket-propelled grenade while he was covering the conflict as a war correspondent.
Editor's Note: On this day ten years ago two-time Pulitzer Prize finalist and North Carolina Journalism Hall of Fame inductee, photojournalist Chris Hondros was killed while on assignment in Libya. Caught in a mortar barrage he and Oscar-nominated filmmaker Tim Hetherington lost their lives doing what they loved, recording history as it was happening.
It was on April 20, 2011, that two-time Pulitzer prize-nominated photojournalist Chris Hondros was killed while on assignment in Libya. He was working in the city of Misrata with a few other photojournalists when they were caught in a mortar barrage during the siege. Chris and Oscar-nominated filmmaker and British photojournalist Tim Hetherington were killed while two other photojournalists were injured in the attack.At the time of his death, Chris was 41-years-old and left behind his beloved fiancee, Christina Piaia whom he was scheduled to marry that August, his dear mother Inge Hondros, and many, many friends all over the globe. Chris grew up in Fayetteville, North Carolina graduating from Terry Sandord High School in 1988.Hondros enrolled in North Carolina State University where he studied English literature and worked for the school newspaper, the Technician. He would graduate in 1993 and pursue a master's degree from Ohio University in Athens, Ohio.After school, Chris took a job at the Troy Daily News in Ohio rising from intern to chief photographer before returning to Fayetteville to help care for his ailing father. It was during this time that Chris accepted a position with The Fayetteville Observer. But the calling of international reporting was too strong, and Chris decided to move to New York and from there would spend the next decade photographing various conflict zones around the world taking some of the most recognizable and revered photographs that graced the covers of newspapers and magazines worldwide including The New York Times, The Washington Post, The Los Angeles Times, Newsweek, the Economist, and others. He traveled to Kosovo, Sierra Leone, Angola, Afghanistan, Kashmir, The West Bank, Liberia, Iraq (where he did nine tours), Egypt, and finally Libya.It was from these locations that he took the iconic photographs that earned him numerous awards and grants including the United States Agency for International Development (USAID) Photojournalism Grant in 1999 and 2001 the Pew Fellowship for International Reporting through Johns Hopkins University. In 2003 he was awarded the John Faber Award, 2004 Pulitzer Prize finalist for his work in Liberia, 2004 Pictures of the Year International 3rd place, 2005 World Press Photo 2nd prize for Spot News, 2006 Overseas Press Club, Robert Capa Gold Medal for exceptional courage and enterprise in his work from Iraq, 2007 American Photo Magazine named him: "Hero of Photography" for his work in Iraq, 2007 Days Japan International Photojournalism Award First Place, 2008 National Magazine Awards nominee for his essay on "A Window on Baghdad," 2012 Pulitzer Prize for Breaking News Photography Finalist for his coverage of revolutionary protests, Arab Spring. But for Chris, it wasn't about the awards that motivated him to pursue this dangerous work."I believe in photography," Hondros said. And Chris didn't just take the photograph and that was it. He would make the effort, when he could, to get to know the people that he was photographing and went out of his way to help them when he could. One of these most famous photographs was of a Liberian soldier celebrating after hitting his target with a rocket-propelled grenade. The man's name was Joseph Duo. After the war, Chris was able to track Joseph down, helped him register for school, and even paid for his books and uniform.There was another incident when he was in Iraq in the town of Tal afar and out on patrol with a unit. That evening tensions had been high. The unit had been in a firefight earlier in the day and just after dark a car off in the distance was speeding toward them. The unit gave the car two warning shots, but it didn't stop. Around twenty guys began firing into the vehicle. When the car finally stopped children poured out from the backseat. The parents had been killed instantly. One of the kids, a young boy, was shot in the abdomen. Chris was shaken up by this incident and worked hard to get the child flown to a hospital in Boston, Massachusetts which wasn't easy getting an Iraqi National into the U.S. for treatment during the war. "The car had been shot up…I could hear the sounds of children's voices and screams…It was a horrible mistake," Chris remembered.Hondros had a kind heart and cherished the relationships that he made in his life. For him, photography was about telling the story as it was happening, helping to record history in real-time and to get it right. But part of getting it right and capturing the best pictures requires the photographer to be in harm's way, in the middle of the action. "The thing with war photography is that there is absolutely no way to do it from a distance," Chris says in an interview a few months before his death."History will probably decide which pictures endure on that level. I'll be curious to see which ones they are," Hondros said. A few years ago Chris was immortalized in a documentary aired on Netflix titled Hondros, written and directed by his best friend Greg Campbell. Chris was a charismatic and talented photographer taken before his time, he is remembered and honored by friends from all four corners of the globe.

Related Articles
I Could Tell by the Way Lalisa Looked at Me ...
Great Art of Suffering -- Degenerate Life of ...
The Dreaded Slump
An Evening in Savannah
A Successful Life Is There for the Taking!
The Millennial's Guide to a Successful ...
The Zen of Blackpink
The Mayan Predictions Were Spot On!
Confessions of a Single Dad -- I Lost the ...
Blurred Highway
How You Too Can Overcome Depression and ...
Ghost Sightings Around Mooresville Predate ...
No Place Better to Spend Autumn Evenings than ...
Poking a Hornets Nest -- A Carolina Beach ...
First-Ever Filipino Restaurant Experience, And ...
Pfizer Vaccine Approved by FDA in America
The Blurred Highway
The Speed Trap -- A Cash Register for Small ...
What Glitters Truly Is Gold -- Through the ...
There Is Buzz with Elon Musk -- Will Dogecoin ...
Inside Africa -- A Missionary's Work in ...
A Night of Celebration -- 4th of July and a ...
Miami Building Collapse -- Possible Flaw in ...
Building Collapses in Miami, Florida, Leaving ...
Color Blindness in a Colorful World
Lake Norman, the Great Energy Vortex
The Great Hostage Hoax
A Little Bit of Laos -- A Culinary Adventure
Anti-Asian Attacks an Ongoing Problem
By the Grace of God -- The Cylk Cozart Story
Eli Broad, Billionaire Philanthropist, Dies at ...
Clutch Coffee Bar Expanding to Florida
Local Charlotte Boutique Is Turning Heads
Sailing on Lake Norman without a Rudder
Zen and the Art of Ziplining at Lake Norman
The Proper Etiquette for Street Fighting in ...
The Silent Voices -- A Look inside the Work ...
A Yankee in Dixie
First Hiking Experience, Lake Norman -- Where ...
Who Is the Bigger Band, the Beatles or BTS?
Misogynism Within the Gaming Community
When Has It Gone Too Far -- the Illicit Affair!
The Camping Experience! Well Eventually ...
Taken from Jurassic Park and Put into ...
10 Most Irritating Bad Driver Behaviors
Throw Me a Bone -- What in the World Is a ...
Charlotte, North Carolina's South End ...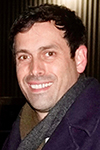 Greg Evans, associate director of communications of King University in Bristol TN, in the US, serves as a special correspondent for The Seoul Times. The seasoned journalist has been writing for such papers as the Mooresville Tribune, Lake Norman Citizen, the Bristol Herald Courier, and the Sentinel-Progress (Easley, SC). He can be reached at gaevans1@king.edu