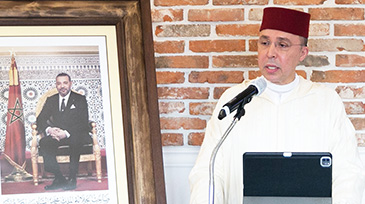 Mr. Chafik Rachadi, Moroccan ambassador to South Korea
Mr. Chafik Rachadi, Moroccan ambassador to South Korea, is hosting ''House of Morocco in Korea'' exhibition in Seoul's Multicultural Museum under the theme of ''Maghreb Treasures of the Mediterranean Sea and North Africa'' for the entire month of April in 2021.The official opening ceremony of ''The House of Morocco in Korea'' took place on April 9, 2021 with the presence of many personalities including members of the diplomatic corps, local government officials, art and media personalities, and officials of the Korea-Africa Foundation.The special exhibition highlights the potential and diversity of Moroccan regions and offers Korean and foreign visitors the unique opportunity to familiarize themselves with the different components of the Kingdom's secular cultural heritage.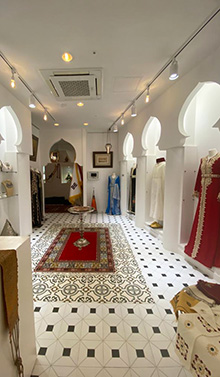 ''The House of Morocco in Korea''
The embassy announced that the exhibition is providing both local Koreans and foreign visitors with the chance to discover the splendor and the refinement of an anthology of Moroccan artisanal artifacts.
On this occasion, a special exhibition pavilion dedicated to the wealth of the Saharan provinces of the Kingdom and adorned with national colors was set up offering visitors the multiple facets drawn from the diversity of the cultural and artistic patrimony of the Moroccan southern provinces.The important participants were Adel Mohammad Adaileh, ambassador of the Hashemite Kingdom of Jordan, dean of Arab Group; Abdulla Saif Alnuaimi, ambassador of the United Arab Emirates; and representatives of the Ministry of Foreign Affairs, the Korea-Africa Foundation, the Seoul Metropolitan Government, and the Korea Museum Association. Local news media were also present.During the oepning ceremony Moroccan Ambassador Rachadi delivered a congratulatory speech. During his remarks, the envoy said that the Moroccan cultural plurality and the linguistic and artistic diversity of its modes of expression has always been the cornerstone of the uniqueness of the kingdom. He specified that that the richness of Morocco's civilizational heritage has even been a source of inspiration for several writers, screenwriters and singers around the world.From its side the museum has notably indicated that this exhibition allowed the guests to escape, the time of a visit, from the burden of the pandemic and to make a journey between dunes and oasis to discover the splendor of the Sahara. The other highlight of this event is the projection of several video clips displaying the richness of the Moroccan cultural heritage and the tourist potential of its southern provinces such as the famous city of Dakhla where the dunes meet the sea.