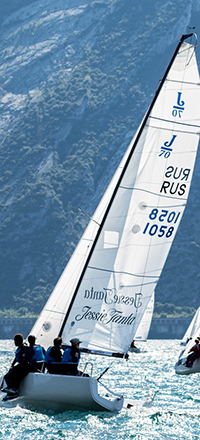 European Championships in 49s, 49erFX, and Nacra 17
In July 2022, the largest sailing championship will be held in Aarhus since the Sailing World Championships in 2018. From July 5 to 10, 2022 three of the classes will thus revisit Aarhus for the European Championships in 49s, 49erFX, and Nacra 17. — I am pleased that we once again succeeded in attracting one of the greatest sailing events to Denmark in three of the classes in which Denmark has a strong position. In Denmark, we rarely experience world-class sailing up close. This is of great importance for us to promote our sport. Hopefully, our sailors will also benefit from the home ground advantage, says Line Markert, president of the Danish Sailing Association— Aarhus is a wonderful center for sailing, and we look forward to the tremendous support from the Danish sailing community again. Ever since the epic Olympic win by Jonas Warrer, our Class and Denmark are forever linked, and we can't wait to come back, says Jyrki Javi, President of the 49er Class.
200 crews from 35 nations
Up to 200 crews from over 35 different nations are expected to compete in 49er, 49erFX, and Nacra 17 in Aarhus, and in Sport Event Denmark, it is with great satisfaction that Denmark once again will host major, international sailing championships:— Denmark and especially Aarhus has distinguished itself as a globally recognized host for sailing events. During his visit to the 2018 Sailing World Championships, IOC President Thomas Bach stated that the championship had the Olympic atmosphere. Denmark will recreate that atmosphere for the European Championships in 49er, 49erFX, and Nacra 17. The championships can also generate a much-needed foreign turnover for the tourism industry, says Lars Lundov, CEO of Sport Event Denmark.
Perfect sailing conditions
With perfect sailing conditions and the state-of-art International Sailing Center sailors can look forward to an epic experience.— With three Olympic classes, the European Championships are the most significant event since the Hempel Sailing World Championship. We look forward to recreating the atmosphere we experienced in the harbor. Besides, we are pleased that the strategic collaboration with the City of Aarhus, and Sport Event Denmark is bearing fruit again, says Jon Koch Hansen, director of Sailing Aarhus.— Aarhus has thoughtfully placed itself on the maritime world map, and I look forward to welcoming sailors from all over the world to Aarhus again. I look forward to the city and the bay coming to life, and for the sailing fans to gather for an international sailing event, says Rabih Azad-Ahmad, alderman for Culture and Citizen Service.Editorial Notes:The European Championships in Aarhus, Denmark: July 5 to 10, 2022The 49er, 49erFX, and Nacra 17 are three of the ten Olympic sailing classesAarhus has previously hosted the Hempel Sailing World Championships, and The Ocean Race 'fly by' in 2018. In 2021, a 29er World Championships, and a SailGP are in the pipeline, while 2023 will be the year of the first Danish stop-over in The Ocean Race's history.Contact:
Sport Event Denmark: Lars Lundov, CEO, Cell +45 40 31 48 55
Sailing Aarhus: Jon Koch Hansen, CEO, Cell +45 27 14 18 02