Asia-Pacific
Letters from Dhaka
Bangladesh: Hefazat-e-Islam and Militancy
By MA Hossain
Bangladesh Correspondent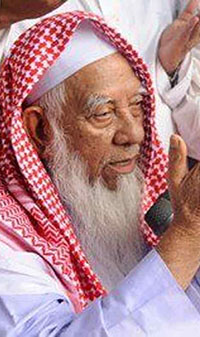 Shah Ahmad Shafi, founder of Hefazat-e-Islam (Bangladesh). Hefazat-e-Islam or Hifazat-e-Islam is an Islamic Advocacy group of madrassah teachers and students. It means "protector of Islam."
Hefazat-e-Islam(HI) in Bangladesh was established in 2010 as a countermeasure to thwart the enactment of the Women's Development Policy Bill that proposed equal inheritance rights to women. Hefazat-e-Islam, which means "protector of Islam" claims itself to be an apolitical organisation predicating on the hypothesis that they do not take part in the national electoral politics; however, quite the contrary, it has emerged as an important Dramatis Personae in Bangladeshi politics because of the present political context. This organisation is based on nationwide Qawmi Madrasas which is teaching and preaching Orthodox Islam. It has become the centre of attention of major political parties to materialise their interests from its heyday at Shapla Chattar in 2013. Due to my professional reason, I was well aware of this platform and I will dissect its reasons to crash in 2021.First of all, the question may arise as to why this self-proclaimed non-political Islamist organisation has become so important an actor in the political arena. There may be many minds. But in my opinion, history and present geopolitical trends are some of the key factors to appease this Islamist organisation by major political parties. Historically, Qawmi based organisations were here from the British era. Every time they formed a platform on a particular issue, their stand somehow was at odds with the Islamic culture. We have seen Ulemas influencing the Bangalees to travel to fight against the British in favour of the Ottoman Empire which is known as"Khelafat Andolon". In 1920, there was a movement named "Hizrat Andolon" in favour of the Afghanistan emirate. In the post-independence era in Bangladesh, we have seen protests against Dawd Haider(1974), Taslima Nasrin(1994), Khatme Nabuwat Andolon(2003) and the emergence of HI with 13 point demands at the latest in 2013. In retrospect, we see that every movement of the Islamist party in the past was mostly successful which makes them stronger and competent. And consequently, with their apparent success and increasing popularity to the mass people, they continued to assume a non-political and issue-based character in favour of Islamic interest.Bangladesh is a Muslim majority country(90%) where religion is a very influential factor in any national consensus. More so, at present, we can see the rise of right-wing populism, ultra-nationalist, radical parties around the world. Our neighbour's "Hindutva" paved the way for rising Islamist organisations vibrantly in Bangladesh. The secular Bangladesh Awami League(AL) government has to compromise their ideology to safeguard its political survival. Before the AL- HI pact, the main opposition Bangladesh Nationalist Party(BNP)- Allied always labelled itself as a pro-Islamic party and secular AL as an anti-Islamic party. But, after the 2008 election, the ruling party created a highly uneven playing field in politics, which shows extreme intolerance to the opposition's political activities and the extensive onslaughts on Democratic institutions. Not only AL tried to weaken their Islamist contenders by co-opting rival Islamic actors but also maligned their political opponents and aligned Islamist parties as promoting the "wrong" or "extremist" version of Islam. In such a political context, the ruling party tricked to save the vote banks against the anti-Islamic brand. They strengthened relations ostensibly with HI to appear as a pro-Islamic party. There may be another reason, either political failure of oppositions (BNP-Allied) or (Semi)-authoritarian rule causes a vacuum in the political field in Bangladesh. That is why the ruling party needs to accommodate an influential population on their side to deny political space to the BNP- Allied oppositions.Nevertheless, AL, in the last decade, did it successfully with its political acumen. Burning examples are, Prime Minister Sheikh Hasina, was awarded 'Qawmi mother', the government asked bloggers to refrain from criticising Islam, madrasa certificates were upgraded with regular education, removal of atheist poems from the textbooks etc. To appease the Islamist organisations for political survival is a common phenomenon in the history of Bangladesh and this sub-continent. The attempt to use Islamisation as an authoritarian legislation strategy was followed by President Ziaul Haq, General Zia, General Ershad. During the Democratic regime, Begum Khaleda Zia relied on Jamat-e- Islam(JeI) in 2001-2008 and AL also followed in 1996 (movement for establishing caretaker government) and in 2019, with HI in the condition not to pass any anti-Islamic law.HI has a strong and dedicated mass gathering capacity which makes it a gambit of street power politics. The death of HI supremo Ahmed Shafi has brought the power tussle for succession between Anas Madani and Junayed Babunagari in 2020. This power crisis paved the way to get the opportunity for the inclusion of militant outfits at the executive level. In my observation, Jamatul Mujahideen Bangladesh(JMB) and Neo-JMB(Followers of IS ideology) do not have any affiliation with HI. HI is a strict follower of 'Hanafi Majhab' where Neo-JMB and JMB follow 'Salafi Ideology' and 'Ahle Hadith' respectively. These trios have a stark uncompromising attitude and acceptance towards each other because of their different types of methodical ideologies(manhaj). On the other hand, Harkat-ul-Jihad-ul-Islami(HUJI), Ansar Al Islam and JeI all have infiltrated in HI. Among these trios, HUJI could able to manage some top posts in HI from where they influenced the decision-making process. Some HI scholars and preachers have ties with Ansar Al Islam which follow the ideology of Al-Qaeda(AQ). But from the very beginning, Ansar Al Islam was confused about the Aqida(mandatory rites) of HI which is related to Al-Wala-Al- Bara(love and hate only for the sake of Allah) and has not clarified by HI. More so, Ansar Al Islam was embarrassed by the activities of HI like appeasing government, crass political willingness, mayhem on 26-28 March 2021 which it considers an un-Islamic and strict violation of Islamic law. Hence, they started distancing with HI.Now, HUJI has been gradually embarking on as the decision-making authority in HI. We need to remember that both HUJI and HI are solely based on Qawmi madrasas. In madrasas' education system, followers (students) are unreasonably and blindly attached to their 'Ostad' (teachers). So, madrasas' teachers are the backbone of HUJI and HI who trapped Babunagari. Some HI leaders have linkage with JeI. All the militant groups have different types of methods(manhaj) to establish Islam. At present, HUJI, HI and JeI have the similar methodical approach towards the Democratic system, but all other militant groups completely reject it and consider the present Democratic system as the deviation of Sharia(Islamic) rule.Now both HUJI and Jel have a serious lack of political shrewdness and maturity to take on an organisation as resourceful and efficient in political manoeuvring. HUJI has some Afghan(returnees) fighters who might have linkage with the Taliban. With the success of the Taliban in Afghanistan, HUJI gets a boast and considers them as the only successor to lead the Islamist party or movement in Bangladesh. But they are in fool's Paradise, Bangladesh is not Afghanistan or Pakistan. Taliban is not the global organisation where AQ is the main driving force behind it. So, after establishing the Islamic Emirates in Afghanistan, due to UN mandate, a state can not sponsor any subversive activities against any nation. So, AQ can only have the scope to support any augmentation to establish an Islamic emirate in any country in the world. JeI had the only motive to create anarchy in the country and put the government under pressure so that government takes the hard line which would pave the way to get the opportunity to do politics and gain political space. So, their immature attempt to get the state power under the facade of Islamic flavour crashed in a deep hole.AL as the ruling party exhibited its political acumen to handle this HI issue. Bangladesh's espionage agencies and law enforcement agencies have timely taken the appropriate actions against HI. The government now will follow the 'carrot and stick' policy and will bag HI on their side, keeping Babunagari at the forefront of non-political Hefazat-e-Islam in Bangladesh.

Related Articles
Ideological Warfare: Conception, ...
Al-Qaeda, Global Terrorism and Threat to ...
Iran: Reshaping the Regional Politics in the ...
Turkey Emerges as the Global Power
Opportunity Looms over Rohingya Repatriation
Pompeo's Al-Queda Conspiracy and Bangladesh
Asia: The Game-Changer for the Superpower
Covid-19: The Job Crisis Is Deepening Globally!
Has 'Big Brother' India Failed to Perceive the ...
What Options Left for North Korean Leader Kim ...
New Dimension in South Asian Regional Politics ...
Superpower Conflict : World Order Is at Stake!
The Creation of "Koryo Union" Is the Only ...
N. Korea: No More Threat to World Peace and ...
Singapore Summit: Historic Aagreement, ...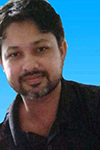 M A Hossain, a political and defense analyst, writes on diversified topics in Bangladeshi and foreign newspapers. He has served in the United Nations. His articles are already featured in prominent newspapers like, South China Morning Post, The Arabian Post, The National (UAE),The Seoul Times, Modern Ghana, The New Nation, Malaysia Today, The Al Bilad(S.Arabia), The Financial Express, The Asian Age, South Asia Journal, etc. He can be contacted at: writemah71@gmail.com