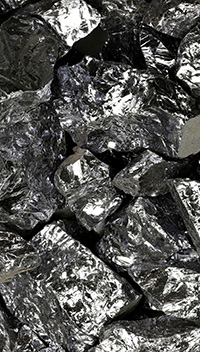 Polysilicon produced in China
China's ongoing suppression of Uyghur and other minority populations in Xinjiang continues to incite alarm among U.S. policymakers. A broad bipartisan consensus has coalesced around excising Chinese goods tainted by forced labor and human rights abuses from U.S. supply chains. Existing efforts have largely targeted agricultural and textile products, but policymakers are now looking into the solar industry's ties to Xinjiang. Tracing these linkages, however, is no easy task.Polysilicon is at the heart of the matter. The high-grade form of silicon is produced through an energy intensive process before it is melted into cylindrical ingots, sawed into the thin wafers, and converted into photovoltaic (PV) cells for use in solar panels. China is the world's leading producer of polysilicon, with Xinjiang alone accounting for 50 percent of the global polysilicon output in 2020.An abundance of cheap electricity and preferential government policies have incentivized China's solar giants to set up shop in Xinjiang. GCL-Poly, the second-largest polysilicon manufacturer in the world, ramped up its operations in Xinjiang when it broke ground on a new 60-metric-ton plant in 2017. Part of the plan included the relocation of existing facilities from Xuzhou (in Jiangsu province), which enabled GCL-Poly to capitalize on the low tariff rates of a nearby coal-fired power station and produce polysilicon at a reduced cost.Operating in Xinjiang is bound to raise red flags, and rightfully so. The New York Times, Bloomberg, and Wall Street Journal have all reported on possible links between China's solar industry and human rights abuses. A report released earlier this month by Sheffield Hallam University in the United Kingdom details many of these connections.Perhaps the most immediate concerns stem from the close ties between the solar industry and the Xinjiang Production and Construction Corps (XPCC), which operates industrial parks and facilitates the flow of cheap energy for polysilicon production. The paramilitary organization exercises far-ranging authority, and it was a critical driving force in developing the region's highly problematic textile industry. In July 2020, the XPCC was sanctioned by the U.S. government for serious human rights violations.The connection between GCL-Poly and XPCC dates to at least 2013, when the two sides brokered a cooperation agreement to advance the development of the renewable energy sector. The deal paid real dividends. GCL-Poly's new polysilicon plant, for instance, is located in the Zhundong Economic and Technological Development Zone, which conveniently falls under the jurisdiction of the XPCC's Sixth Division. GCL-Poly's subsidiaries likewise engage with the paramilitary organization, exemplified by a June 2020 deal between Henan GCL and XPCC worth 2.15 billion yuan ($311 million). The nature of the deal is murky, but it supports economic development in Xinjiang across several sectors, ranging from renewable energy to promoting Xinjiang as a destination for domestic tourism.Speculation also surrounds the incentives that Chinese companies like GCL-Poly receive for participating in work programs that draw on labor from ethnic minorities. GCL-Poly is among the many firms that have engaged in "poverty alleviation" and "staff localization" plans, which are often promoted with a positive public relations spin but are warning signs for potential forced labor and human rights abuses. Policymakers have begun to take notice. On March 23, Senators Marco Rubio (R-FL) and Jeff Merkley (D-OR) sent a letter to the Solar Energy Industries Association (SEIA) inquiring about the "integrity of the U.S. solar panel supply chain as it pertains to forced labor in [Xinjing]." SEIA responded with a statement, now co-signed by over 200 members, which condemned the use of forced labor and recommended that members move their supply chain out of Xinjiang altogether.SEIA's call for supply chains to bypass Xinjiang should be lauded, but it will be difficult to achieve. Nowhere is the issue more evident than when examining GCL-Poly, whose dozens upon dozens of subsidiaries (many of which have their own subsidiaries) span much of the PV value chain. Tracking supply chains through this opaque network is both challenging and subject to change.Take, for example, the case of U.S. imports. Seaborne trade data provided by Panjiva shows that the United States imports next to zero solar power equipment from GCL-Poly. It instead sources these goods from other Chinese firms, such as LONGi, which accounted for 37 percent of U.S. solar technology imports (by volume) from China in 2020. This number jumped to 53 percent in the first quarter of 2021.LONGi orders polysilicon from a variety of manufacturers, including GCL-Poly subsidiary Jiangsu Zhongneng, which inked a three-year polysilicon supply agreement with LONGi on February 1. Just a few days later, LONGi's U.S. branch signed the SEIA letter condemning the use of forced labor within the solar supply chain.Further complicating matters is that the production of solar technology is only one side of the business. In 2019, electricity sales accounted for 34 percent of the GCL-Poly's revenue. Its partially owned subsidiary, GCL New Energy, maintains over 150 solar power plants in China, with two located in Xinjiang. Public records indicate GCL-Poly indirectly holds two additional plants in the United States.It is not just GCL New Energy's current assets that are concerning. In November 2019, GCL New Energy sold 18 solar power plants to two investment funds held by state-owned China Huaneng Group and the Industrial and Commercial Bank of China. One of the partners involved in the deal was Tianjin Huajing Shunqi, which is partially owned by Huaneng Invesco WLR. Established in 2008, Huaneng Invesco WLR is a joint venture between Huaneng Capital and Invesco—a New York-based investment management firm.On the surface, partial ownership of Chinese solar plants by a U.S. firm should not present a problem, but it does highlight how exposed U.S. entities are to inadvertent connections with Xinjiang. While information about these plants is limited, CSIS has identified that one of them (operated by Hetian GCL) is located in Xinjiang. Another company, Yili GCL, operates a solar farm in the Khorgas Economic and Technological Development Zone, a special economic area designed to attract foreign investment. GCL-Poly's filings with Hong Kong Exchanges and Clearing reveal that 43.5 percent of Yili GCL is owned directly by XPCC—indicating that Invesco's stake in the Chinese solar industry is connected with an entity known to perpetrate human rights abuses.GCL-Poly maintains other inroads into the United States. In 2016, SunEdison, a U.S. renewable energy company, sold off some of its assets to GCL-Poly, including Portland-based Solaicx, which primarily produces silicon ingots. The $150 million deal gave GCL-Poly access to key technology used in streamlining the production of polysilicon. Through its subsidiaries, GCL-Poly also operates a research and development center in Richland, Washington.The linkages between GCL-Poly and the United States are hardly surprising. Despite ongoing political tensions between Washington and Beijing, the world's two biggest economies enjoyed decades of mutually beneficial economic dependence and today remain largely interconnected.With the growing spotlight on China's solar industry, it remains unclear what happens next. It is likely that policymakers will continue to push for resilient supply chains that sidestep Xinjiang. Momentum could build for sanctions on solar companies like GCL-Poly, but such a move may not address the underlying problem. GCL-Poly is heavily invested in Xinjiang, and being added to the Commerce Department's Entity List, for instance, will not compel it to simply shutter its new polysilicon plant.For the United States to reshape the system, greater transparency is needed. U.S. authorities are presently trying to navigate an opaque supply chain from which the United States is generally absent until further downstream. Without a better understanding of what goods are produced in Xinjiang and what companies are tied to XPCC or other sanctioned entities, it will remain difficult for Washington shore up the integrity of the renewable energy sector.
The above writer, Matthew P. Funaiole, is a senior fellow for data analysis with the iDeas Lab and senior fellow with the China Power Project at the Center for Strategic and International Studies (CSIS) in Washington, D.C. Katherine Kurata is an intern with the CSIS iDeas Lab.
Commentary
is produced by the Center for Strategic and International Studies (CSIS), a private, tax-exempt institution focusing on international public policy issues. Its research is nonpartisan and nonproprietary. CSIS does not take specific policy positions. Accordingly, all views, positions, and conclusions expressed in this publication should be understood to be solely those of the author(s).