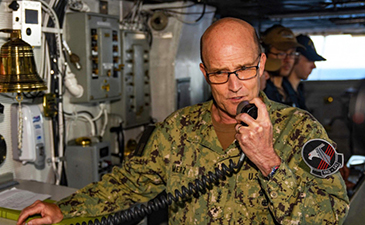 US 7th Fleet Commander Vice Admiral Bill Merz on USS Ronald Reagan U.S. Navy photo by Mass Communication Specialist Seaman Gray Gibson

PHILIPPINE SEA (June 2, 2021) — Vice Adm. Bill Merz, commander, U.S. 7th Fleet, addresses the crew of the U.S. Navy's only forward-deployed aircraft carrier, USS Ronald Reagan (CVN 76), from the pilot house.During Merz's visit he attended meetings with warfare commanders and provided a message to the crew over the ship's announcement system. Ronald Reagan, the flagship of Carrier Strike Group 5, provides a combat-ready force that protects and defends the United States, as well as the collective maritime interests of its allies and partners in the Indo-Pacific region.USS Ronald Reagan (CVN-76) is a Nimitz-class, nuclear-powered supercarrier in the service of the United States Navy. As the ninth ship of her class, she is named in honor of Ronald W. Reagan, President of the United States from 1981 to 1989. She was built at Newport News Shipbuilding in Newport News, Virginia, and was commissioned on July 12, 2003. Ronald Reagan made five deployments to the Pacific and Middle East between 2006 and 2011 while based at Naval Air Station North Island. In October 2015, Ronald Reagan replaced USS George Washington as the flagship of Carrier Strike Group Five, the only forward-based carrier strike group home-ported at Yokosuka, Japan, as part of the United States Seventh Fleet.Since 2016, Ronald Reagan has embarked on short annual summer patrols of the Western Pacific in the United States Seventh Fleet area of operation.
Who Is Bill Merz
William R. Merz is an American flag officer, former deputy chief of naval operations for warfare systems and vice admiral in the United States Navy, serving as commander of Seventh Fleet since November 2019.Merz's aboard assignments includes USS Blue Ridge (LCC-19), "Submarine Group Seven" and Task Force 74.As a flag officer, he was assigned to commands at naval mine destroyer ships and anti-submarine warfare command. Later, he was appointed to Task Force 77 stationed at San Diego and TF-54 in Bahrain. Bill Merz was born in San Diego, California. In 1986, he graduated from the United States Naval Academy with a Bachelor of Science in Ocean Engineering, and later attended the Naval War College and Catholic University of America where he received master's degree. Merz received a security studies degree through "MIT seminar XXI program."Merz served as a director during his ashore flag officer assignments, including Naval Undersea Warfare Center for a ballistic missile submarine program (OPNAV N97). Later, he was appointed as the Deputy Chief of Naval Operations for warfare systems (DCNO OPNAV N9). His submarine design research assignments includes commanding officer of the U.S. naval reactors, chief of staff for the Submarine Force Commander.As a submariner, Merz was assigned to USS Haddo in San Diego, USS Proteus in Guam, and USS Boise in Norfolk. After serving aboard, he was assigned to command the deep-submergence vehicle, Los Angeles-class submarine USS Memphis and submarine squadron. In 2017 when rear admiral Merz was serving as the director for undersea warfare division-N97, he was promoted to the rank of vice admiral.